Restaurant Review – Harbourside French Fine Dining at Epure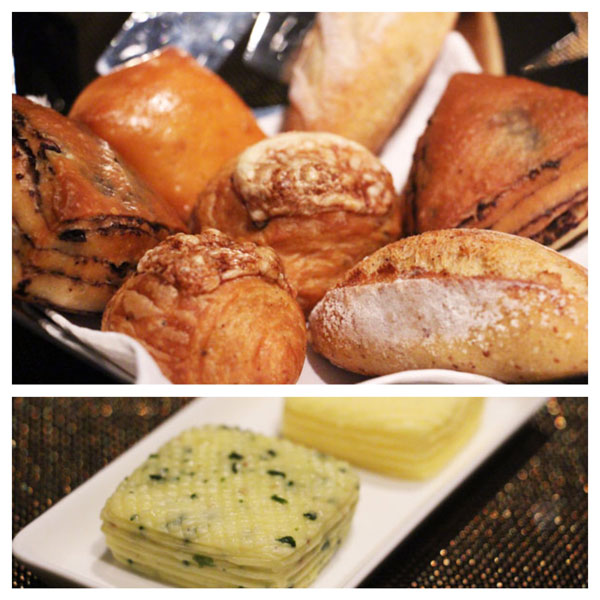 A Modern Versailles: Bathed in muted rose gold and natural wood tones, Epure, a fine dining French restaurant connected to iconic French patisserie Dalloyau in Harbour City TST, is a picture of subdued refinement. From the intricate wall mural depicting the French imperial hunting grounds, to the dazzling rose gold foldable wall detailing the map of 19th century Paris, every detail is carefully orchestrated to produce an impressively opulent yet unrestrained dining ambiance. The captain at the helm of this great culinary vessel is the very affable Nicolas Boutin, who has chefed various Michelin-starred kitchens in France as well as the Four Seasons in Bora Bora. Alongside Chef Richard Ekkebus, he helped open Amber at the Landmark Mandarin. Equally impressive is the head pastry chef, Matthieu Godard, who worked with Chef Nicolas during his time at Amber. Following our meal, we took a tour of his immaculate kitchen, which is the finest we've seen in Hong Kong thus far, complete with traditional red and gold cooking stations imported from France.
Less is More: The culinary ethos behind Epure centers around bringing out the true essence of natural ingredients, with no exaggerated embellishments that could detract from the simple goodness of the high quality produce. There are certainly parallels in this ethos to that of Epure's owners, who also own the well-known skincare brand, Fancl. Truly, "less is more", here at Epure, as well as Fancl. During our media dinner, we began our meal by cracking into an assortment of freshly baked bread smothered in luscious house-churned butter, one of which was piqued by peppercorn.
We whet our appetites with an array of cocktails and mocktails, spanning from the Earl Grey tea mocktail popping with tea caviar, to the curiously "healthy" carrot puree cocktail, to the incredibly refreshing strawberry and watermelon daiquiri-isque mocktail. These drinks, alongside a vast list of small bites, can also be enjoyed on the expansive "la terrace" overlooking Hong Kong's Victoria Harbour.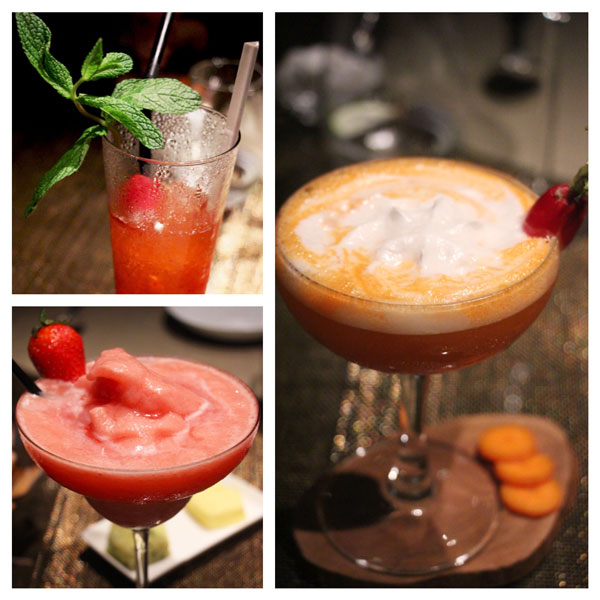 To go along with our cocktails and Champagne were a trio of amuse bouches which were truly delights for the palate.  A light and crispy Comte cheese sphere added briny textural crunch while the celery and pear tartlet balanced out with some sweetness. The cherry glazed foie gras sphere was rich and silky, with a tangy fruity finish that undercut the richness.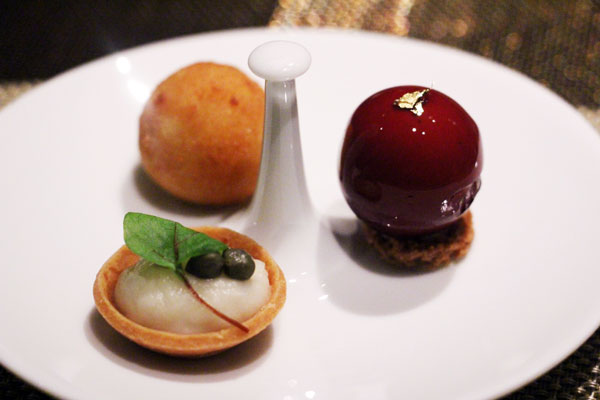 Our degustation menu commenced with a medley of heirloom tomato globes, which oozed sun-ripened flavours once they popped in the mouth, accompanied with refreshing green tomato sorbet and a sweet and delicate cold tomato soup. This was an extremely light and summerly start to the meal, although I wished the tomato globes were a touch less acidic.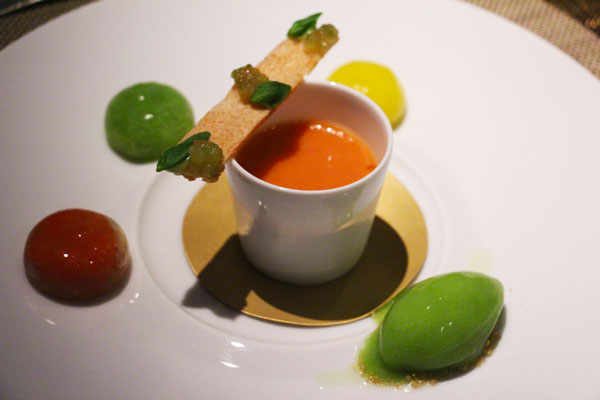 An equally enticing French oyster wrapped in cucumber, and paired with melon and spicy crunchy peanuts arrived in a cloud of nitrogen smoke. As a mother-to-be, I had to forgo this beautiful dish, but the general opinion of my colleagues who enjoyed this dish was that the oyster pairing with cucumber was a little strange, and a bit cumbersome. A beautiful piece of seafood such as this needed no embellishments.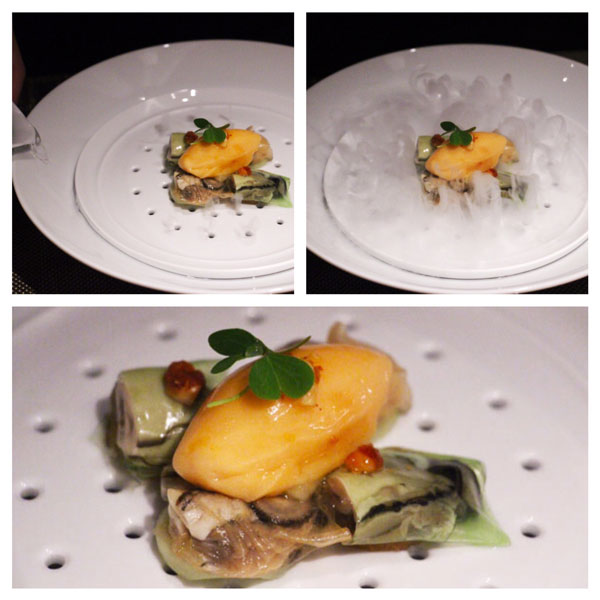 We would have never thought to pair morels, fava beans and spring onions, but the cappuccino foam-like morels royale was a winner, while the Jerome Galis green asparagus with mousseline sauce was so tender we could cut it with a fork. The tender green spears were incredibly sweet and delicate.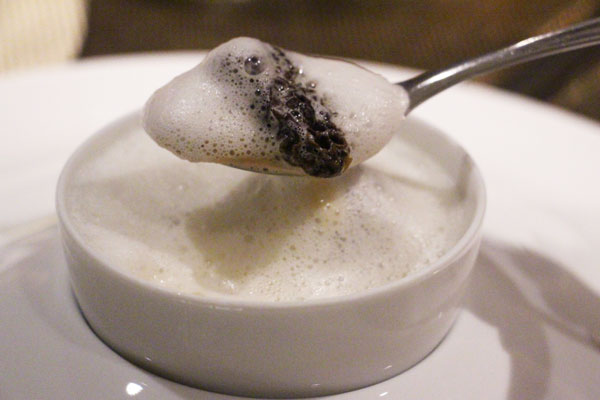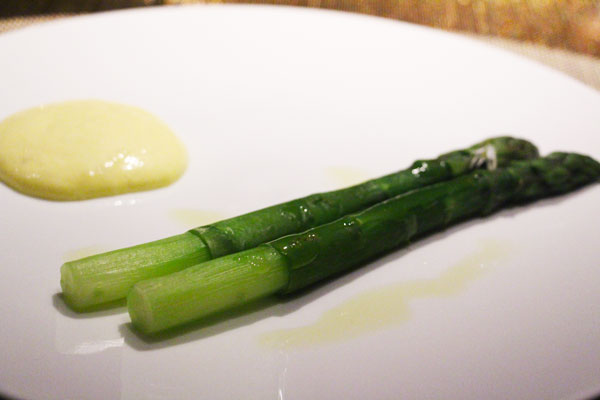 As an intermission to our extravagant feast, Chef Nicolas took us on a personal tour through his immaculate kitchen, complete with classic red and gold cooking station shipped from France, some of which weighed a few tonnes!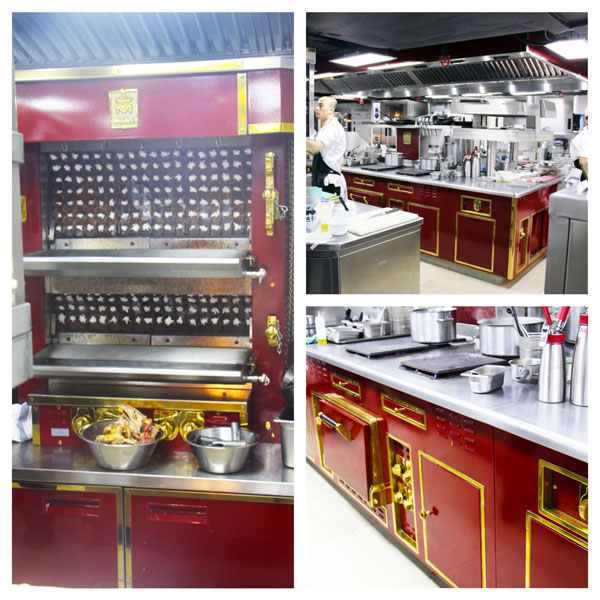 Following our whirlwind kitchen tour, we sat down to the Parisian white button mushroom soup with baby spinach gnocchi, which dazzled in its simplicity. The chef experimented with various types of white button mushroom, but found that only the French variety gave off the most creamy, nutty aromas.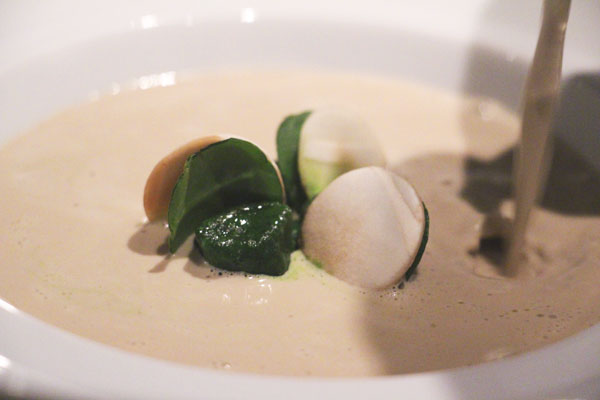 The hero of the meal goes to the roast milk-fed veal with baby artichoke, fava bean puree and caramelized onion. The succulent meat from gourmet purveyor Hugo Desnoyer in Paris was perfectly seared, although we thought it could have benefited from a slight dash of salt. The artichoke was beautifully charred and tender, while the sweet onion added the most flavour to the overall composition.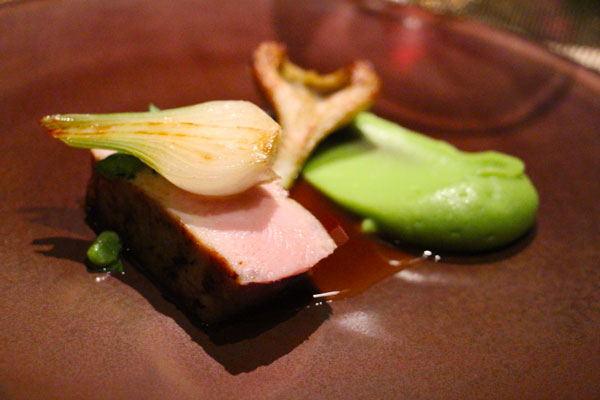 What is a French meal without cheese? We were lucky to have visited Epure during the two days that cheese master Francois Bourgon was in Hong Kong, and were treated to the edible jewels from his thoughtfully procured cheese trolley. One could say that Francois knows a thing or two about cheeses, as he was awarded the highest order for French craftsmanship, the "Meilleur Ouvrier de France" in 2011. Although I'm having a "half-French" baby, I still had to restrain myself from the array of delectable unpasteurized soft cheeses on display, but nursed my disappointment with a beautiful 24-month old Comte as well as a sweet and mild Cantal.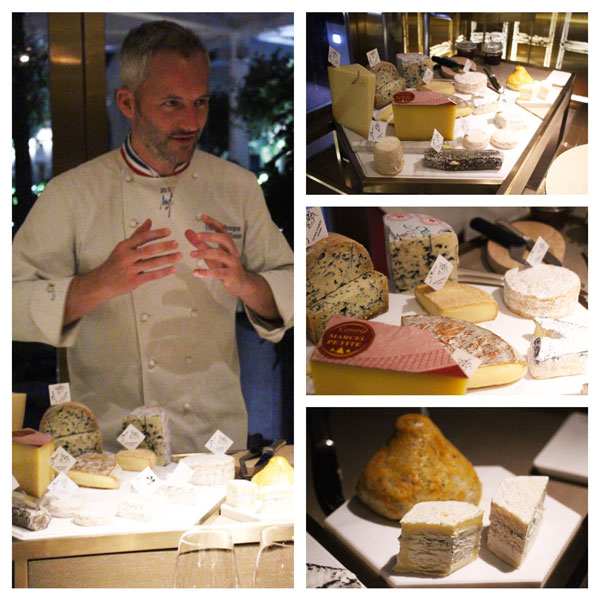 Dessert was a pageantry of tantalizing baba au rum, a "deconstructed" Black Forest cake, and our favourite, "les profiteroles" which were hidden under a chocolate tunnel and only revealed once hot chocolate syrup was poured over top and melted away their delicious sheath.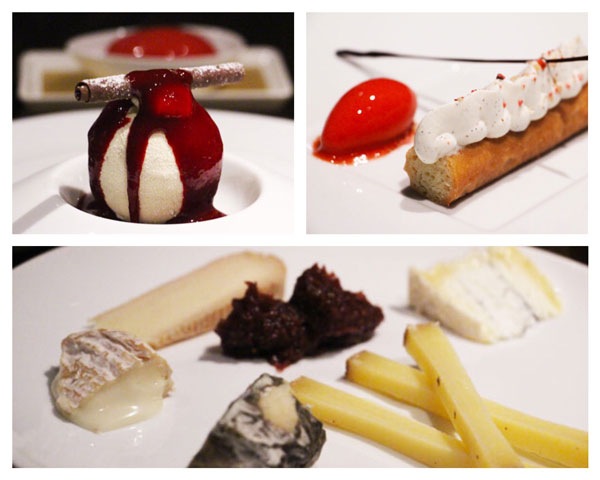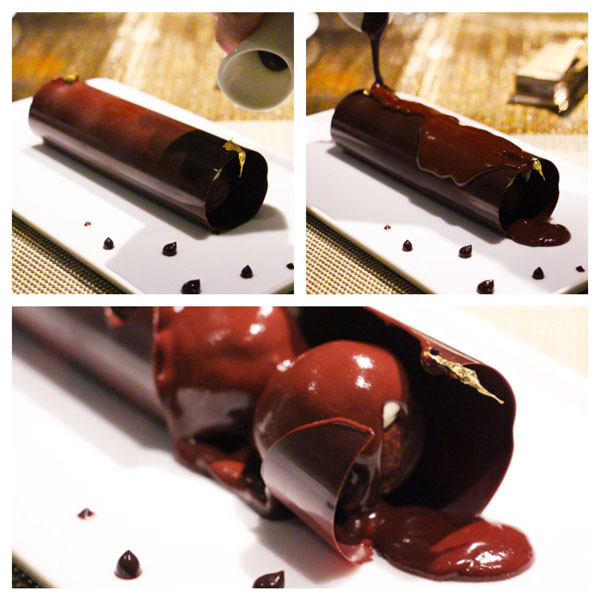 And…there's more! The finale petit fours came in an orchestra of zesty lemon tarts, black truffle chocolate macarons, Dalloyau's famous praline chocolates, and our favourite – pistachio financier with fragrant jasmine cream.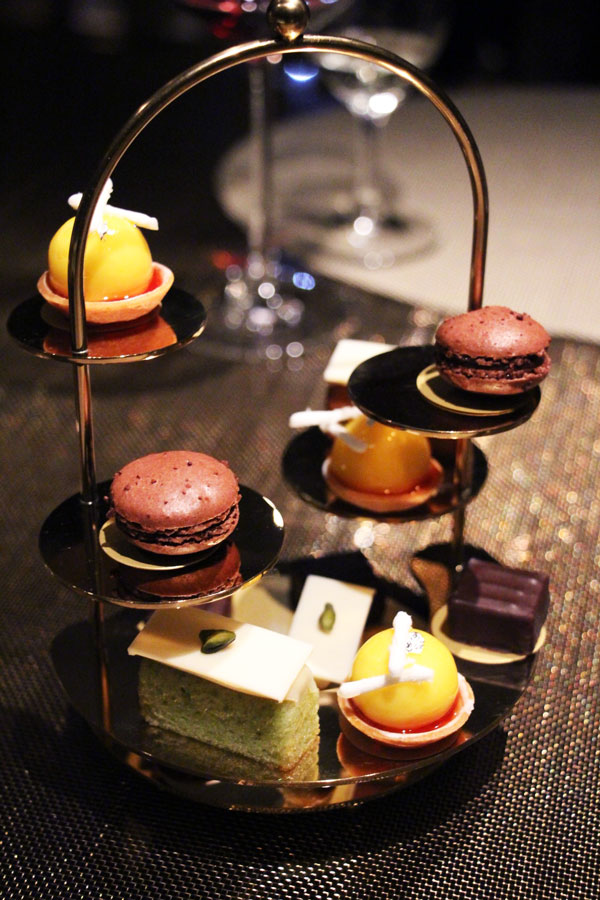 Verdict: What a meal! Immaculate French fine dining with the finest ingredients sourced exclusively from France. Seasonality plays a big part in the tasting menu, as Chef Nicolas constructs his menu based on which ingredients are at their optimal prime in France. He could source prime ingredients from all over the world, but he prefers to keep close to the French suppliers he knows best. Epure is the perfect venue for that special celebration, or a more casual evening could be had on the massive terrace with a smaller bites menu. At the moment, only tasting menus are offered, and the price tag starts at $988 and reaches upwards towards $1588 for a 8-course journey. Well worth it for the dedicated care and quality ingredients used.
Epure
Shop 403, Level 4, Ocean Centre, Harbour City
TST, Kowloon
Tel: +852 3185 8338
Sites We Adore