Weekday Dinners – Smouldering, Garlicky Prawns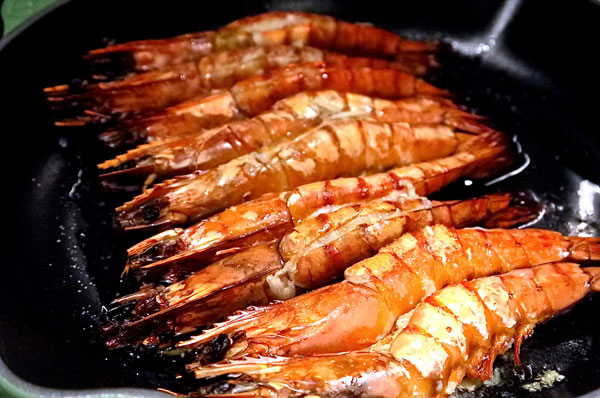 Gambas al ajillo is one of my favourite Spanish tapas.  The wonderful aroma of garlic and sizzling prawns converge together into one irresistible medley.  Since I'm always looking for a simple way of making a dish while maximising on taste, I decided to test out my own rendition of this classic.  I've strayed in terms of loyalty to the original recipes for this Spanish tapa, but I think you'll enjoy my simplified version.  The key here is really to let the flavours of the prawn do the talking, by relaying on simple ingredients to make this dish sing.
Eaten on its own, or paired with a pilaff or pasta, these garlicky prawns promises to satisfy (while repelling vampires)
What you'll need:  
8-10 jumbo prawns (shell on)
1/2  head of garlic, minced
2 tbls olive oil
salt & pepper to taste
half a lemon
Prep time:  10 minutes
Cook time:  8-10minutes
Now, for this recipe, you can either use an oven, or grill the prawns over the stove top.
I usually prefer the oven, since there is less splatter – hence, less clean-up.  So if you are using the oven, pre-heat to 180degrees celsius.
While the oven is pre-heating, clean out the prawns.  Cut along the back of each shrimp and devein – trust me, you do not want to be grinding your teeth on sandy bits left over from the prawn's digestive tract!  Cut away any long whiskers of the prawn.  Be careful to avoid being stabbed by the sharp feelers around the prawns' mouth – they can inflict pretty painful wounds!  I always think of this as 'the prawns' final revenge".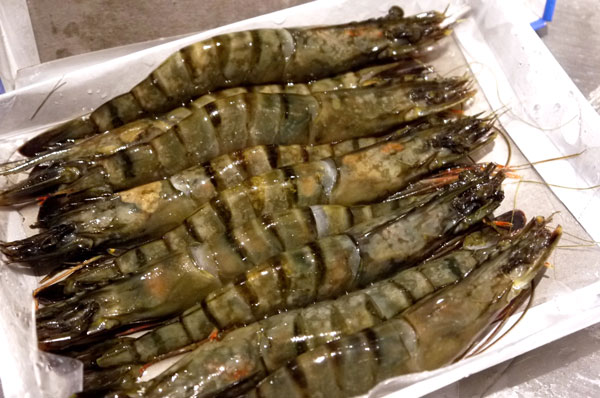 Now, drizzle a bit of olive oil over the bunch.  Sprinkle coarse salt and pepper to evenly coat the prawns.
Mix together the minced garlic and olive oil with a bit of salt.  Remember the cut you've made on the back of the prawn to devein it?  Smear the minced garlic into the backs of the prawn – you can even stuff a bit under the shells to really infuse the little beasts with flavour.
If you are cooking this on the stove top, heat a pan on medium-high heat for a couple of minutes before placing the prawns on.  Grill each prawn for about 2.5 minutes on each side, and enjoy!
If you are using an oven, place the prawns in a baking dish (I love my Le Creuset skillet for this), and slide this into the pre-heated oven for 8-10minutes, until the shells take on a smouldering red hue.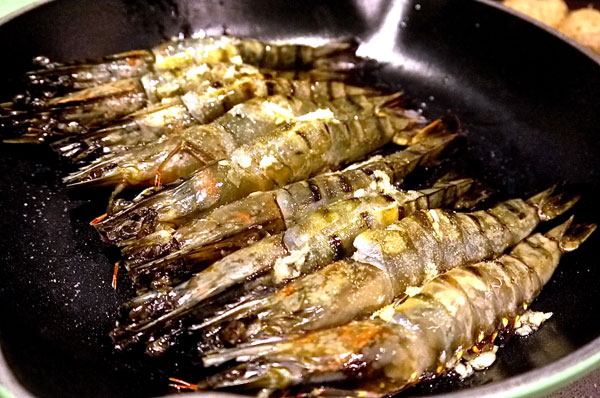 Voila!  Bon Appetit!
Squeeze a bit of vibrantly sunny lemon juice on top and you're good to go!  These ruby beauties are delicious on their own, or paired with a carbohydrate.  Remember to slurp up the aromatic fat in the head of the prawns!  The taste is absolutely heavenly!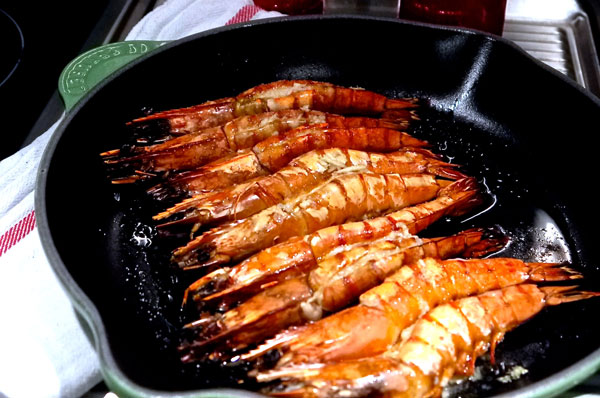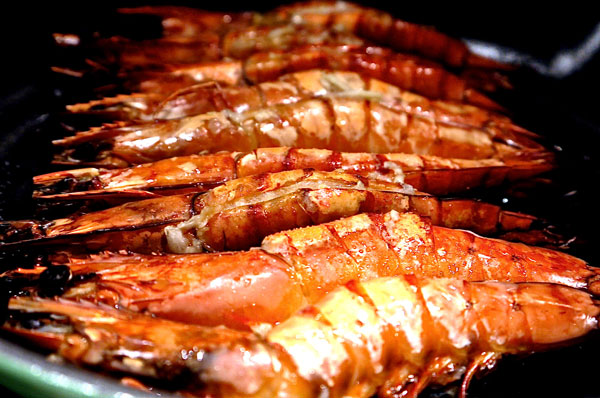 Below, I've paired the prawns with some chickpea pilaff.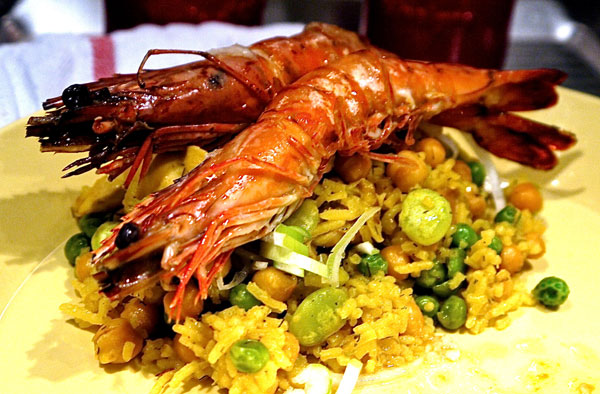 Sites We Adore