Afterthoughts – Waiting in Line to Slurp Noodles at Ichiran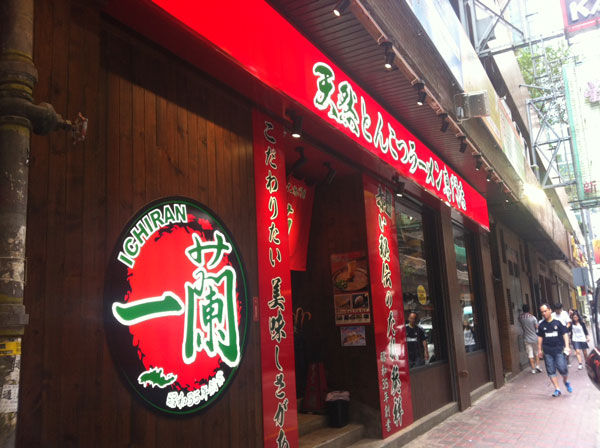 Hong Kongers have a fascination with waiting in line.  It seems that occasions and events are only made special if there is a mile-long line in tow.  The inhabitants of this cramped little island wait in lines for everything, from Le Creuset sales to chocolate croissants at Hysan Place.  It almost feels like if there isn't a line – it ain't special.
So if long waiting lines are a testament to good taste, then the newish Ichi-ran must be a spectacular experience indeed.  I've been quietly waiting for the hype to die down with Ichi-ran, since I usually scoff at the huge crowds anxiously waiting at its entrance.  Ichi-ran holds a permanent place on my Must-Do list every time I'm in Tokyo, and with its 24-hour store hours, I've been known to duck into a nearby Ichi-ran straight from the Narita airport.  I love the individual ramen booth – it almost feels like a spiritual confessional booth, that is, where diners worship their love for the addictive noodles.  Branches of this famous ramen shop outnumber Ippudo in Tokyo, and I've visited ones in Harajuku, Shinjuku, Ueno and the Tokyo Dome.
Finally, after patiently waiting for the lines to subside for several months, I couldn't resist and succumbed.  Armed with my darling hubby (who is also my ramen partner in crime), and my trusty Kindle, we decided to wait it out and see how the Hong Kong branch stack up to our beloved Tokyo Ichi-rans.
Located in Causeway Bay, the Hong Kong Ichi-ran is a 24-hour operation.  On this particular Monday, we arrived around 1pm and waited in line for a draining 1 hour.   If this was in the US, a gun fight might have broken out!  But in mellow Hong Kong, everyone waited patiently for their turn to slurp up some soul-changing noodles.
Finally!  We arrive at the entrance of Ichi-ran, only to be directed into another "internal" line inside the store.  It was like the "Inception" of lineups – a line within a line!
Finally, after another 10 minutes inside the store, we were handed sheets of the familiar menu to create our own bowls of customized noodles.  The menu is exactly the same as the Tokyo one (minus the Japanese).  I always choose the strong flavour, medium oil source soup base with double red sauce, 1 clove of minced garlic, thin green onions with pork on firm noodles.  This is my standard when in Tokyo, so I chose the same for the Hong Kong branch to get a relevant comparison.
Beer, extra noodles and toppings are available for additional charge.  We went for extra wood fungus, seaweed, noodles, and eggs – heck, we waited an hour in line, might as well go big!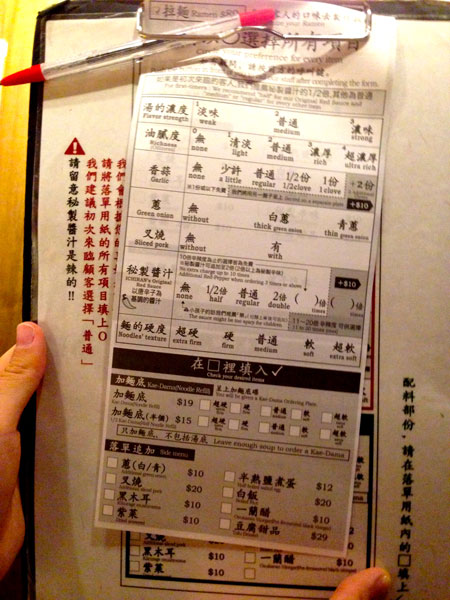 The seating chart – exactly the same as the ones in Tokyo showing vacancies in select booths.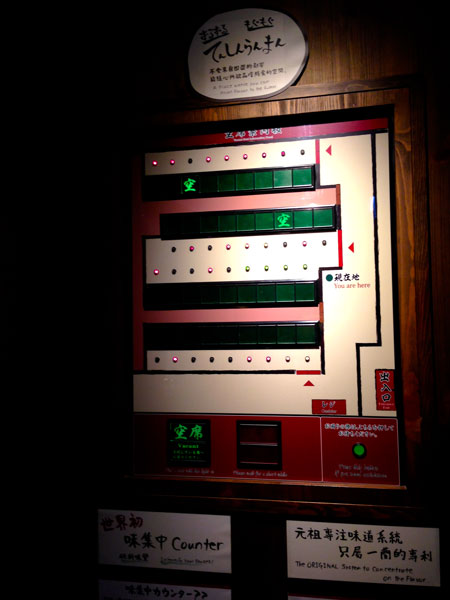 We arrive at the coveted individual ramen booths.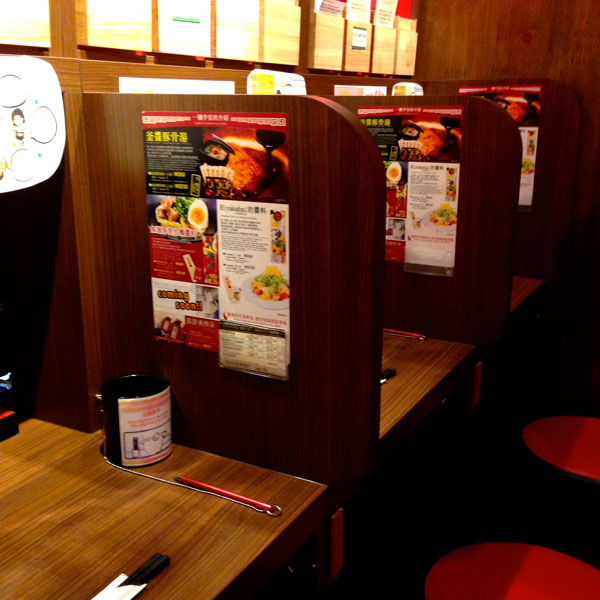 There's a curtain concealing the face of whoever is serving you ramen, so it feels all very mysterious.  I'm convinced one day Japan will program robots to serve ramen!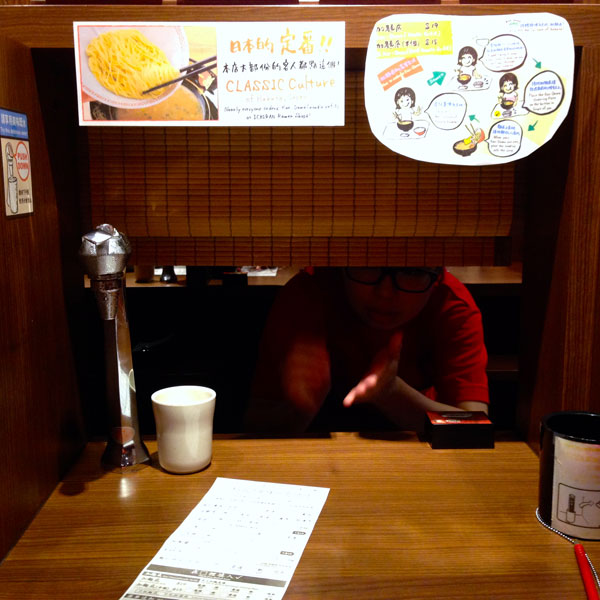 The Mister ordered extra noodles, so he got a little plate to put on the call button when he wants a refill.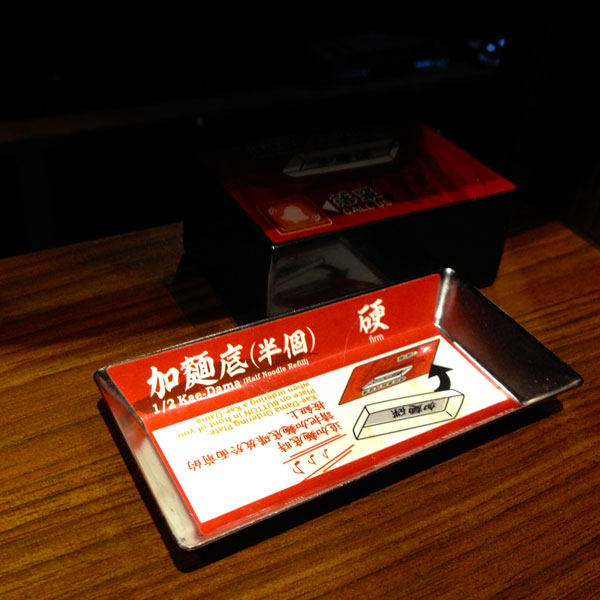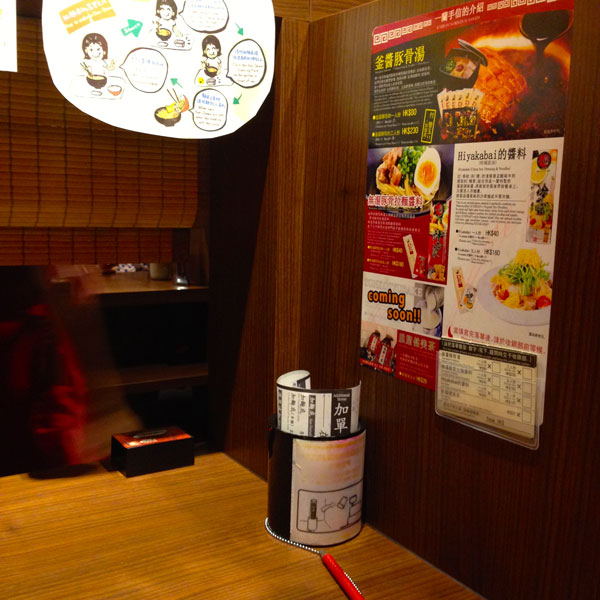 Ice cold beer is the best accompaniment to piping hot ramen.  Each booth also comes with a cold water tap so guests can help themselves.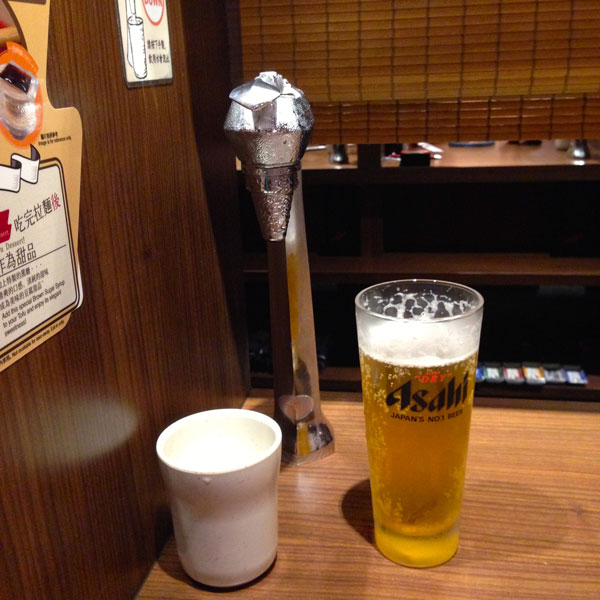 Once the food is served, the curtain goes completely down so you can slurp and slobber in private.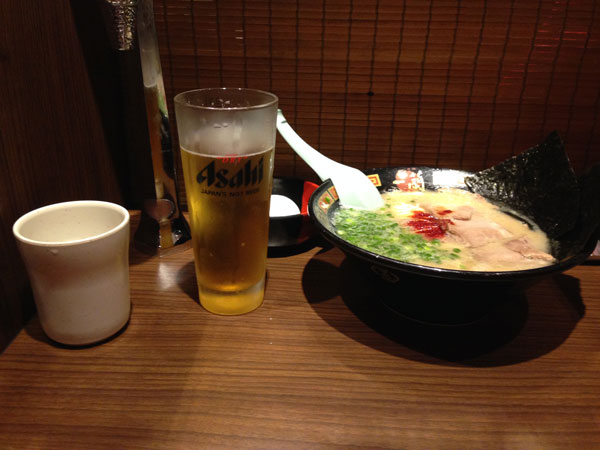 The Mister's ramen.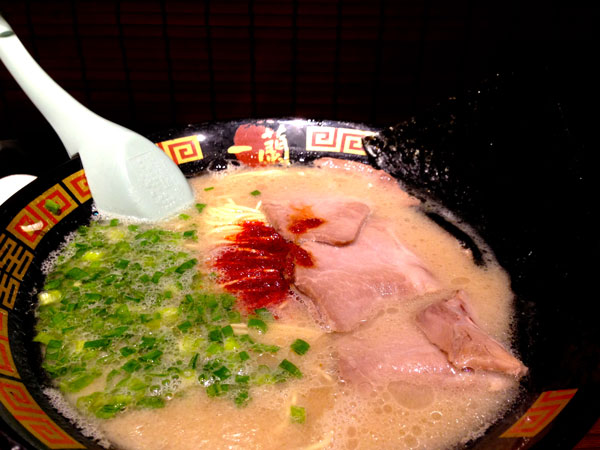 My bowl of happiness – with half-boiled egg and wood fungus.  YUM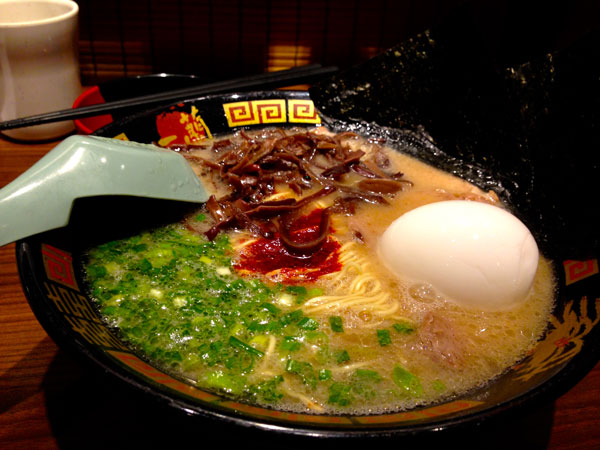 I love the golden gooeyness of a half-boiled egg.  It's one of those things that makes me weak at the knees.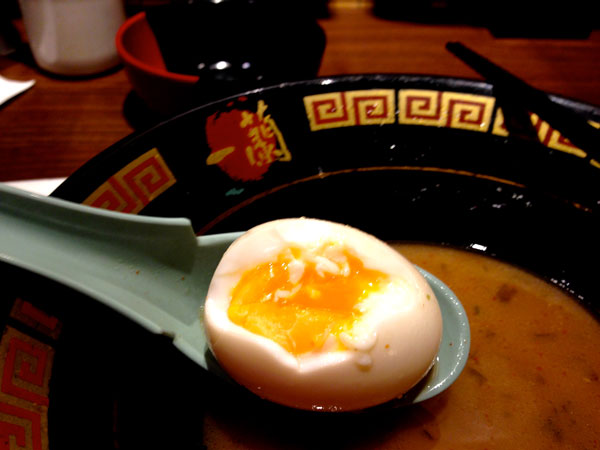 Verdict:  Was the line justifiable?  Hellz NO!  The Ichi-ran in Hong Kong, although good, was definitely not as satisfying as the ones in Tokyo.  Plus, the Tokyo ones barely ever have a waiting line!  We found the soup base of the Hong Kong branch to be way too thin – the Tokyo ones were super rich in collagen from the slow-brewed pork bones that sometimes you feel like your lips are glued together after a meal there.  Anyone that loves ramen will tell you the soup base makes or breaks the meal, and the Hong Kong soup base lacks depth and body.  The noodles are the same, but we found the pork to be too hard with not enough marbling.  The whole meal cost us around HK$350.  For the quality of the ramen, I'd rather go to Ippudo in Hong Kong, which serves up a way tastier bowl with no wait time!  I will not be standing in line for another bowl of Ichi-ran anytime soon, in Tokyo – a definite "yes", but not in Hong Kong.
Ichi-ran
Shop H & I, Ground Floor, Lockhart House
Causeway Bay, Hong Kong
Tel:  +852 2152 4040
Sites We Adore