How to Make – King Crab Steamed with Minced Garlic over Sticky Vermicelli & Spinach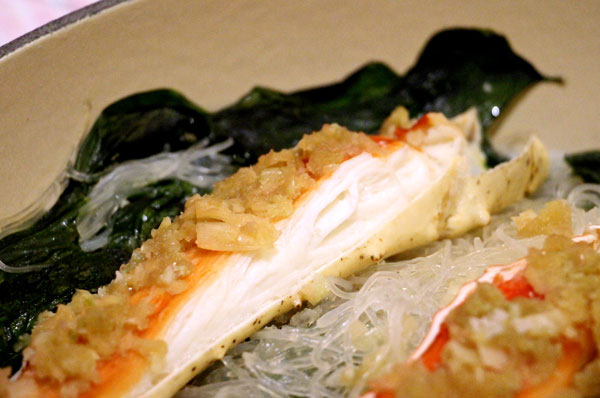 Growing up in Vancouver by crystal clear waters meant we were spoiled with an abundance of the freshest, finest seafood.  One of my favourite dishes of all time is king crab legs steamed with minced garlic over sticky vermicelli.  This is a signature dish at one of the most iconic Chinese restaurants in Vancouver, Sun Sui Wah or 新瑞华.  I remember my giddiness during Alaskan king crab season, when my parents would treat me to a decadent seafood feast at Sun Sui Wah.  The garlicky juices, intermingled with the sweetness of the crab, percolates down into the sticky vermicelli, infiltrating the entire dish with plenty of seafood umami goodness.  As I've said many times before, I've eaten at some of the most amazing Chinese restaurants in Asia, but the BEST Chinese seafood restaurants (in my humble opinion) still resides in Vancouver.
Recently, on the way back from a snowboarding holiday in Niseko, Japan, we went on a crazy seafood shopping spree at the Chitose airport.  Let me just say, the Chitose airport is the BEST airport I've encountered so far for food lovers.  There is an EPIC seafood forum, where you can buy the FINEST Japanese selections.  Vendors are skilled at packing these delicate seafood products (some of which are still alive) for air travel, and we couldn't resist loading up on king crab legs and briny, savoury mentaiko (salted cod roe).  This seafood emporium beats fashion sales, any day, in my books.
Scroll down for my recipe:  
(Below) Dried Hokke and other specialty fish.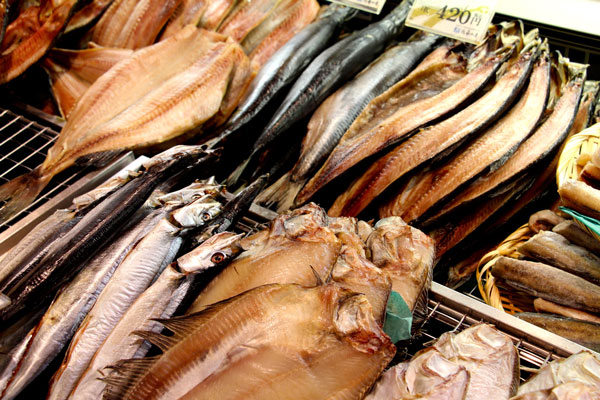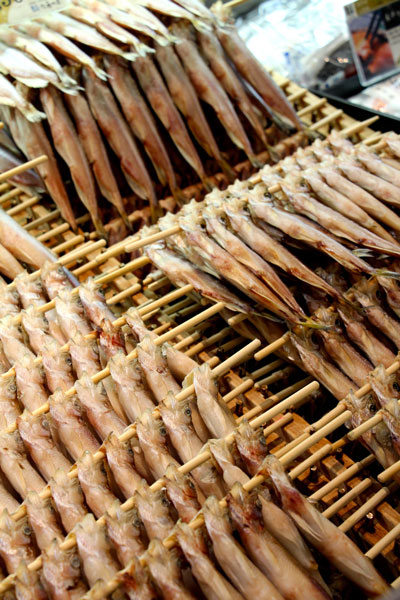 (Below) Live King Crab – A Monster of the Sea!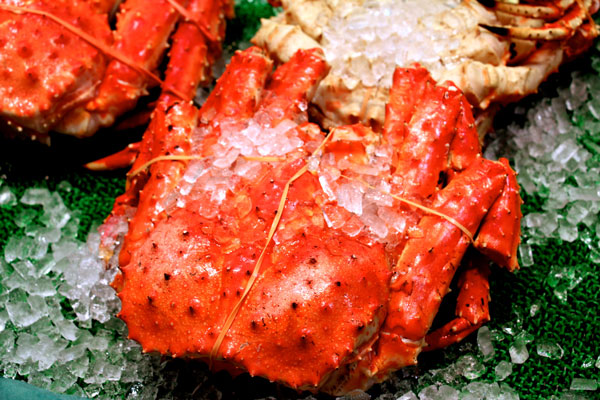 (Below) Hokkaido Crab – much smaller than the king crab with a spiny, prickly shell, but so undeniably succulent and sweet.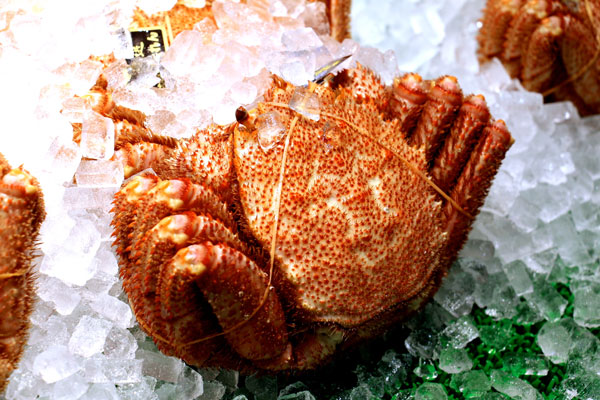 I'm so happy!!!!!!!!!!!!!!!!  Food shopping is probably one of my greatest enjoyments!!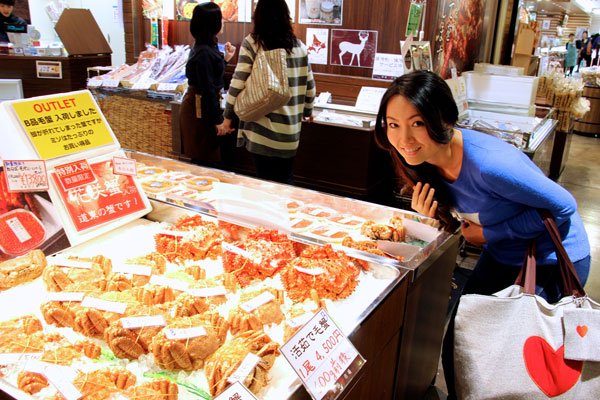 (Below)  My goodie bag of king crab legs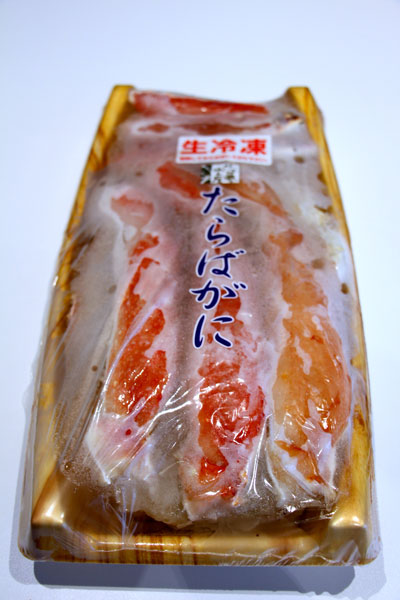 What you'll need (feeds 2 greedy, lucky individuals):
6-7 large king crab legs, uncooked
3 small bundles of dried vermicelli noodles
3 good handfuls of baby spinach
1 entire head of garlic, finely minced
1 tbls of oil
2 cups of chicken broth
Prep Time:  20 minutes
Cook Time:  10 minutes
Firstly, prepare the crab legs.  Because king crab legs are so ginormous, it's best to ask the fish monger to prepare it by removing one side of the shells.  This way, you can place the minced garlic directly on top of the flesh of the crab, and makes scooping out the sweet succulent meat so much easier – no cracking or tools needed at the table!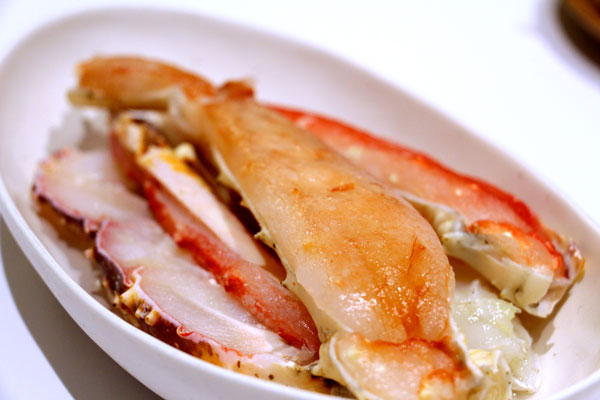 Oooooooo – that rosy blush…….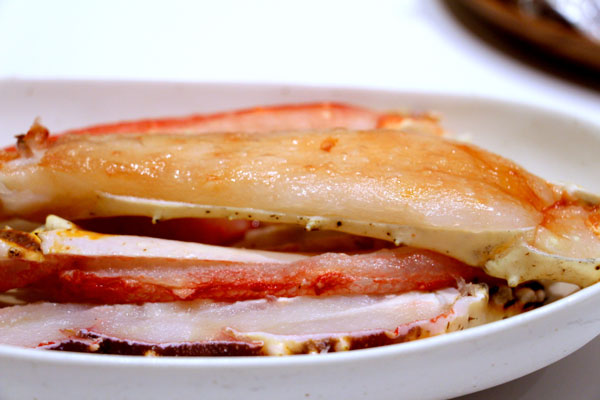 Pre-soak the bundles of vermicelli in a bowl of cold water for 20 minutes to loosen and slightly hydrate the strands.  After pre-soaking, drain out the water and toss the vermicelli in 1 tbls of oil and 1 tbls of minced garlic.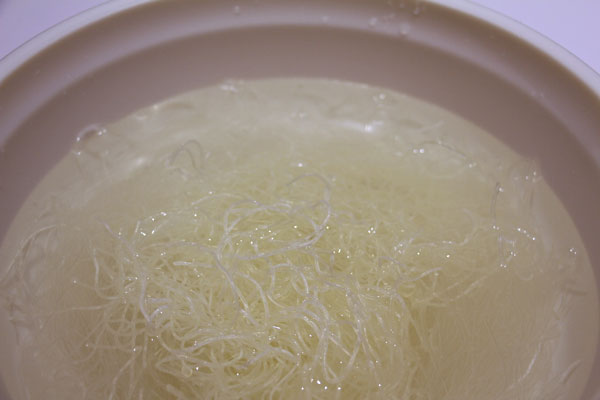 In a large, shallow pan (with a lid), pour in about 1/2 cup of chicken stock.  I love using my 30cm Le Creuset Braiser Pan (in fennel green) for this task.
Layer the minced garlic infused vermicelli, along with handfuls of baby spinach, into the pan.  Traditionally, there is no spinach involved in this dish, but I like adding a bit of colour and extra nutrients into this meal.
Pour the rest of the chicken stock over the vermicelli – this helps the vermicelli soften during the cooking process, and also eliminate any sticking at the bottom of the pan.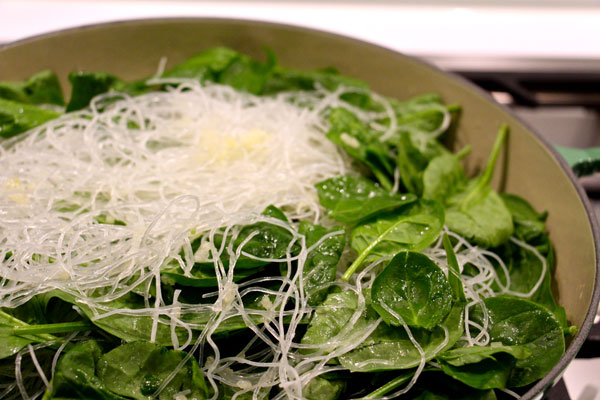 Stack the king crabs (with shell side down) on top of the vermicelli.  Heap spoonfuls of minced garlic on to the flesh-side of the crab legs.  Sprinkle each piece with a bit of salt.  Also, depending on how salty the chicken stock is, season the vermicelli accordingly.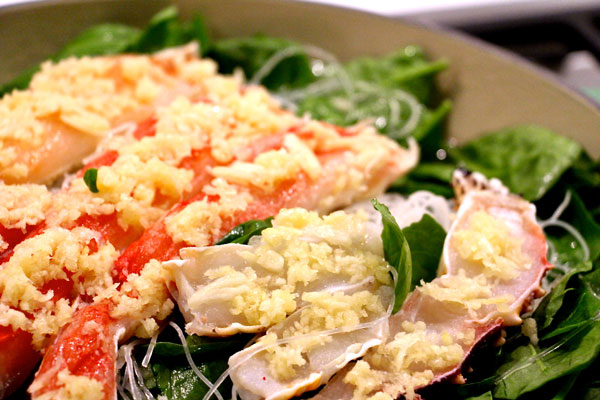 Clasp on the lid, and simmer over medium high heat for 10 minutes.  You do not want to overcook the crab legs, as they will become rubbery.  The chicken stock should have now soaked into the vermicelli.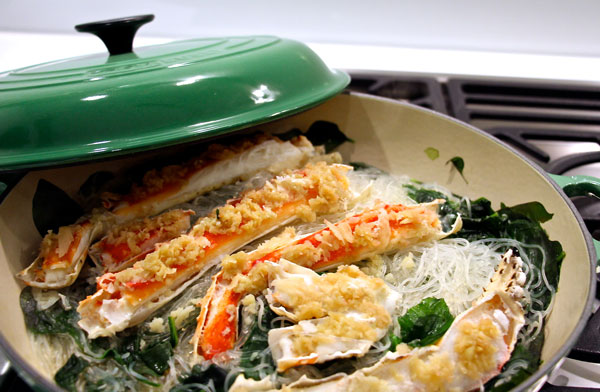 Ta da!  So delicious and decadent, yet so effortlessly simple!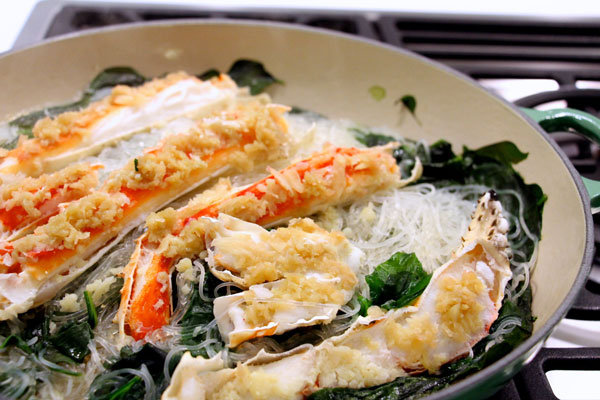 Bon Appetit!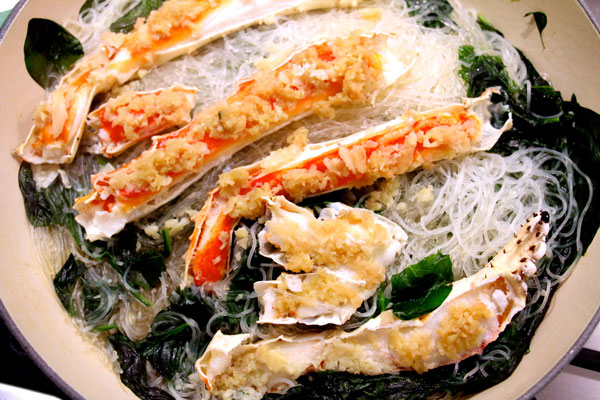 Oooooo Money Shot!  Look at the succulent layering in the crab flesh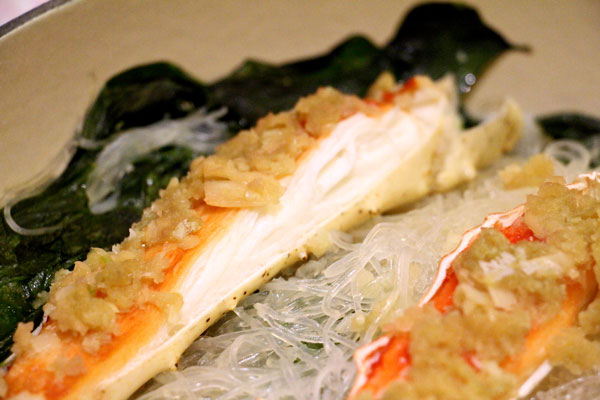 Sites We Adore