Afterthoughts – Sampling Monk Fish Liver & Cod Sperm at Kishoku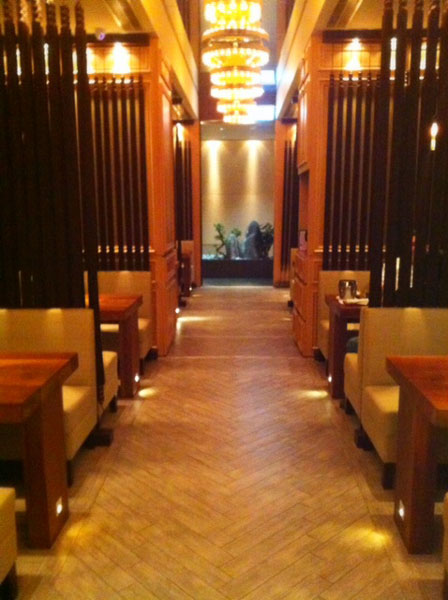 Whenever I crave  for a cleansing meal, my mind naturally drifts to Japanese cuisine.  What makes Japanese cuisine so endearing to me is its techniques in enhancing the true essence of the ingredients, in highlighting and even elevating the ingredient's purest taste.    The Mister and I are huge fans of omakase meals, since there is always that element of surprise, where you place your trust and expectations in the hands of the chef.  Every year, we make at least one food pilgrimage to Tokyo to indulge in the meticulous decadence that is Japanese cuisine.
Luckily for us, our home base of Hong Kong has its share of fine sushiyakis that could give Tokyo a run for its money.  Recently, we ventured to the oddly named "Bigfoot Center" in chaotic Causeway Bay to experience the new Kishoku.  This newish restaurant opened quietly a few months ago under the helm of Chef Ah Do, who's loyal following from his previous position at Sushi Ta-ke has since moved with him to this new location.  Getting into the restaurant was a challenge in itself, as the entrance design of 4 decorative panels confused us in finding the door.  Stand a little closer to the 2 lefthand panels, and one of the panels mysteriously slide open to reveal the plush interiors.  Furnished in muted yet luxurious shades of beige, diners walk down a runway flanked by plush, wide booths separated by woven screens before arriving at the glowing sushi counter.  The decor actually reminded me of our apartment – very spa / zen-like!
In my view, there is no point in eating omakase if you are not sitting at the sushi counter.  That live interaction with the chef and the theatrics of sushi making is really what defines omakase.  We were promptly seated in front of Chef Ah Do on heavy, plush chairs.  One thing, however, that I have to note is that it didn't smell fantastic in the restaurant – I think it has something to do with the remnants of recent renovations, but I felt the sushi counter smelled worryingly "fishy".  Hence, I wasn't entirely convinced of the meal ahead.
My Table-scape.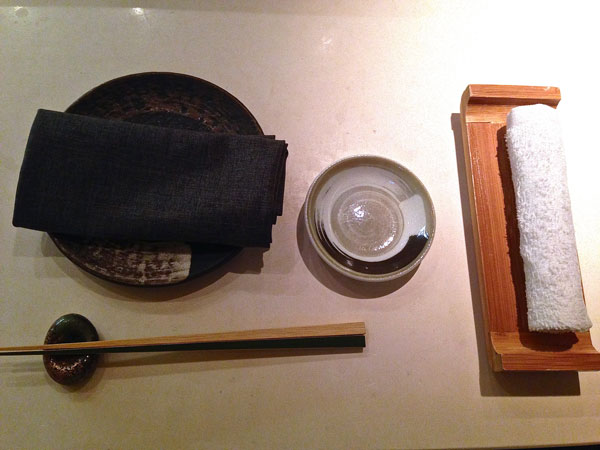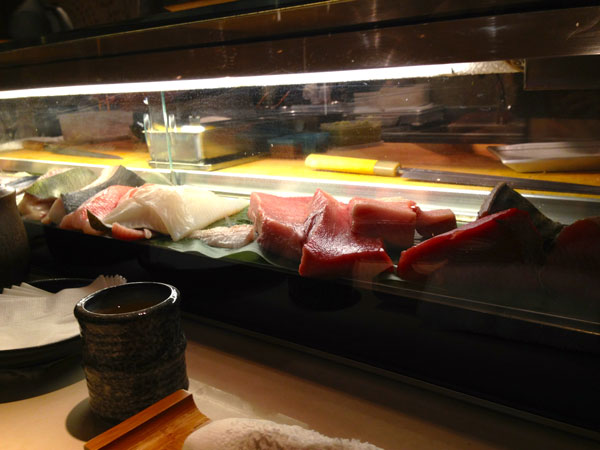 There first, must be sake.  We ordered the recommended house sake, served cold.  There are 4 omakase menus on offer, and we went for the Sho option, which caters to "serious sushi lovers".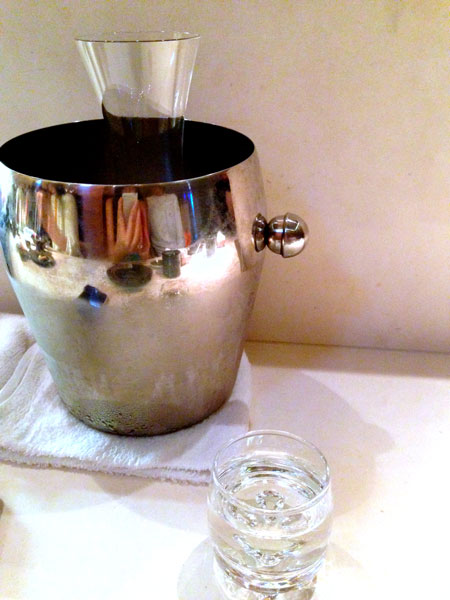 We first whet our appetites with a nest of sweet shiroebi (white shrimp) served on top of a refreshing shiso leaf.  The small, delicate shrimps were incredibly fresh and sweet, and melted in the mouth.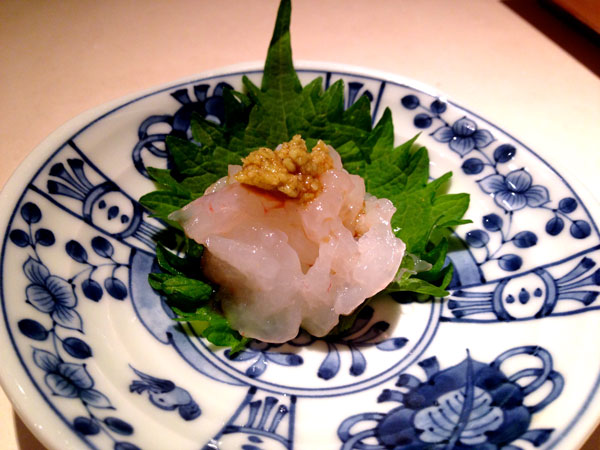 To add some contrast in texture, we were served airy slivers of fried cod skin that tasted like chips but with none of the heavy oil.  The addition of Japanese mayo made this little side-dish a sinful treat.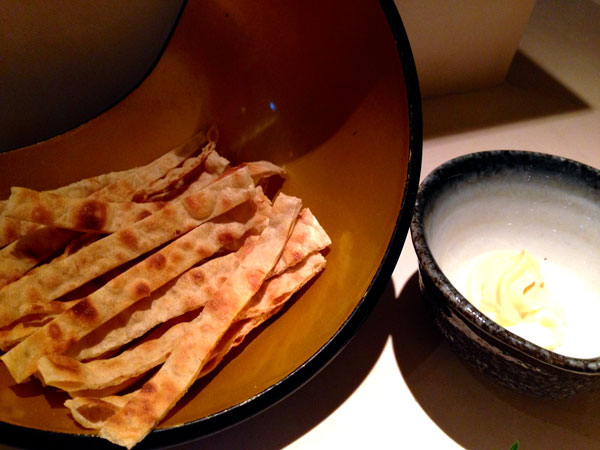 Next up, watanikani with egg sauce.  This crab meat dish was sweet, light and incredibly fresh.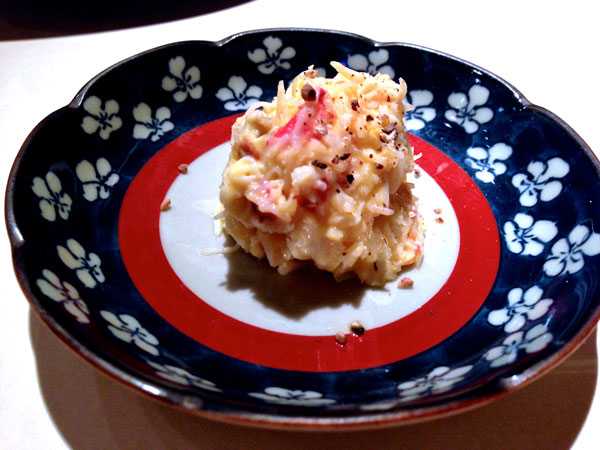 Another small plate of ebi.  For someone as ebi-obsessed as me, this was a very welcomed sight.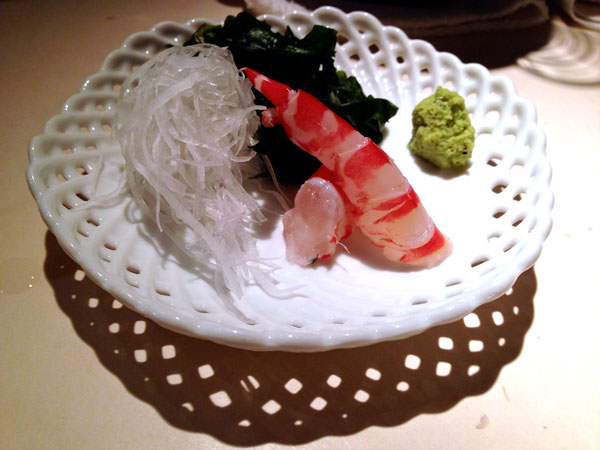 Kawaaki accompanied by monk fish liver sauce.  The flesh of the white fish was firm with almost a crunchy texture.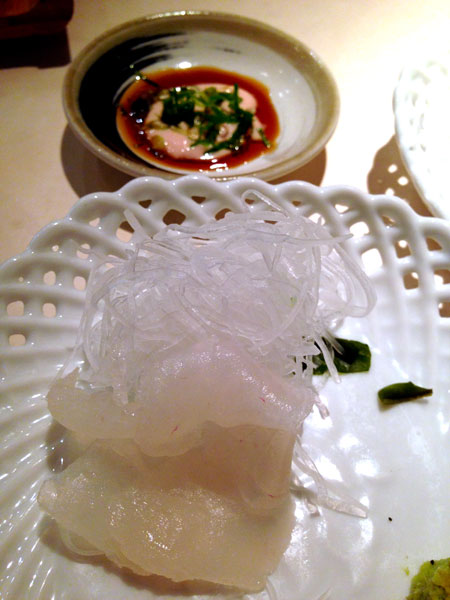 I am a fan of monk fish liver, and this luxuriously creamy sauce was the perfect dip to play contrast with the fresh crunchiness of the kawaaki.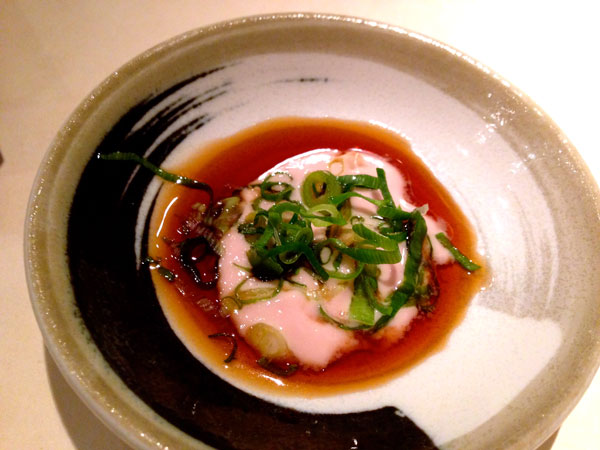 A little plate of crunchy seaweed with a yuzu-based soy sauce to refresh our palates.  The seaweed tasted like the ocean.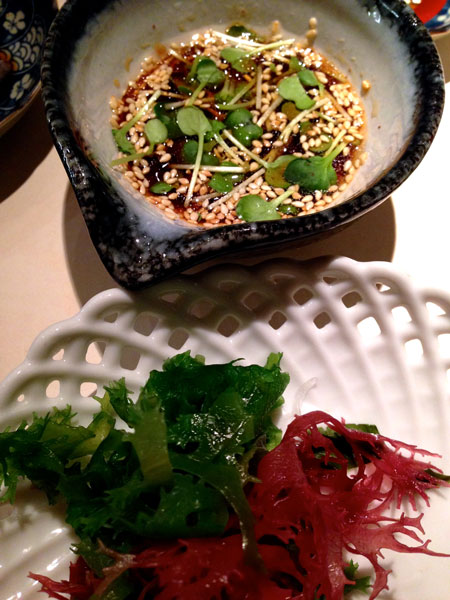 Almost too beautiful to eat – the sanma (pacific saury) arrived wearing a glistening silver coat, dressed with soy, negi and shallots.  The meat was deliciously robust with a pleasant oily undertone.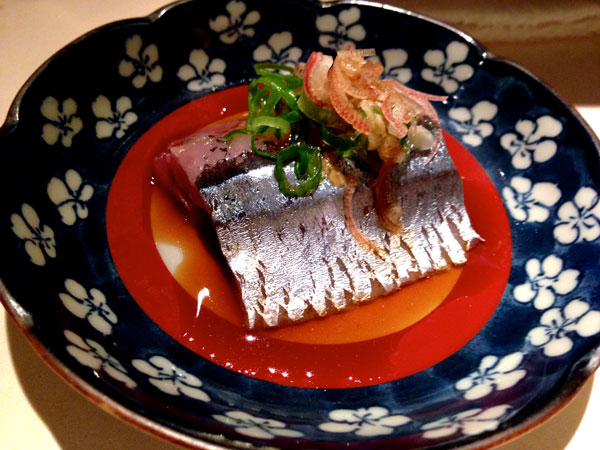 Thick slices of Toro sandwiched between a toasted piece of nori, with a shiso leave tucked in between.  We were asked to refrain from soy sauce for this, but I secretly dipped mine in a tiny bit of soy as I felt the brininess of the sauce really complimented the melt-in-your-mouth fattiness of the fish.  Oh, this little sandwich was divine!
I also loved how Chef Ah Do split the shiso leaves in half by cupping his hands and pressing compressed air through to break the leaves.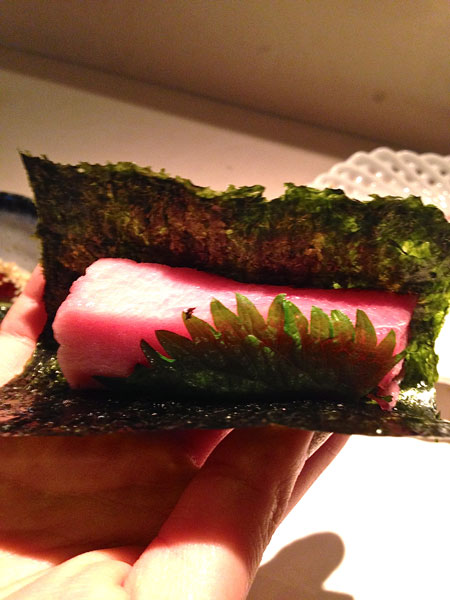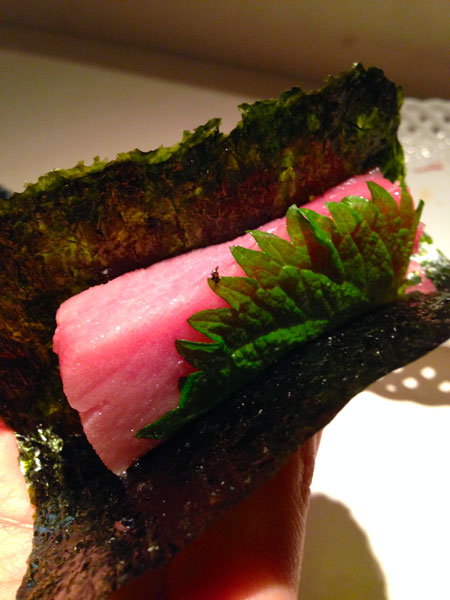 Smokey, salty bonito.  I'm not a huge fan of bonito as the smokiness often taste to overwhelming for me, but the balance between garlicky negi, shallots and fresh cress really made this dish sing.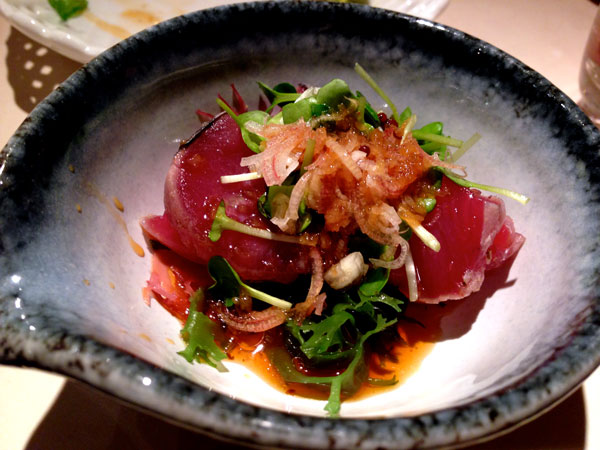 Uni served in its own shell, topped with yuzu-soy brined ikura.  I always view uni as the key indicator of a Japanese restaurant's quality, and the uni served at Kishoku was out of this world good!  Sweet, buttery yet still light and refreshing on the palate, this was a dynamo of a dish.  I loved the citrusy pop of the ikura, thanks to the yuzu.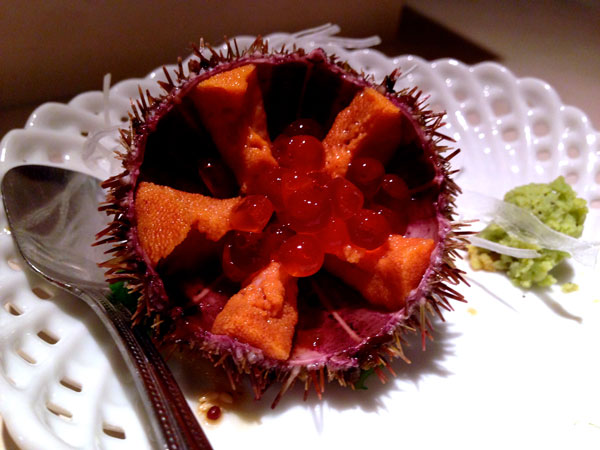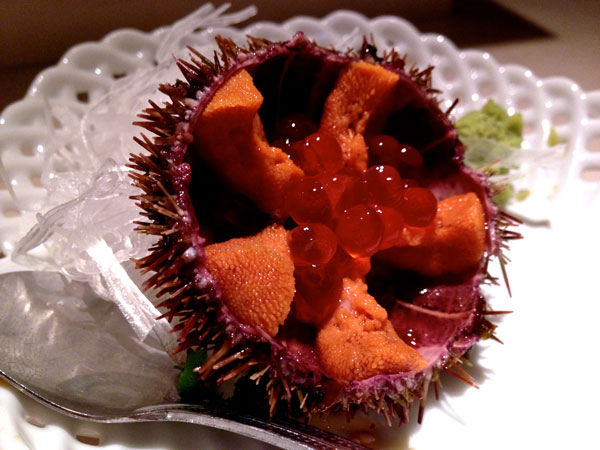 Now, comes the "Fear Factor" challenge.  Monk fish liver and shirako (cod fish sperm)!  I've had monk fish liver on several occasions in the likes of Kyubei in Tokyo, and I adore the subtle ironiness that settles on the palate after each bite.  However, I've never had cod sperm until now.  As an adventurous foodie, I have a very open-minded view on food.  The "sperm" in question was curled in a tube that much resembled the look of pig uterus (perhaps internal reproduction organs all look similar)?  Taking a deep breath, I gulped and chewed.  The taste is incredibly creamy, yet with a peculiar, residual aftertaste.   I must say I wasn't a fan of the aftertaste………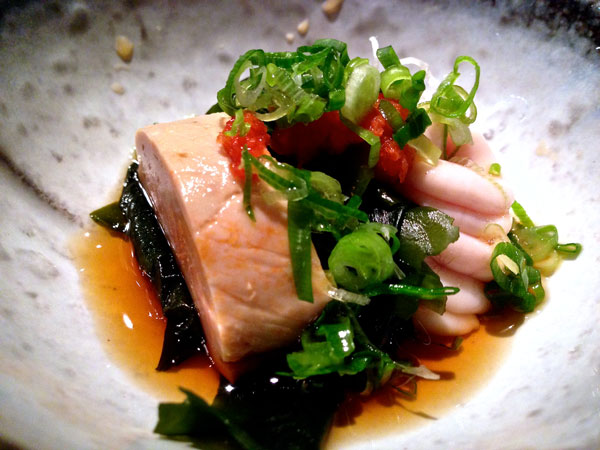 Hence, a juicy fig was a very welcomed palate cleanser.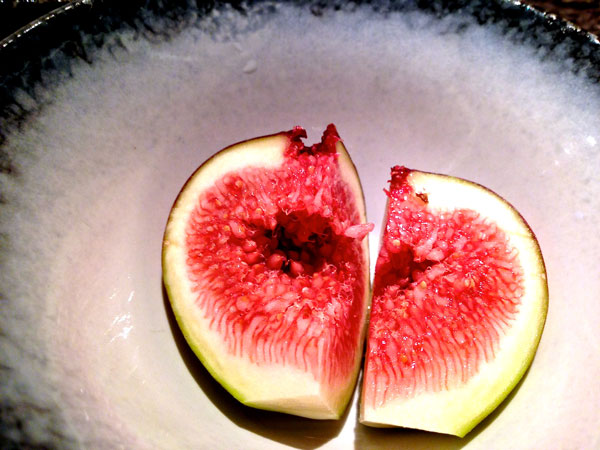 Now comes the sushi courses.  First up was the ichijiku, a sort of large shellfish.   The bouncy texture was a delight to chew, especially when the clam seemed to get sweeter with each chew.
Another beauty of a fish – the saba (mackerel).  I'm usually find saba to be a bit too fishy for me, but this one (with a brush of soy) was delicious.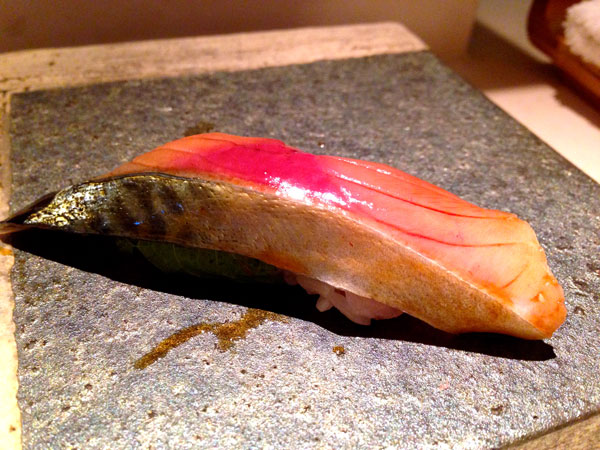 A broiled piece of akamuji sushi.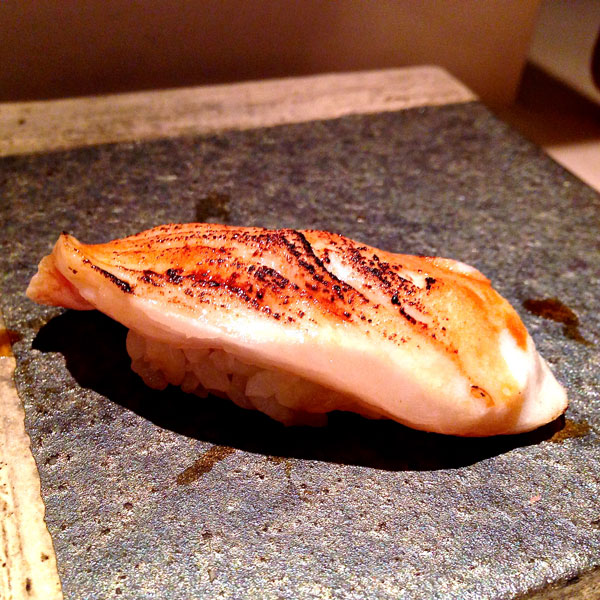 O-toro!  I usually prefer chu-toro (medium fat tuna belly) to o-toro, but this buttery, melt-in-your-mouth piece of beautifully marbled o-toro had me second guessing.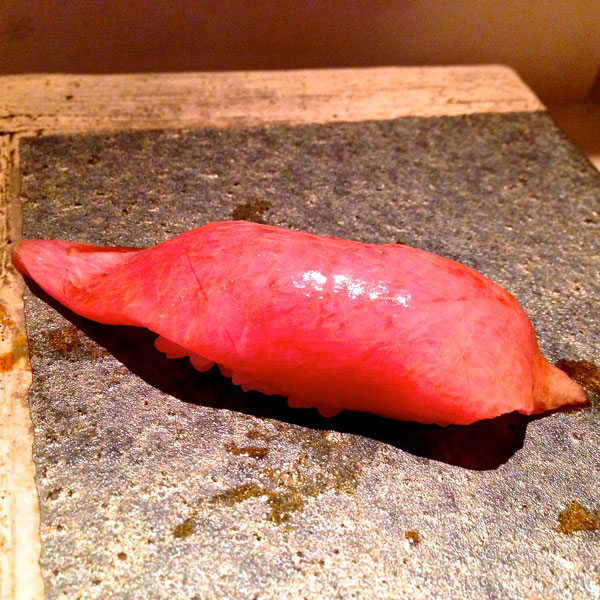 Sorry, but I can't remember what this piece was!  It was delicious though, with a shiso leave tucked.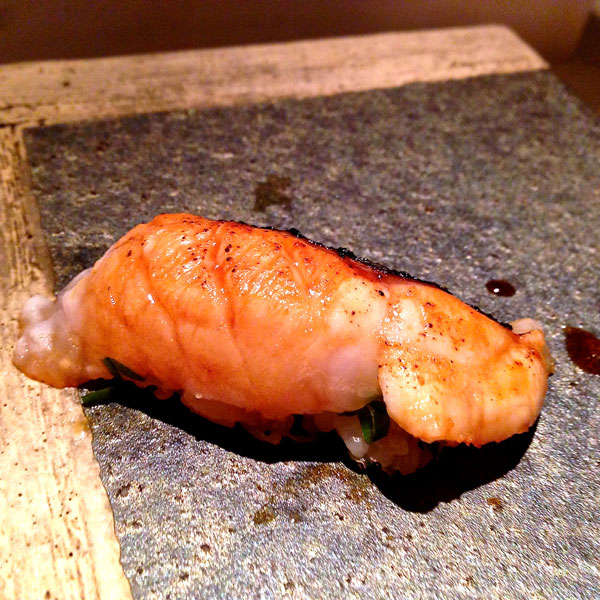 Monster uni!  This sushi was so heavily loaded with uni that it was sloping off the sides!  The decadence in the amount of uni reminded me of a similar experience in the fabled Jiro in Tokyo.  The quality here was superb!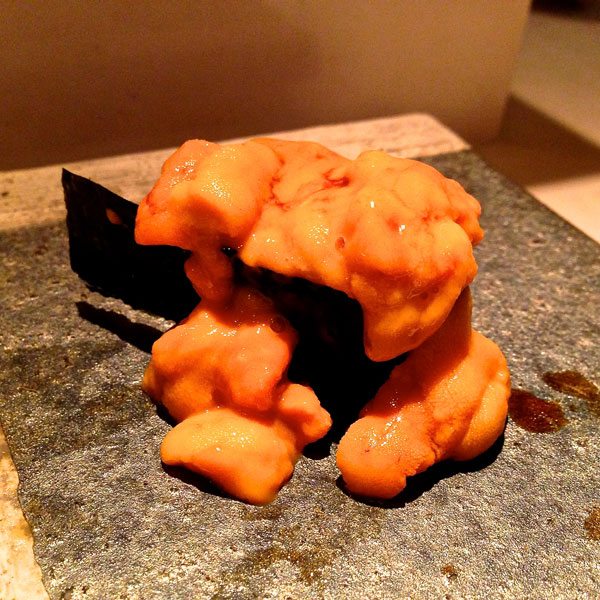 A bowl of miso soup filled with sweet, succulent seafood.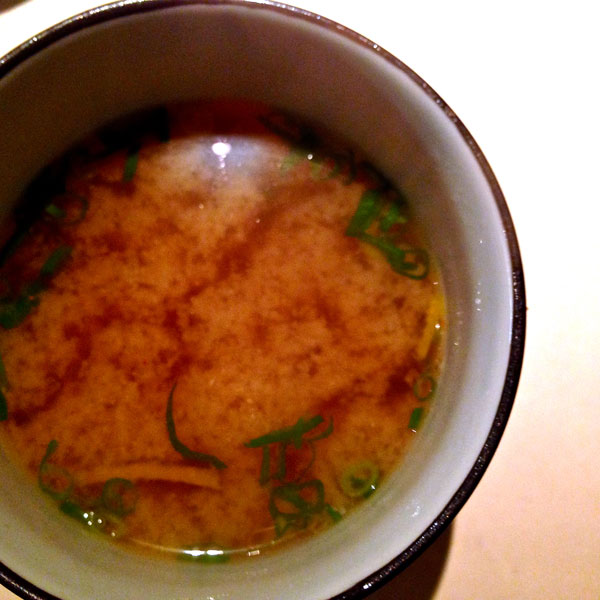 Last sushi course – broiled toro skin.  Fatty, creamy and oh so indulgent!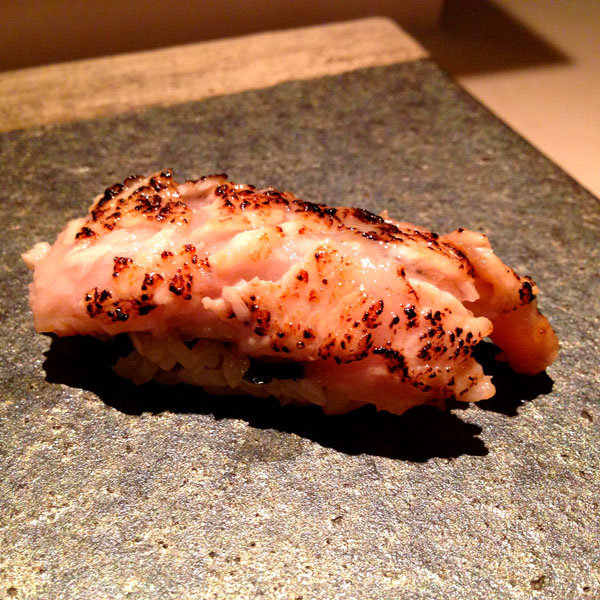 We were dangerously full by this point, but we couldn't pass up on desserts, especially when they have tempting names such as cheese ice cream (below).  This scoop looks deceptively average, but the taste was perception-altering!  Who knew cheese could taste so good in an ice cream!  And I'm not talking about "cream cheese" here.  The ice cream was velvety rich with cheese aroma, and little flecks of soft, yielding cheese adorn each bite.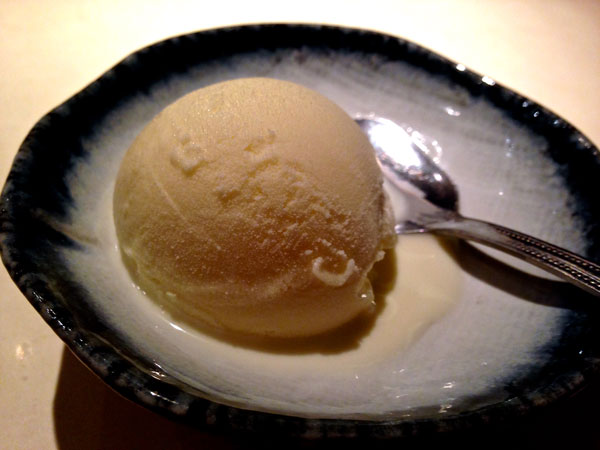 It's autumn, so persimmons are in season.  We each gobbled up the crisp persimmon and sweet Japanese grapes.  I love Japanese grapes as they have an almost honeyed, drunken taste resembling sweet port.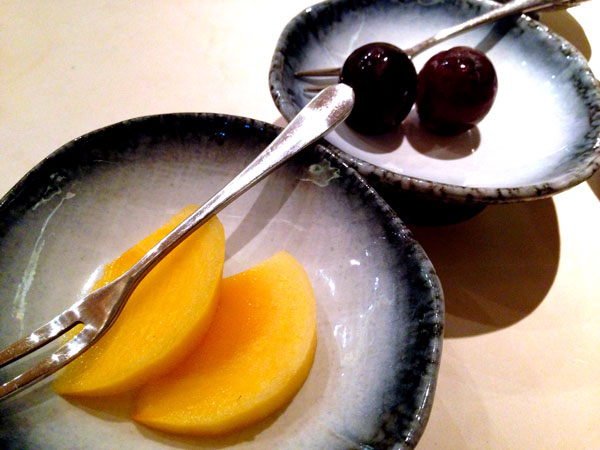 Finally, we each devoured another ice cream scoop, this time, in "sea salt" flavour.  The subtle salt further accentuated the creamy sweetness of the ice cream.  This was my favourite ice cream out of the two.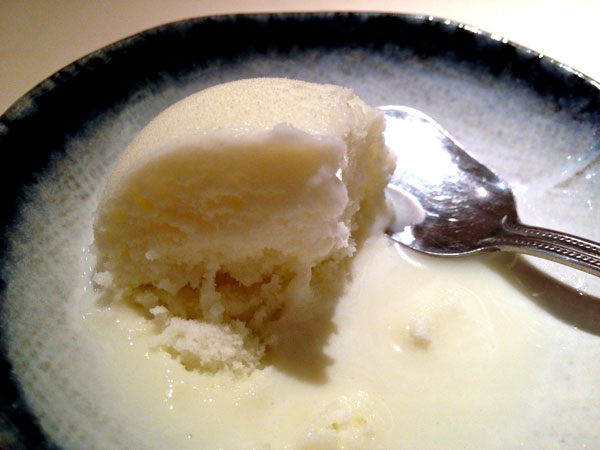 Verdict:  What a find!  Kishoku has definitely been added to my list of "favourite Hong Kong sushiyakis".  The freshness of the ingredients is evident in every bite, and Chef Ah Do is not afraid to stray outside the strict confines of Japanese cuisine to forge out new flavours combinations.  In my opinion, there's no point coming here to order a la carte, as omakase really is your best option.  The sushis average around HK$90 per piece, and our decadent omakase (although steep) at HK$1300 per person, felt like more bang for your buck.  Bottom line – this is a sushiyaki where you come for the best quality and experience, so its natural to also be paying premium for this.  But it sure is a pretty penny well spent!
Kishoku
5/F Bigfoot Centre
38 Yiu Wa Street
Tel:  +852 2893 0333
Sites We Adore