Kitchen Goodies from Canada
During my recent trip back to my beautiful Vancouver, I went on a home / kitchen ware shopping spree to furnish our newly renovated apartment in Hong Kong.  I always find shopping for home decor items in Hong Kong a tedious and disappointing task, since there are very limited varieties of products, and prices are usually at least double (if not triple!) that of even better items in North America.  There are only a handful of stores I frequent in Hong Kong for home decor goodies, such as Indigo, G.O.D., Pantry Magic, Homeless and Franc Franc, and these usually just offer a very limited selection.  Hence, I used all of my Cathay Pacific baggage allowance to carry these new kitchen goodies back to Hong Kong – well worth it in my view.  It also feels like I brought a bit of my Vancouver back to Hong Kong with me
First up – Epicurean cutting boards.  These light-weight cutting boards are all the rage with kitchen fanatics all over the globe.  A very gourmet home chef in Vancouver introduced me to these, as they are easy on the knives, extremely durable, and easy to clean.  And, these boards are very environmentally friendly, having been made with 100% recycled cardboard!  I couldn't believe that compressed cardboard can be so durable, but these babies are dishwasher safe and my feisty Wusthof knives barely makes a mark on them.  Durable, light, and antibacterial – these are the perfect cutting surface for any gourmet kitchen!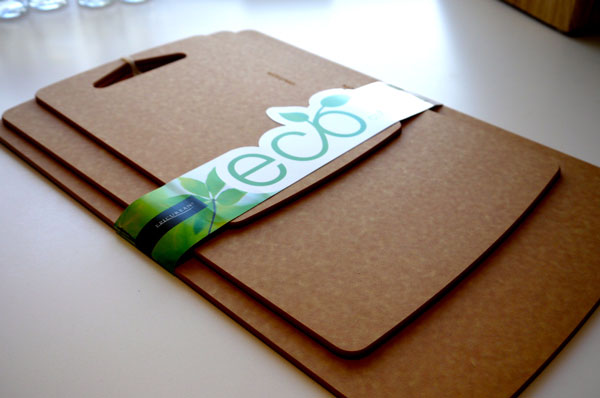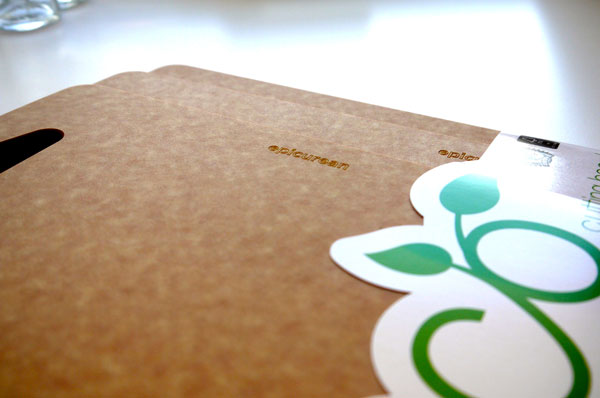 Other girls dream about that next shoe or handbag purchase, but I dream about my next big knife set splurge!  I've been craving for a set of shiny carvers for some time now, as good knives are the backbone of any kitchen.  After waving several different brands of knives around in William-Sonoma's showroom (and making the sales staff very nervous), I finally decided on the Wusthof Classics.  Originally I had my heart set on the Zwilling Henckels, and was curiously intrigued by the Japanese Shun and Global brands.  However, I upgraded to the pricier Wusthofs mainly because of the weighty confidence the knives instilled in me every time I held one, and how each handle conforms perfectly to my hand.  Plus, for a brand that has been around for 200 years, they must be doing something right!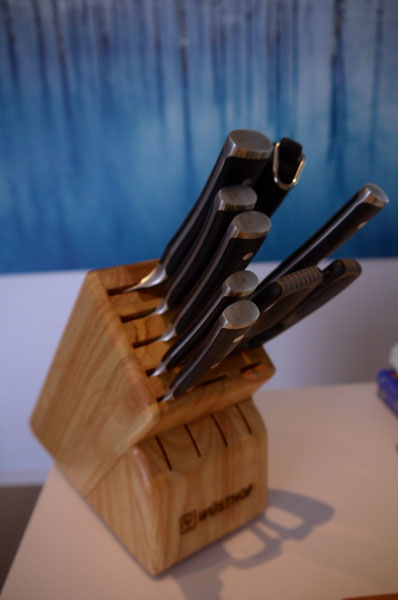 My 9 piece Wusthof set – 3″ paring knife, 3 1/2″ pairing knife, 1 pair of shears, 6″ utility knife, 8″ bread knife, 5″ Santoku and 8″ chef's knife.  The versatile Santoku is what attracted me most to this set.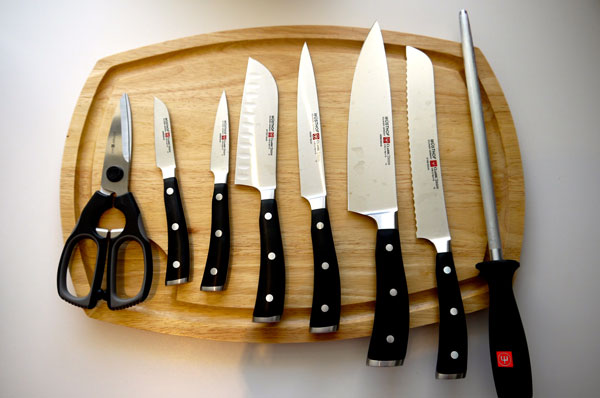 And a KitchenAid countertop knife sharpener to keep these Wusthofs in top condition.  Although the set comes with a steel rod sharpener, I was advised to purchase a tabletop sharpener as this ensures perfect precision blade angles with each use.  With the rod sharpener, you have to position the blade at a precise 20degrees angle, which I'm not confident about.
And since we're on the topic of slicing and dicing, here's a mandoline slicer I am very excited about.  After reading several reviews, and at the recommendation of the kitchen staff at Gourmet Warehouse in Vancouver, I purchased this Japanese Benriner mandoline slicer.  This slicer comes with 3 different types of very sharp, Japanese steel blades, and is reasonably priced at CAD$40.  Compared to the other more elaborate slicers on the market, such as De Buyer or Swissmar, the Benriner is very simple and to the point.  Easy to assemble and use, I feel I'd get a lot more use with this than if I were to set up a more elaborate slicer.  Watch this space for a further review of this product!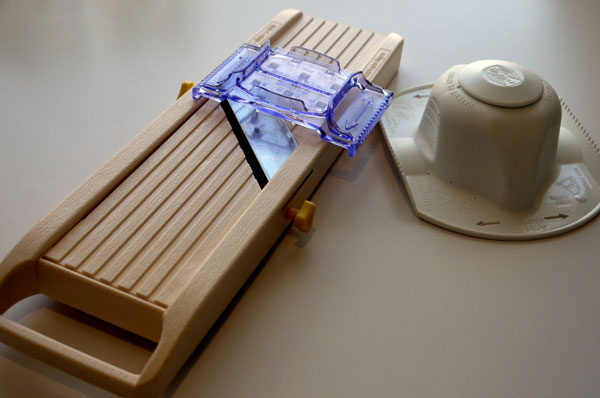 Showing my childish side, I couldn't resist buying these darling little rice bowls at a local Japanese pottery shop in Aberdeen Center (Richmond).  A good incentive for kids to finish their bowls of rice, since a little cartoon character is revealed at the bottom of each bowl.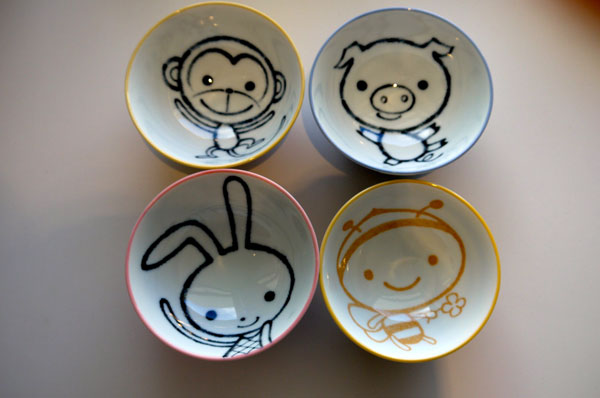 I absolutely adore the whimsical works of Nathalie Lété, a French artist who uses plates, paintings, and fabric as mediums for her creativity.  I bought the plates below at Anthropologie in Vancouver, an absolutely gorgeous lifestyle store. (I actually hand carried them on the plane with me as I was paranoid about them breaking when in check-in!)
These plates are too pretty to eat on, so I'm mounting them on my kitchen wall to bring a fluttering of whimsy.  You can find out more about Nathalie here  www.nathalie-lete.com
Being married to a Frenchie means I make a lot of quiches, and this ceramic coated pan with a removable bottom is perfect for my quiche lorraines!  The silky ceramic finish means pastries slide out effortlessly.  Plus, being very Canadian, this pan is made with 50% less energy than regular pans.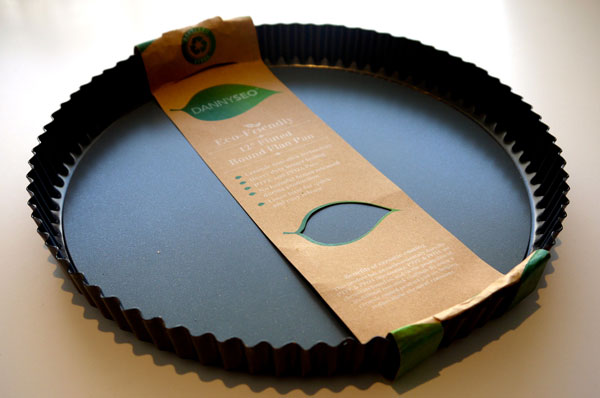 New measuring cups and spoons – I prefer metal measuring cups to plastic in case I use them to measure hot butter or water.  I am always paranoid that plastic cups will release toxic chemicals when in contact with hot liquids.
I love these Russian nesting doll measuring spoons.  These are from the brand, Fred & Friends.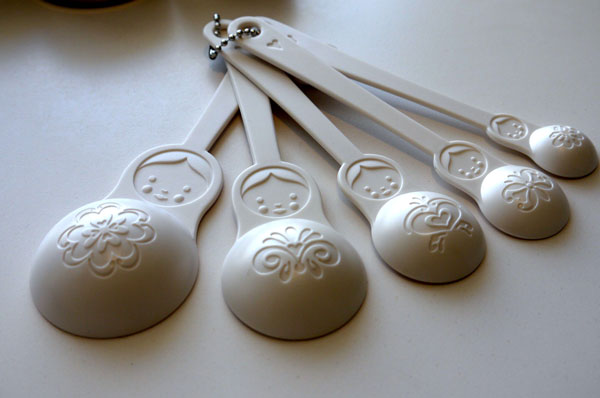 My girlfriends know how I love the kitchen, so these are some cute little presents they got me for my Bachelorette – very civilized!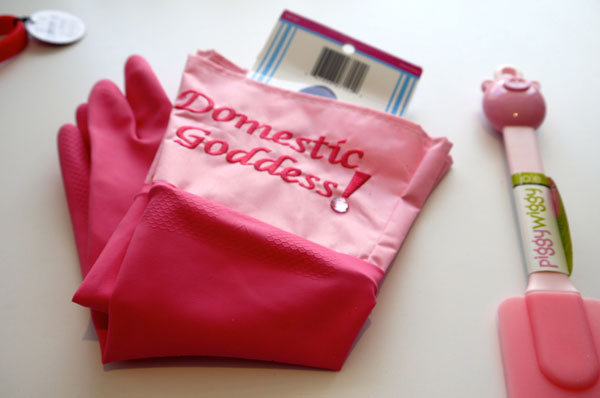 Wine gems for us Winos!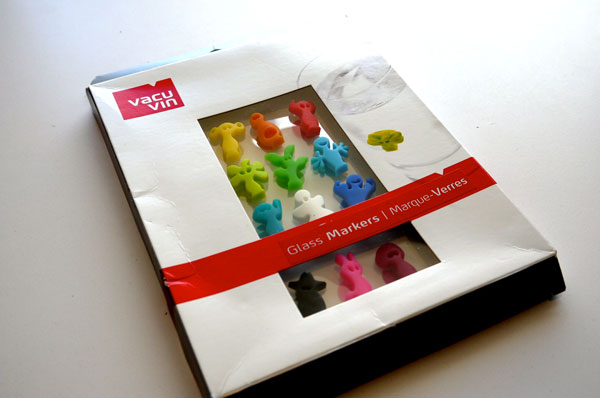 It feels like I've been searching for the perfect pepper mill forever.  I finally settled on this glass and steel Peugeot version because a) it matches the modern sleek lines of my new kitchen b) Peugeot is the BEST brand in pepper mills.  Not many people know that Peugeot (yes, that's the French car company) started life as a pepper mill producer, and moved on to becoming one of the most popular French car makers.  So…quite a bit of thoughtful French engineering went into making these pepper mills, and recently in the Peugeot showroom on the Champs Elysee, I saw a whole section devoted to pepper mills!  This particular model has 5 different gradient settings, ranging from the very coarse to the super fine.  Some say (snobbishly) that perhaps Peugeot should have been better off just sticking to making pepper mills!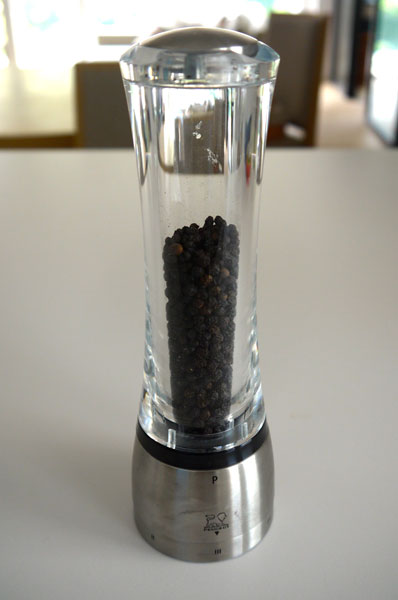 Since we are talking kitchen gadgets, I also upgraded my garlic press to this heavy duty Trudeau model.  This solid piece comes with a rubber self-cleaner, so my fingers don't smell like garlic after meals!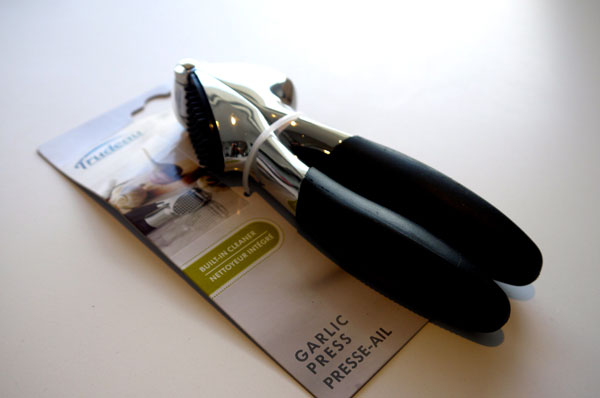 An oil mister is the perfect way to add just that tiny smudge of oil to any meal.  I got this olive oil mister from Prepara, so I can make sure my oven-baked "fried" chicken remains golden and crispy, with a fraction of the oil!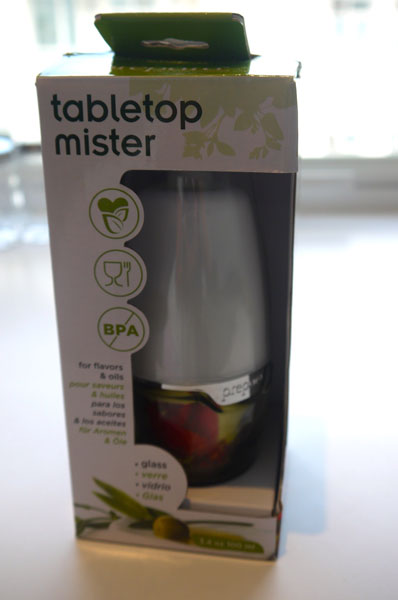 For those days when you just want to grill something, this ceramic Emile Henry plank should do the trick!  Perfect for BBQ grills or ovens, the ceramic ensures even temperatures and retention of moisture.  I can't wait to bake bread on this thing as well!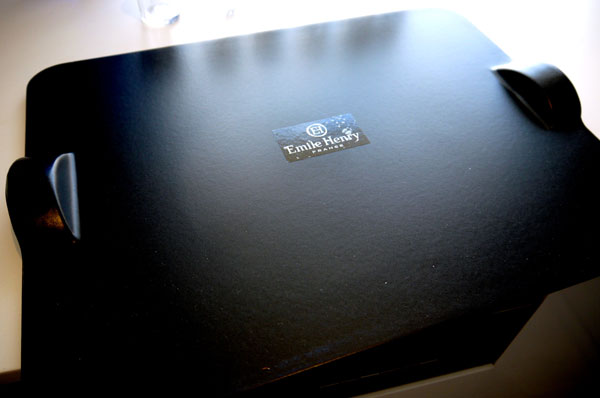 I love baking pizzas, and you can find one of my recent recipes here.  This round ceramic baking stone is the perfect surface for baking these pies!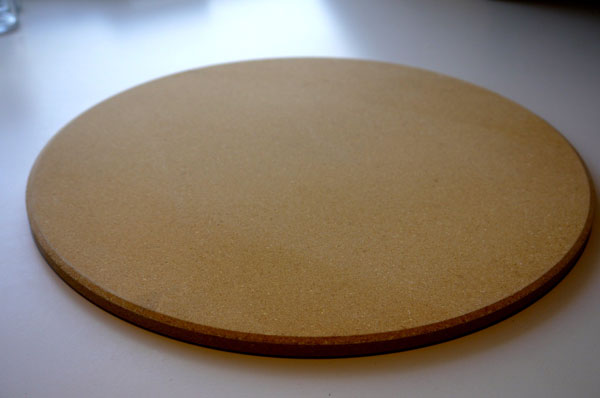 Another kitchen gourmet introduced me to the Zwilling Thermolon line of pans.  These pans are fully coated in ceramic and are 100% non-stick.  A super healthy cooking surface since it requires not a drop of oil for stir-fries, or simply frying up a few eggs.  Watch this space for further reviews on this product!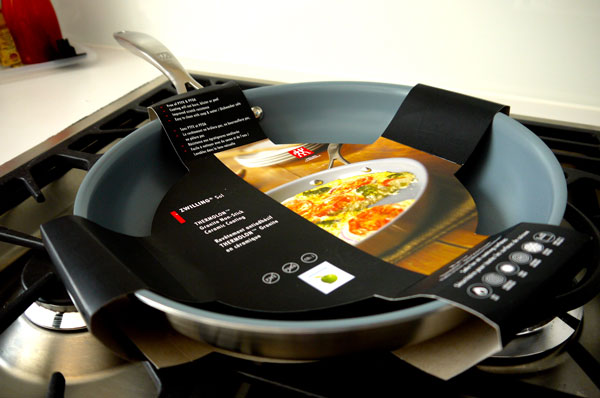 A rotating spice rack – a must-have for anyone who loves cooking with plenty of flavour!  I love the vibrant, enticing colours peeking out of each little glass jar.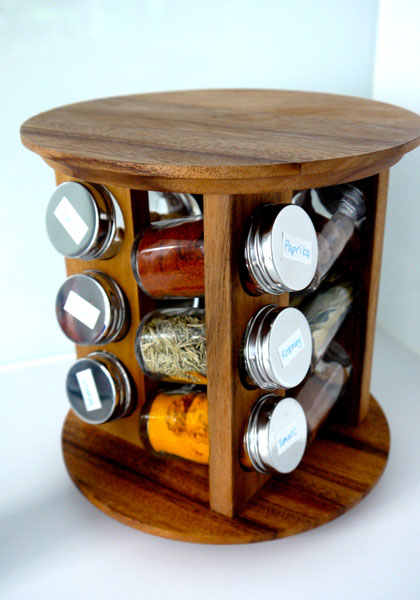 One of the best finds on this trip is the BluApple.  Each little plastic blue apple contains a sac of ethylene gas absorbers, which helps keep fruits and vegetables fresh 3 times longer.  It's non-toxic, and each sac lasts for up to 3 months.  I recently left some very ripe persimmons in the fridge beside a BluApple for over a week (since a typhoon delayed our return trip from France), and I was dreading coming home to rotten fruits.  Amazingly, the persimmons looked and tasted exactly as they would have a week ago, still perfectly ripe without a dot of blemish!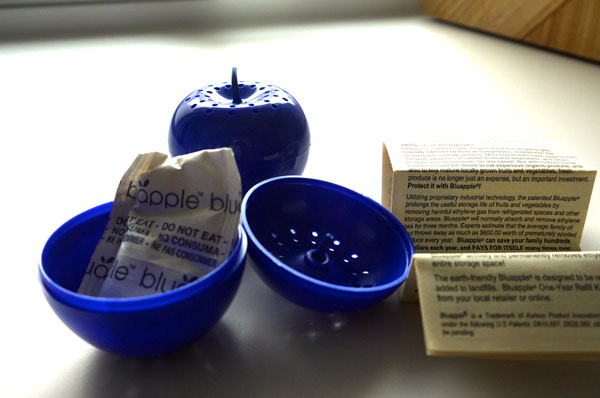 I couldn't be a true Canadian without some Hudson's Bay Company products.  I am so excited to start using these coffee cups and breakfast tray, branded with the Bay's iconic colourful strips.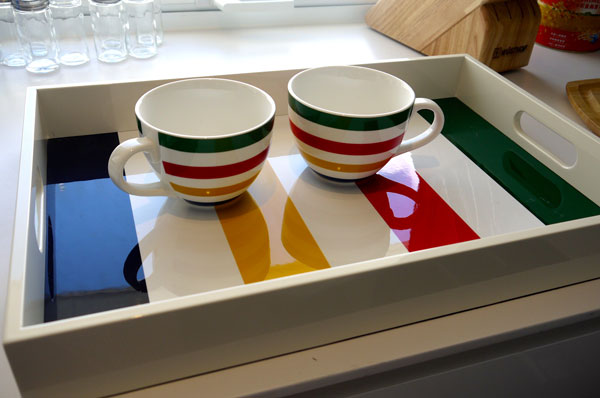 Stay tuned for photos of my new kitchen!  :)
Sites We Adore