Restaurant Review – Diamond in the Rough, La Saison, French Fine Dining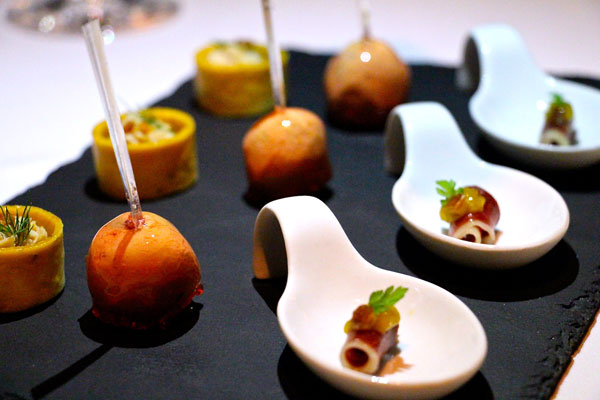 A Diamond in the Rough:  Tucked amongst the blazing neon lights of chaotic Cameron Street in Hong Kong's bustling Tsim Sha Tsui, lies a little culinary secret.  Pushing through hordes of gaping tourists, and whizzing past clouds of exhaust blooming from jam-packed rows of traffic, we arrived for our press tasting not knowing quite what to expect.  After piling into a glass elevator, we were whisked away to the polished, tranquil oasis of La Saison.  In sharp contrast to the chaos outside, La Saison is all refined luxury, awash in muted greys and natural wood tones.  The first Asian venture by veteran chef Jacques Barnachon, La Saison's ethos is based on deep-rooted respect for sustainability and seasonality.  The son of a renowned truffle finder, Chef Jacques grew up in idyllic settings, at his parents' hotel by a lake near the Swiss Border just south of Alsace, in the Bonnetage region of France.  It is in close contact with the natural environment that he developed his appreciation for local ingredients, sourced at their prime.  "You cannot have cherries all year round" perfectly sums up the ethos, as Chef Jacques only uses ingredients when they are in season.  He began working in the kitchen at the age of 14, and now runs his one-starred Michelin restaurant, L'Etang du Moulin, alongside their family hotel and brasserie.  The chef is also a member of Euro-Toque, a European chefs' association dedicated to the promotion of healthy eating and preservation of Europe's small farms.  In Hong Kong, the man Chef Jacques has appointed to lead is Executive Chef Florian Muller, a former protege from L'Etang du Moulin.
On this evening, we tasted selections hand-picked by Chef Florian from both the a la carte menu as well as the degustation menu.  We commenced our dinner with chilled poached prat-ar-coum oyster with celery & green apple jelly.  The subtly sweet jelly had a peculiar, almost rubbery texture, yet melted instantaneously in the mouth.  Prat-ar-coum oysters are known for their cucumber-like finish, and the perfectly poached shellfish complimented beautifully with the celery and apple.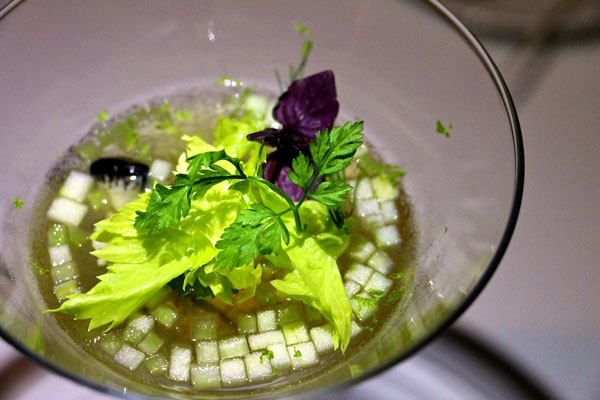 Moving onwards, the slow-cooked free range egg custard with sea urchin in shell & crusty argue was as smooth as silk, punctuated by creamy sweet uni and briny pops of seaweed.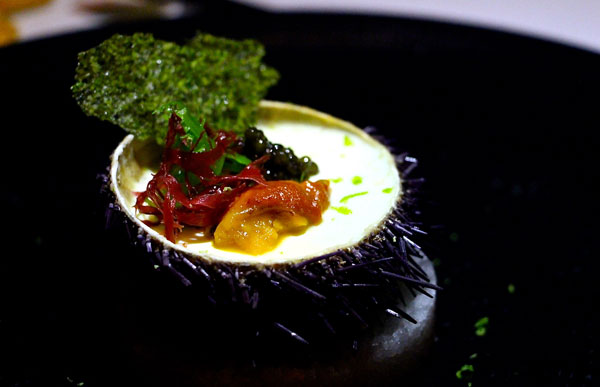 The lobster consommé served with blue lobster carpaccio & lobster ravioli ($248) brimmed with delicate seafood sweetness.  The rich lobster broth took hours of slow simmering and pounds of lobster shells to achieve such depth and umami flavours.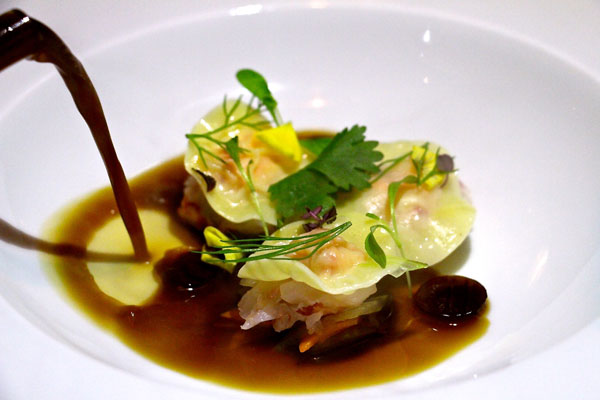 The pan-seared scallop with eggplant, girolle and veal jus ($388) was our favourite of the evening.  Although somewhat of a humble ingredient, the tender, melt-in-your-mouth eggplant soaked up plenty of robust veal jus, and its creaminess perfectly balanced the sweet bounce of the scallops.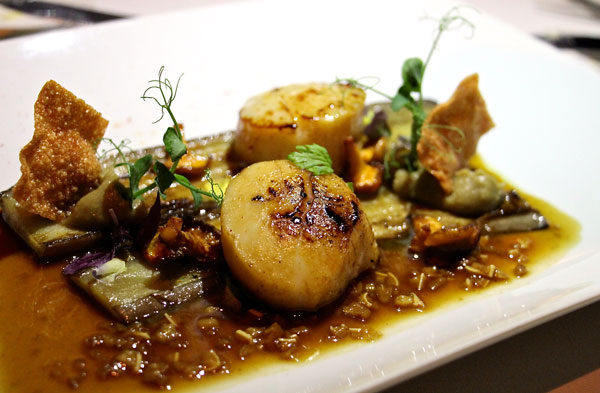 The heavy-hitter of the evening was the Miyazaki A4 beef tenderloin, drizzled in mushroom sauce and garnished with morels, ceps and truffles, served alongside mashed potatoes in an uni-shaped bread cup ($768).  The medium rare meat oozed luscious buttery juices at first bite, and we were almost in an ecstatic frenzy before the flavours were cranked down a few notches as part of the cut was a blush overcooked and dry.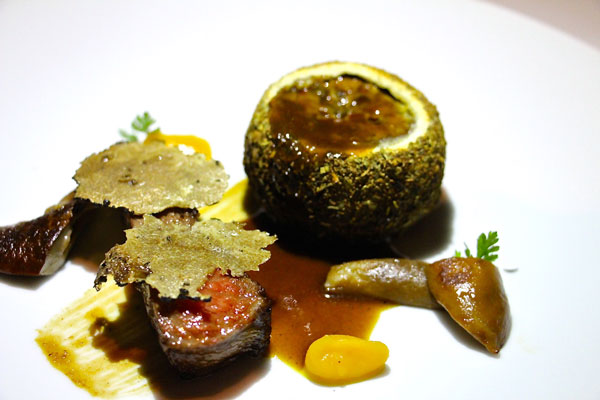 As customary at the French table, we concluded our decadent dinner with cheese, and for this instance, Bleu cire d'auvergne served with dried fruits bread and dots of quince jam ($160).  A intricate balance between sweet and savoury – definitely a satisfying finish.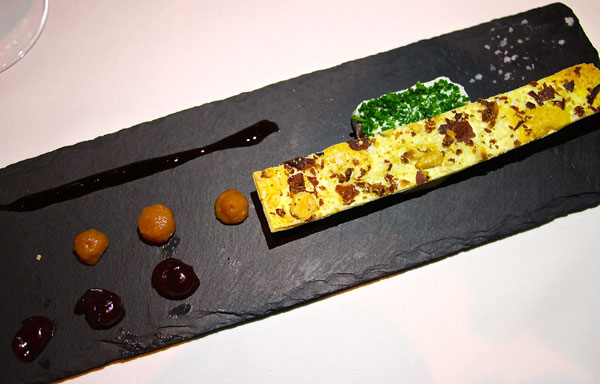 Just when we thought we were done with dinner, a quartet of desserts arrived at our table.  First up, was the lemon confit with lemon sorbet, meringue and mango ($158), which made for a wonderfully zesty palate cleanser.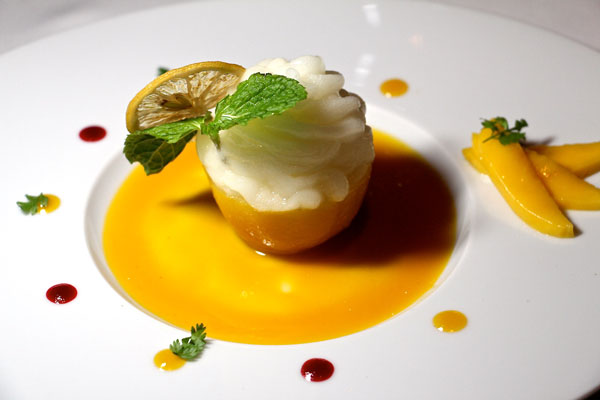 Green apple confit on lemon biscuit with pineapple cream and coconut sorbet was a delicious surprise, as we were not expecting such lightness and refreshing notes in a pineapple dessert.  The coconut sorbet, we could have eaten 2 scoops easily per person!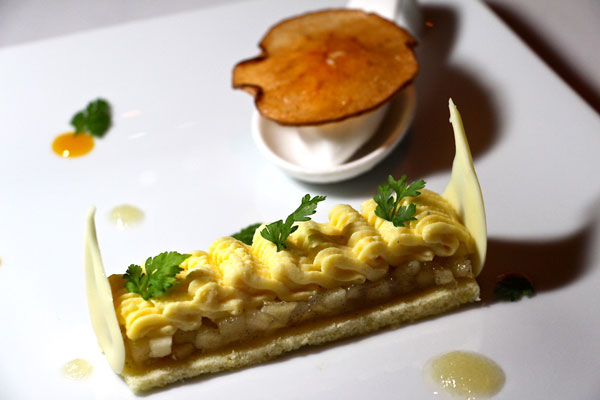 A much-loved classic for good reason, the moelleux chocolate with vanilla ice cream ($138) was everything the name promised – velvety, richly decadent, with a gooey, lava heart.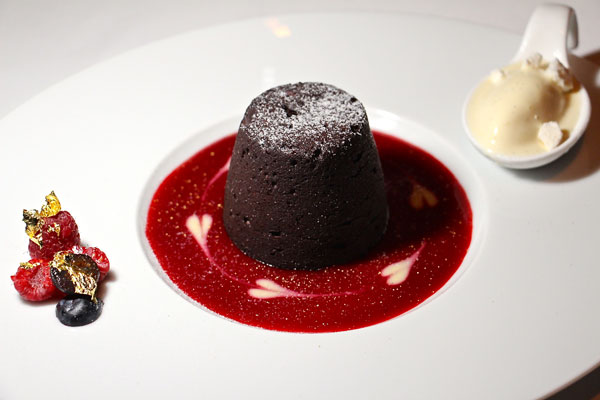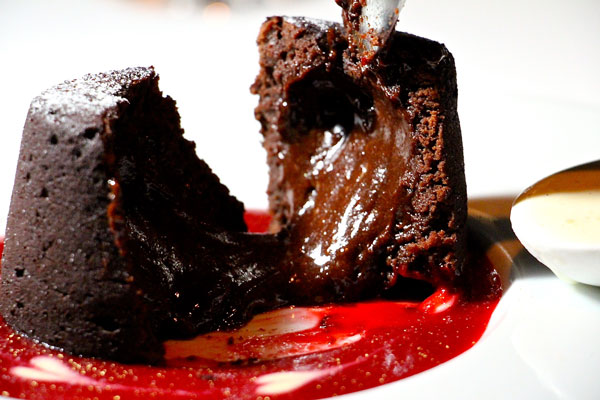 Our tour de dessert concluded with the chocolate bahibe with pear, biscuit and pear sorbet, which tasted like a sophisticated rendition of Ferrero Rocher.  The subtly sweet, fragrant pear sorbet tasted as if we just took a bite out of a summer fruit, ripened by rays of golden sunshine.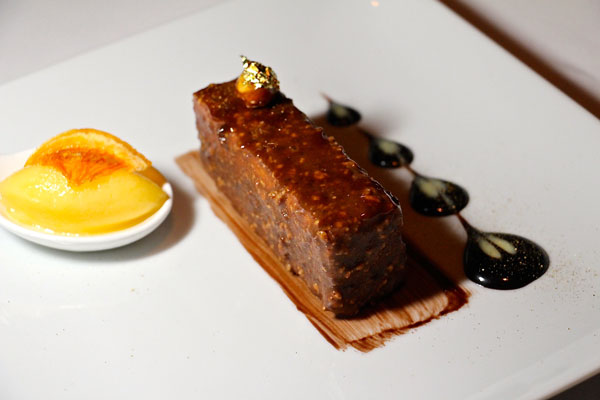 Verdict:  5-star dining hidden in a rather unassuming location.  A well-developed menu showcasing plenty of culinary finesse and innovation.  Prices are steep, especially for the location, and we advise that diners stick to the lower price range dishes rather than the baller selections.  We felt that the slightly more "humble" ravioli and eggplant dishes were more enthralling than the pricier selections.  This newcomer to the French fine dining scene, certainly has potential.
La Saison, 2/F, The Cameron, 33 Cameron Road, Tsim Sha Tsui, 尖沙咀金馬倫道33號The Cameron 2樓, 2789 8000
Sites We Adore