Feasting at One of the Greatest Tables of the World, Le Manoir aux Quat'Saisons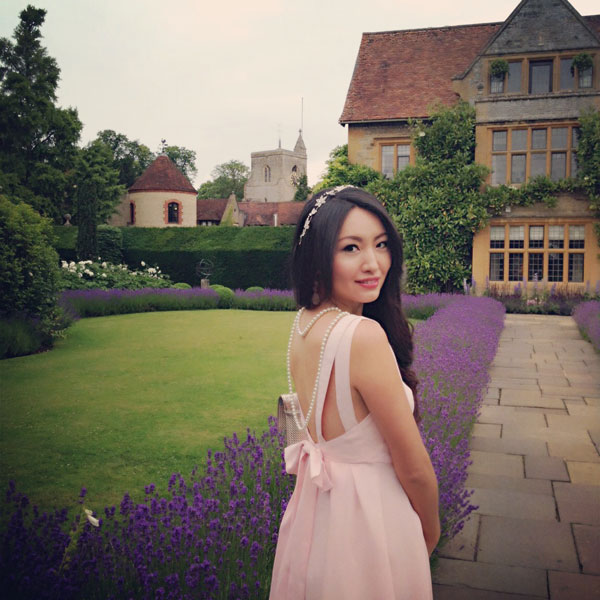 There are restaurants you enjoy eating at, and then, there are restaurants that you would fly across the globe to experience.  These rare unicorns of the restaurant world require months of advance bookings and planning, and command the utmost degree of anticipation.  Raymond Blanc's Le Manoir aux Quat'Saisons is one such restaurant.  In fact, it's not quite fair to describe the institution as a restaurant, because the dining aspect of the establishment is only a component of the bigger picture.  Established more than 29 years ago, the dreamlike estate is set in picturesque Oxfordshire village, a 30 minute drive from Oxford town centre.  The two Michelin-starred establishment sits on 30-acres of idyllic English countryside, and houses 32 individually designed guest rooms, a fine dining restaurant, and the acclaimed cookery school, surrounded by manicured lawns, a vast vegetable garden and orchard.  The vast gardens, filled with 100% organic vegetables, herbs and mushrooms, keep the Michelin-star kitchen fully stocked.
Raised from humble beginnings, Raymond Blanc was born in a tiny rural village near Besançon, France, and worked as a waiter in Oxfordshire before a chance opportunity introduced him to the kitchen.  The rest, is history.  The Raymond Blanc Cookery School opened its doors in 1991, and have so far trained 28 Michelin starred chefs, with notable names such as Heston Blumenthal, Marco Pierre White, Richard Neat and Peter Eaton, just to name a few.  Hong Kong's very own Chef Nurdin Topham of NUR, also expanded his culinary horizon here.
This June, we embarked on a sojourn to Oxfordshire, to attend a friend's wedding at the esteemed Le Manoir.  It took a 12 hour flight and a 2 hour train journey to get there, but well worth it.  The quaint yet luxurious estate was simply stunning, and I couldn't help but ogle at the beautiful surroundings.
(Below) Me, star-struck.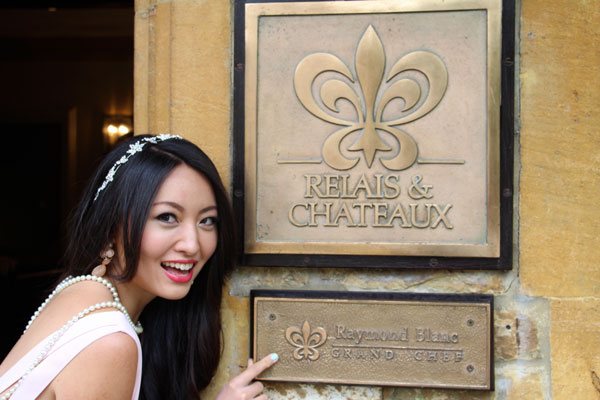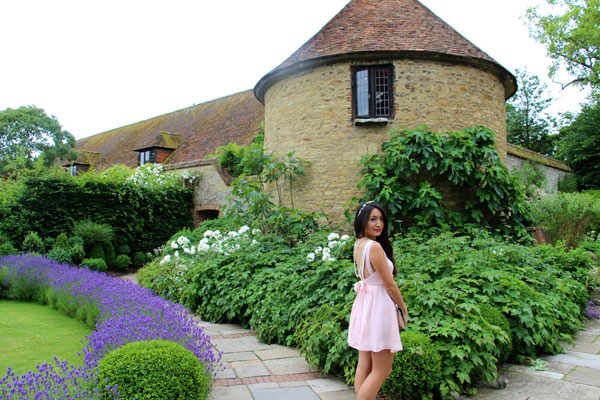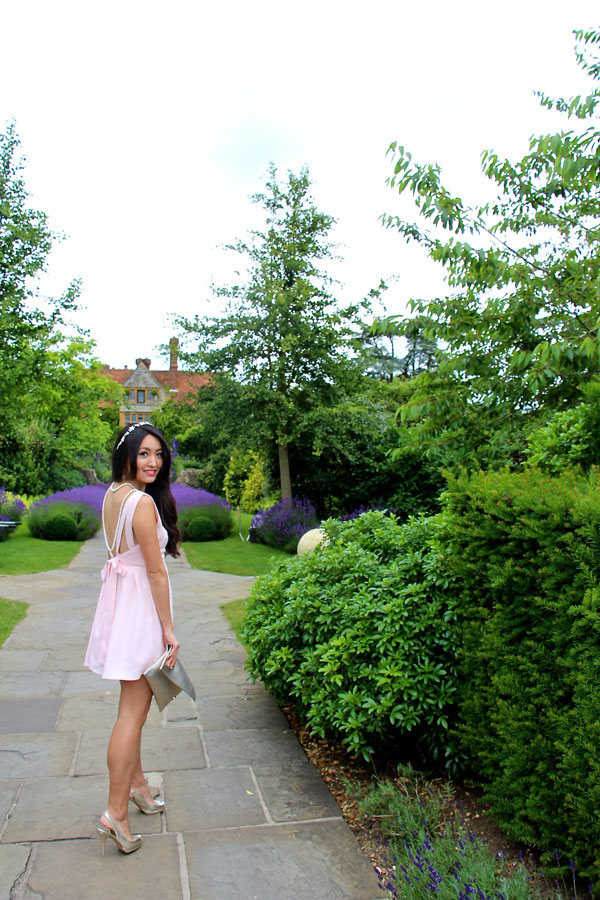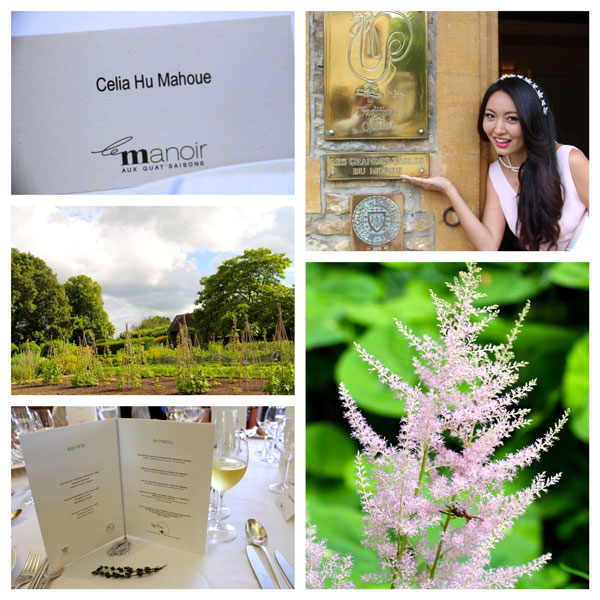 After a beautiful, teary-eyed ceremony, we commenced the wedding feast with an assortment of delicate hors d'oeuvres.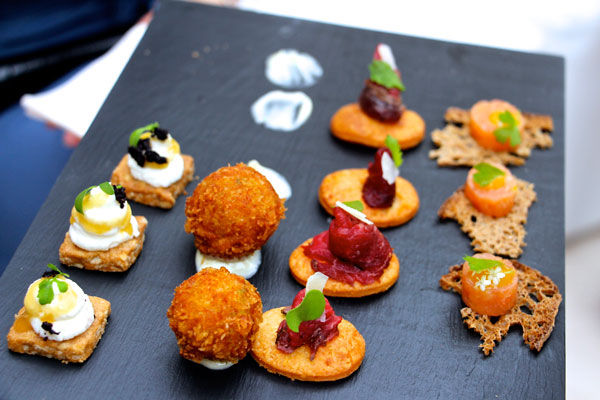 The first course of the wedding feast was a delicate, crunchy garden courgette flower tempura with mint and lemon.  The ingredients didn't need any heavy seasoning, allowing the natural flavours of the seasonal produce to speak for themselves.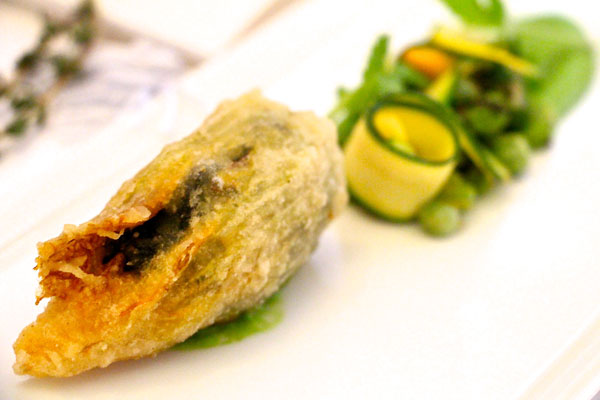 Tender curls of courgette tucked between zesty herbs, sweet pops of English pea and vibrant pea puree.  Simplicity, at its very best.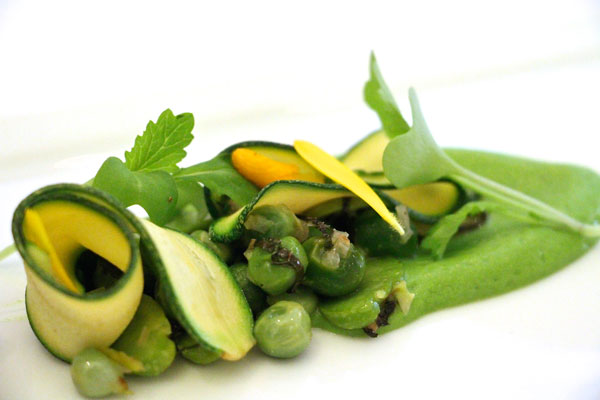 The cleansing first course was followed by a comforting risotto of summer vegetables and chervil cream.  Risottos are usually heavy affairs, but Le Manoir's rendition was blissfully light, and decorated with the sweet crunch of garden peas, asparagus and carrots.  The fragrant richness of the toasted pine nuts added to the creaminess of the risotto.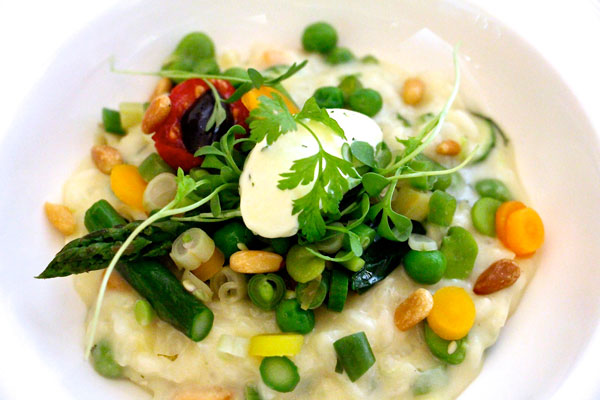 The main course came in the form of a blushing pink roast fillet of veal, nestled cosily in a creamy watercress puree, bejewelled with girolles.  A buttery nugget of sweetbread further enriched the decadent dish, and the nuttiness of the girolles (or chanterlle mushroom), added depth and dimension to the tender veal.  The sticky jus had the rich consistency of the most delicious lip gloss.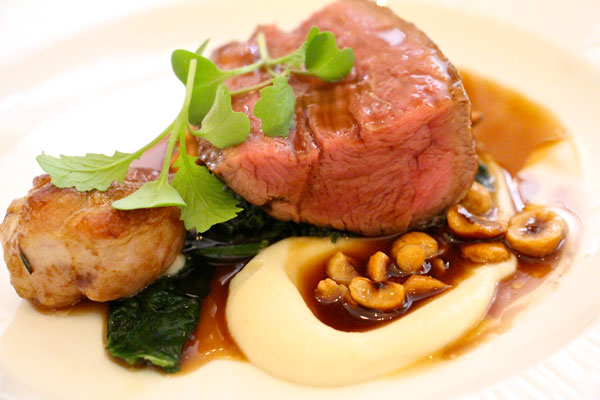 We concluded our meal with a little garden of soft meringue with blackcurrant sorbet, vanilla cream and violet marshmallows.  I'm not much of a sweet tooth, but loved the airy meringue and flowery marshmallows.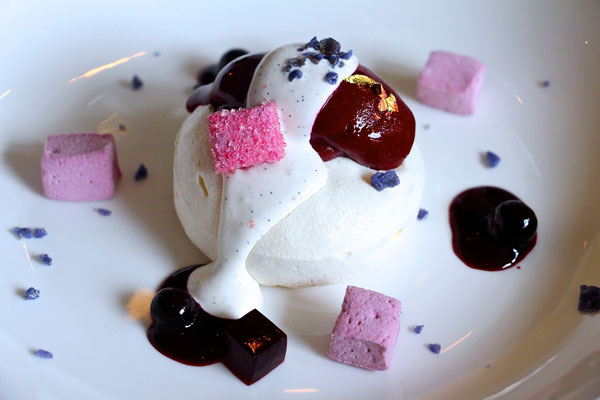 More sweets!  Petits fours of chocolates, macarons, Turkish delights, nougats and ganache.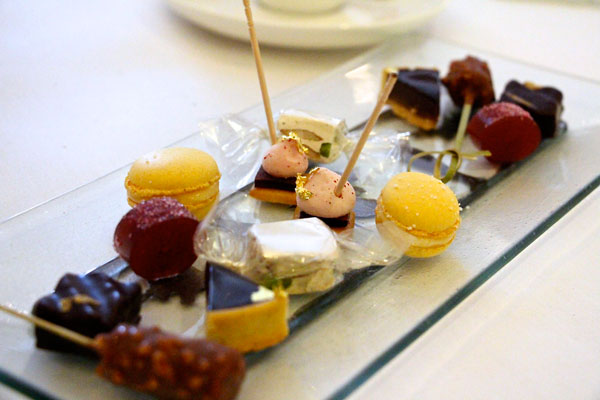 Oh yes, and there was the wedding cake – a classic French croquembouche tower created by Pastry Chef Benoit Blin.  Bon Appetit, indeed.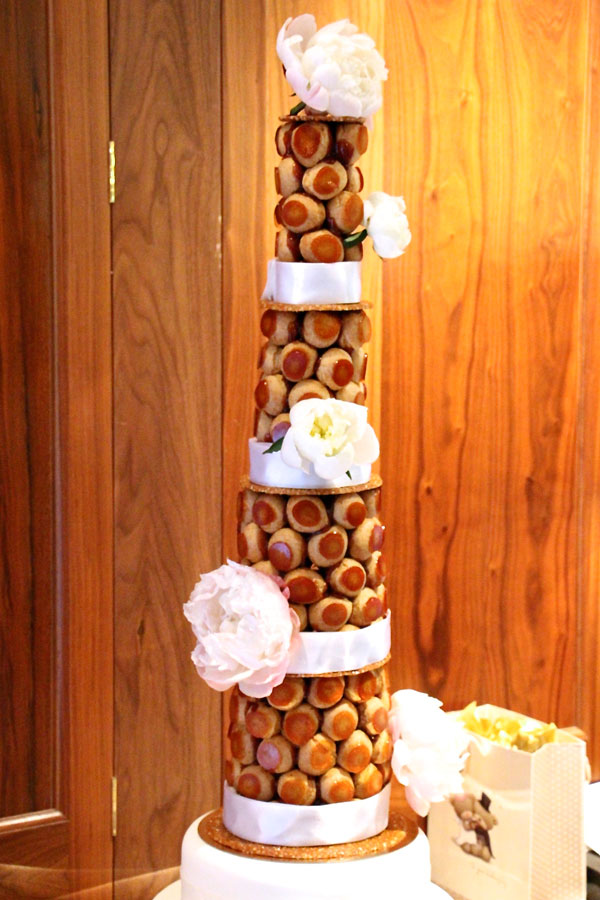 As accompaniment to our meal, we sipped on Chardonnay "Collection Reservee" 2008 Vignoble Guillaume from the Franche Comte region, Gevrey-Chambertin Vieille Vigne 2010 Domaine Fourrier from the Bourgogne region, and Jurancon "La Magendia" 2010 Domaine Lapeyre from the Sud-Quest region.  All wines, of course, are French.  
Following our exquisite feast, we were offered a tour of the kitchens, and the cookery school.  It was an eye-opening, exclusive look at the inner workings of one of the world's greatest kitchens.
(Below) Plating instructions for the canapés we enjoyed earlier.  It's amazing to see all the little details and hard work that goes into each element of a dish, and it makes me appreciate each morsel all that much more.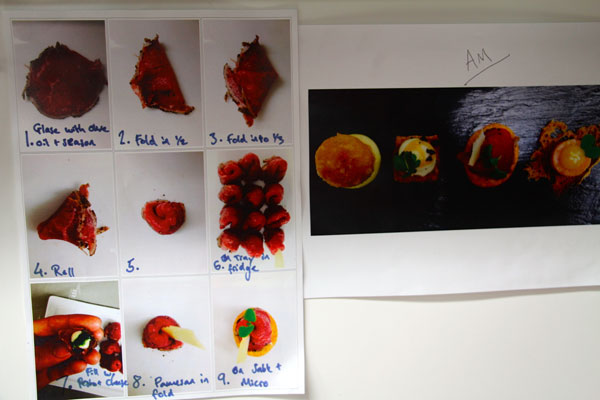 I love the motto "Push Ya Self".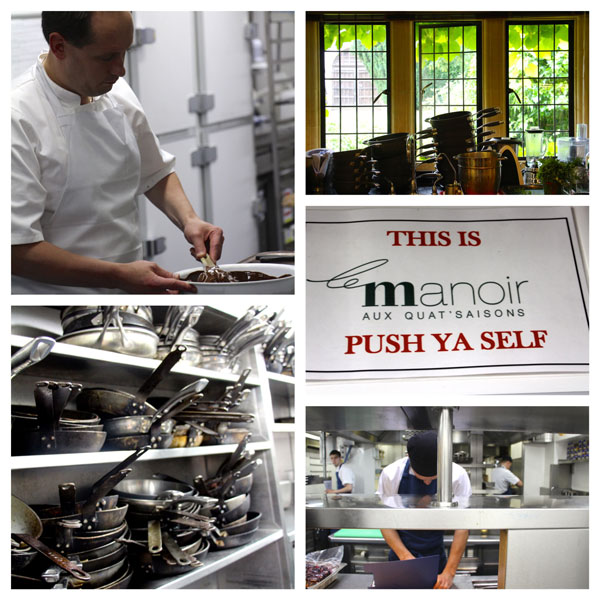 After exploring the various prepping stations and cooking areas, we arrived at Le Manoir's impressive gardens.  The property is divided into several gardens, including an intoxicatingly fragrant herb garden, a mysterious mushroom valley blanketed in more than 20 species of fungi, a bountiful orchard of apples, pears and quince, and an organic vegetable garden brimming with more than 90 types of seasonal plants.
The terracotta jars (below) are cloche tunnels, used to cultivate courgette flowers.  The kitchen at Le Manoir can use up to 200 of these flowers a day!  There are also several decorative gardens, such as the Japanese tea garden and the English water garden, which was originally dug by monks in the 16th century.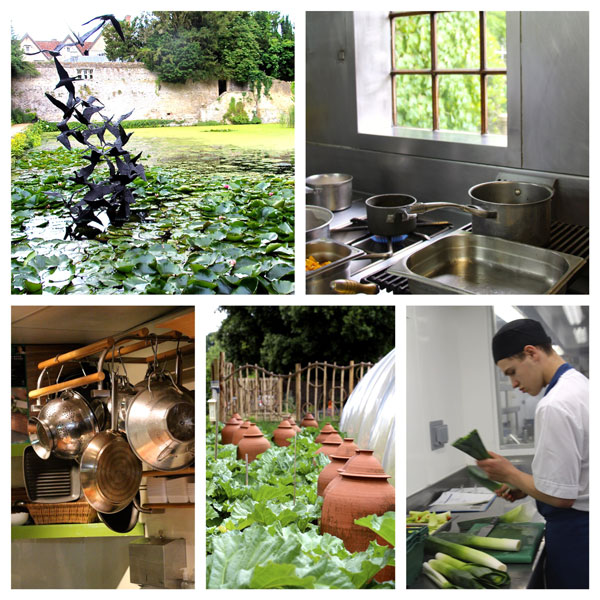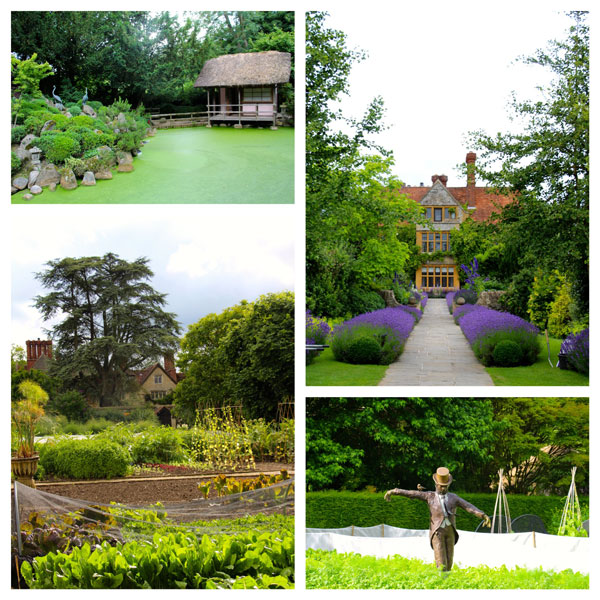 And there's a croquet field, for when the mood for a bit of subdued exercise overtakes you.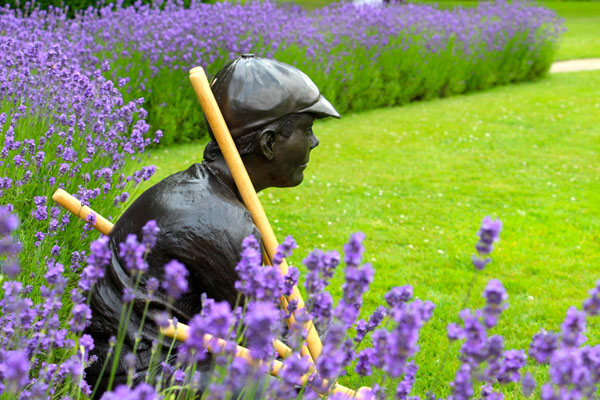 (Below) Me, pretending to know a thing or two about croquet (when I know absolutely nothing)!  My heels did help aerate the lawn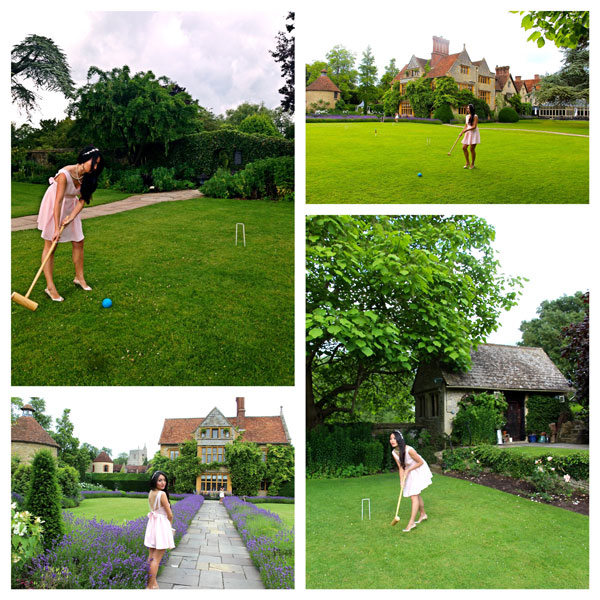 Verdict:  "Push ya self", Le Manoir's motto, posted on their kitchen wall, pretty much says it all.  One of the greatest kitchens in the world, Raymond Blanc and his team continue to push themselves and strive for culinary excellence every day.  The estate is truly an innovator in gastronomy, and continues to inspire budding chefs for generations to come.  Truly, one of les grandes tables du monde.
Le Manoir aux Quat'Saisons
Church Road, Great Milton
Oxford, United Kingdom
+44 (0) 1844 278881
Sites We Adore