Afterthoughts – Scrumptious Waffles at Maan Coffee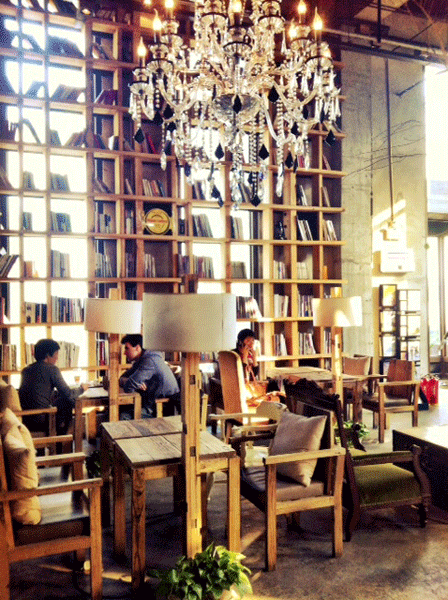 Every time I visit my birthplace of Beijing, I discover a little piece of magic.  Beijing is not only the political, cultural, and historical capital of one of the most dynamic superpowers of the world, it's also a creative centre where there's plenty of space for innovation.  The sheer size of the city enables the freedom to create, to experiment – a luxury often foreign in my current home base of space-strapped Hong Kong.
During my visit last week to my Northern roots, I discovered a (not so little) coffee shop that astounded me not only with its sheer size, but its cozy, irresistible atmosphere, that, despite its ginormous size, beckons guests to "stay a while, and just relax".
The impressive Maan Coffee, or 慢咖啡 (literally meaning "slow coffee") is hard to miss, as it dominates the western flank of the North Gate of the Workers' Stadium.  I have a soft spot for the North Gate, since I've had my share of wild nights in the clubs here, spending my early 20s often with one too many glasses of Chivas and green tea at the iconic Vic's.  Now, a more mature me (or so I'd like to think), prefers to sit down in a quiet coffee shop and savour a cup whilst ruminating a good book.
Maan Coffee occupies a palatial space split into two levels – a "cosy" library lower level and a greenery filled smoker-friendly section up top.  Cement walls, antique furniture, and mismatched chairs bring industrial chic to the space, while Moroccan lamps, glass chandeliers, and lanterns hanging off indoor trees add romance and a touch of whimsy.  The massive glass skylight ensures plenty of natural lighting, and a floor-to-ceiling bookshelf give the whole space a "lived-in" feel.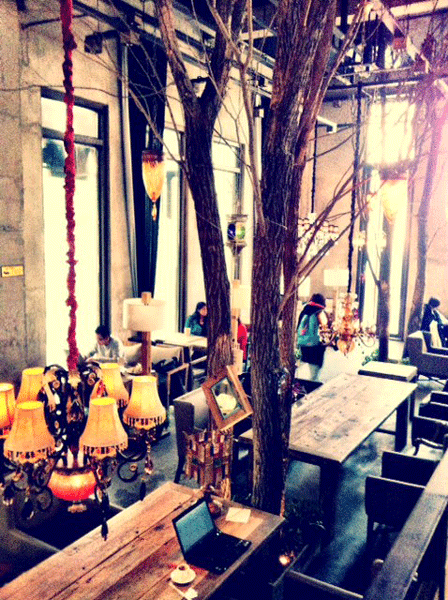 Guests choose from communal table seating or more private little kiosks.  Every table has ample sockets available so coffee sippers can languish all day on their laptops.
Upstairs, in the smoker zone, each table comes with an ashtray transformed from moon cake molds, filled with coffee grounds to extinguish the smell of the cancer sticks.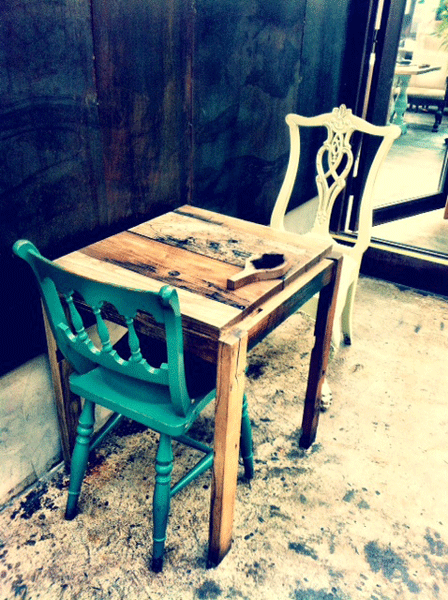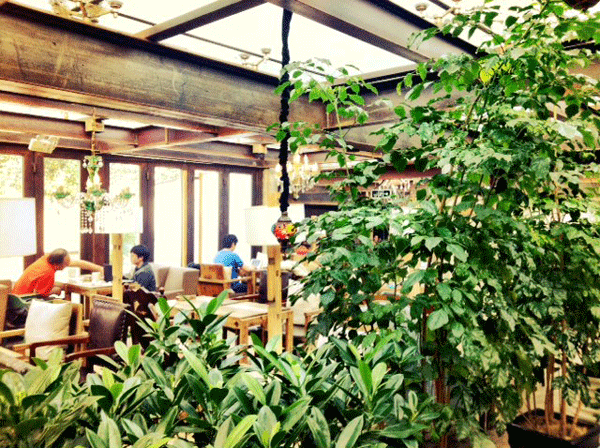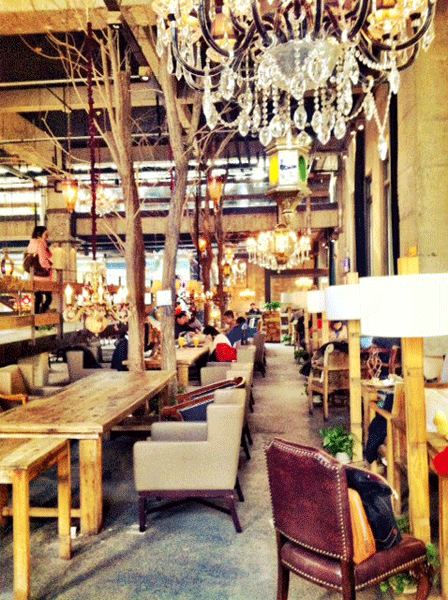 An open kitchen is located in the middle of the ground floor so guests can watch their food prepared right before them.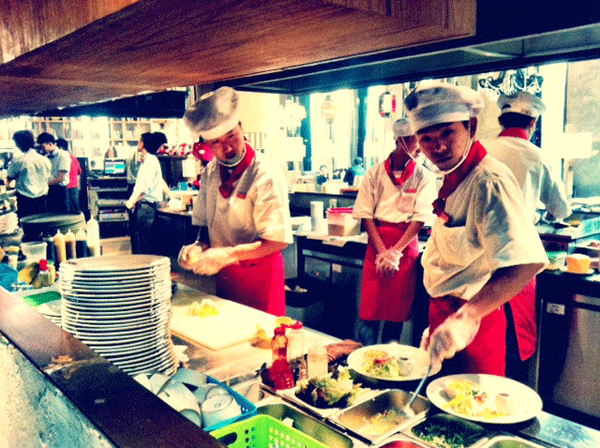 All orders are taken and paid for at the central counter.  Then, each customer is given a cuddly little teddy bear to sit on their table whilst they wait for their orders to be delivered.  Ours happened to be a purple teddy wearing a little baseball cap.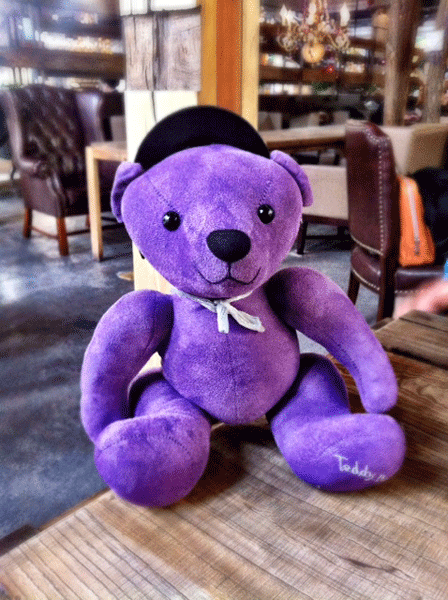 The Mister's frothy, hot latte.  He liked it although found it a bit on the sweet side.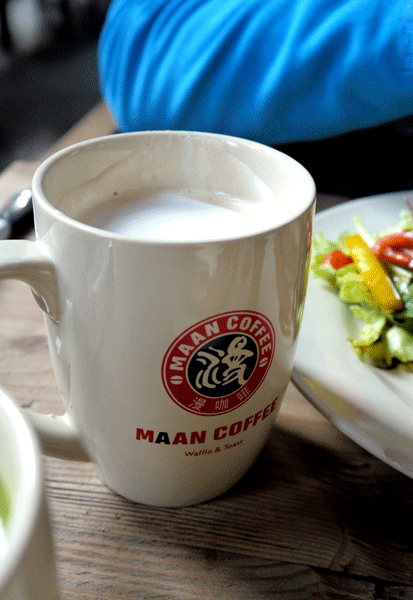 My sweet potato latte.  Winters in Beijing are synonymize with toasted sweet potatoes, and one sip of this sweet, comforting latte brought me back to my childhood.  The drink tasted more like a porridge with velvety smooth sweet potato puree – the ultimate winter drink!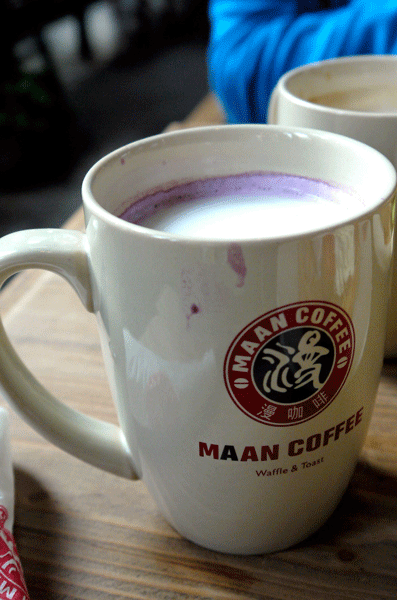 The Mister's club sandwich – satisfying yet predictable.
My berrylicious waffle overdose.  I haven't had good waffles in a long time, and these babies were amazing!  Thick, fluffy waffles topped with 2 kinds of ice cream (berry and vanilla), blasted with full fat cream, and jewelled with berries, this made for a hearty afternoon indulgence.  Hey…I figured I needed energy to combat Beijing's frosty winter.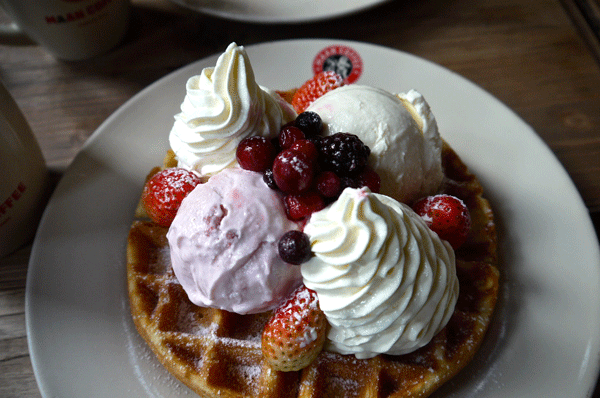 And…done!  Yes, I ate it all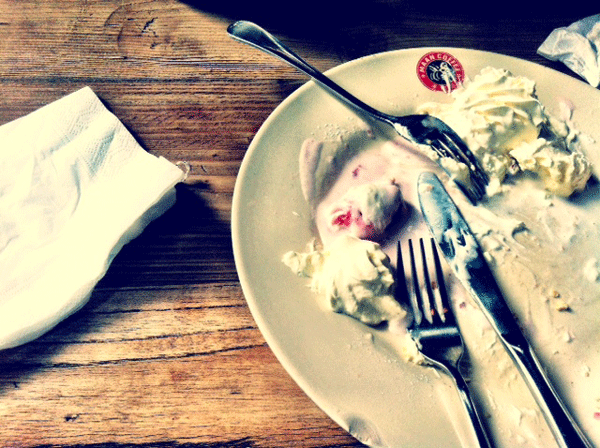 Verdict:  Wow!  This is possibly the coolest coffee hangout in Beijing.  Relaxed, welcoming ambiance that just begs for customers to sit back and stay awhile.  The name "maan" or slow in Chinese, reminds us that coffee should be savoured and enjoyed, not chugged down quickly on your way to work.  Food and coffee here are very affordable, and range between RMB$20-70.  Located in hipster Sanlitun(r) district, this is the perfect place to kick back with a few friends.  Plus, they open until 2am every day, so there's plenty of time to just sit and sip.
Maan Coffee 慢咖啡
Westside of the North Gate of Workers' Stadium
Gongti Bei Lu, Sanlitun
Chaoyang District, Beijing
朝阳区工体北路工体北门西
Tel:  +86 10 6551 7161
Sites We Adore