Restaurant Review – Refined French Comforts at Neighborhood
Good Neighbors: As the name suggests, Neighborhood is the kind of casual, cozy venue one would expect to share a bottle of good red alongside plates of comfort food amongst close friends. Rather elusively located, the address reads Hollywood Road, but the actual restaurant is tucked behind the main street facing a quiet little park. Well…"park" by Hong Kong standards, and despite the stark, soulless concrete, the off-kilter location gives the restaurant an intimidate spin, sort of like an insiders' secret. The newest venture by David Lai, a restauranteur with a solid reputation thanks to his unwavering standards at On Lot 10, is all about comfort eating rather than frivolous fine dining. Having honed his skills in the kitchen working with acclaimed chefs such as Alain Ducasse, Chef David brings unpretentious, yet immaculately executed, rustic French fare to the Neighborhood table. The small seating area overlooks the bar, with a semi-private room at the back that could be reserved for private events. The design is all simple, clean lines, allowing the food to do all the talking.
(Below) It's white truffle season!  A bowl of these edible jewels were presented for guests to order by weight.  We were tempted but abstained, as we wanted our first taste of Neighbourhood to be unadulterated by the pungent aromas of truffles.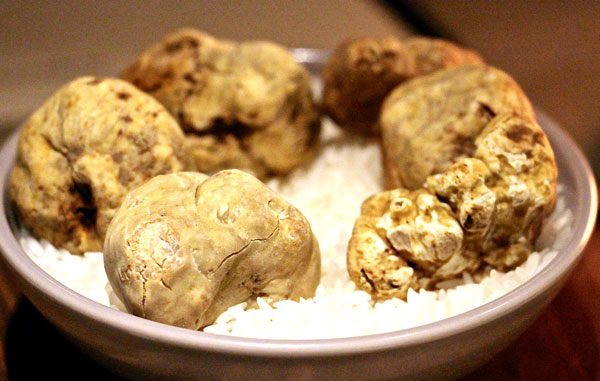 Temptations: Every dish looked like a temptress as we perused the menu. The 2-pager menu is evenly split between food and libations, and changes almost every week to ensure that there's always new surprises. Since we liked almost everything on the menu, we decided to share our plates. We started with Quail "Escabeche" ($115) over carrot puree and puy lentils. The bird was infused with Middle-Eastern spices and flash-grilled to golden perfection yet it still maintained a slight blushing, succulent centre.  I love the slight gameness of quail, although eating the little bird with all those fine bones was tricky, and a lesson in patience.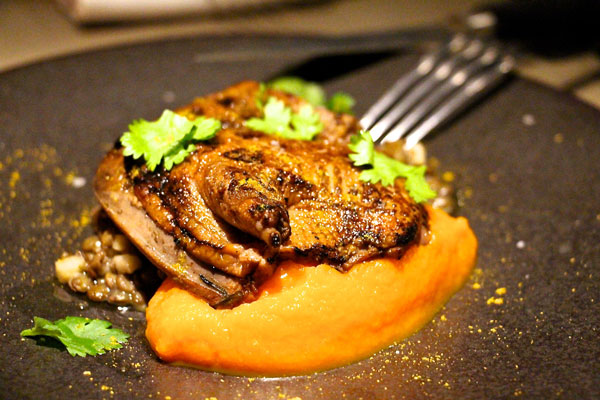 The homey Artichoke "Barigoule" ($125) was simmered in beautifully sweet and aromatic white wine broth, peppered with petit dices of carrots, mushrooms and pearl onions.  We couldn't resist the broth, and actually drunk spoonfuls of it!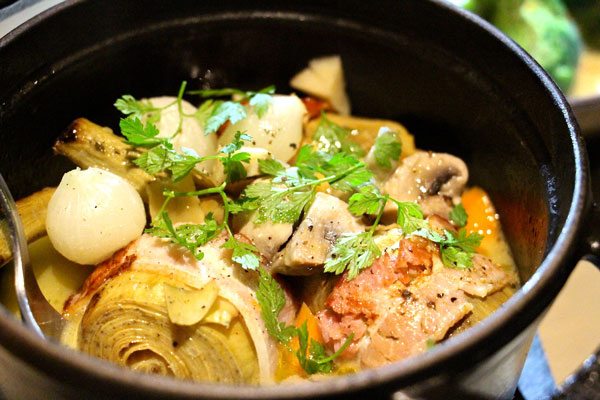 The signature Frog Legs Fritters ($110) arrived piping hot, dipped in a curiously luminescent green batter of parsley puree. The juicy, meaty "drumsticks" coated in crunchy, yet almost weightless batter, were nestled on top of a pool of gooey egg yolk and garlic aioli – the perfect dipping sauce!  In fact, the meat was so tender and of such hefty proportions, that each piece almost wobbled off the bone as we wolfed them down.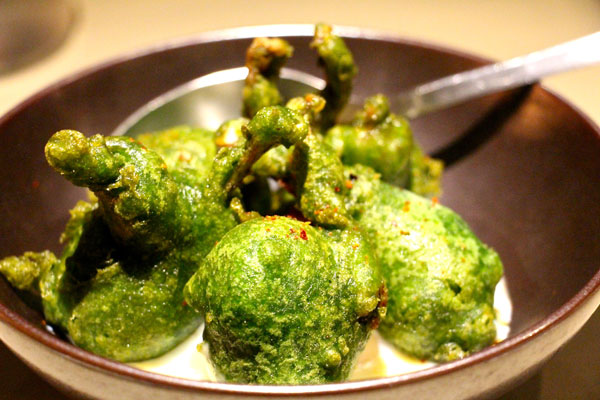 Both the Spaghetti alla Bottarga ($125) and the Ragu Tagliarini ($125) were hearty and satisfying, with we particularly loved the paper-thin slivers of dried roe that made the bottarga pasta burst with umami flavours.
The Beef Daube Ravioli ($130) filled with a mixture of Parmigiano, spinach and slow-braised beef was made even more creamy by the addition of poached pork brain.  The filling was incredibly silky and rich.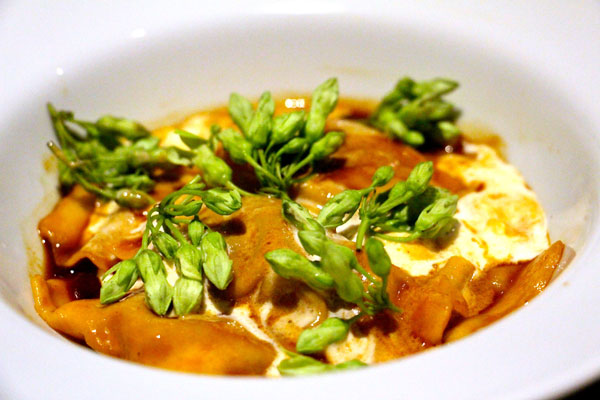 The Grilled Baby Squid with Coco Beans ($98) was an unexpected combo that really worked, with the umami pops from the tender squid complimenting the earthy heartiness of the beans.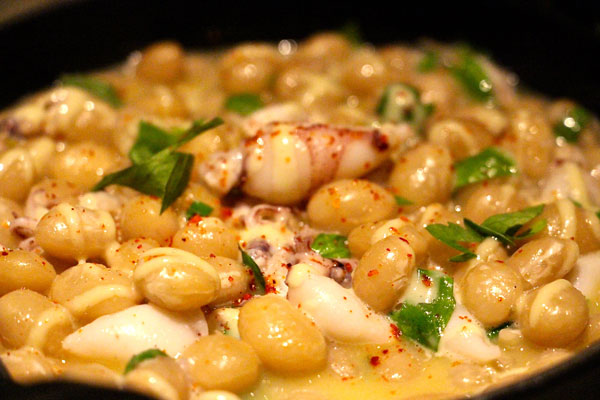 Our final savoury dish of the evening was the Daily Roast of Lamb Chops ($155), grilled to a perfect blush and brushed with a vibrant spice sauce.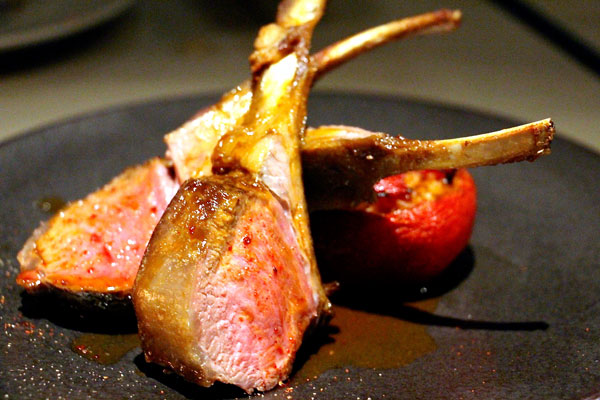 For dessert, the House-made Sorbet ($55) of raspberry and pear were refreshing palate cleansers, with our vote going to the pear.  The Chocolate Palette ($70) was sinfully good with complex layers of dark cocoa flavours, and its creamy richness was offset by the chocolate cookie crust. As if we didn't have enough dessert, we concluded our meal with petit fours of traditional canelés.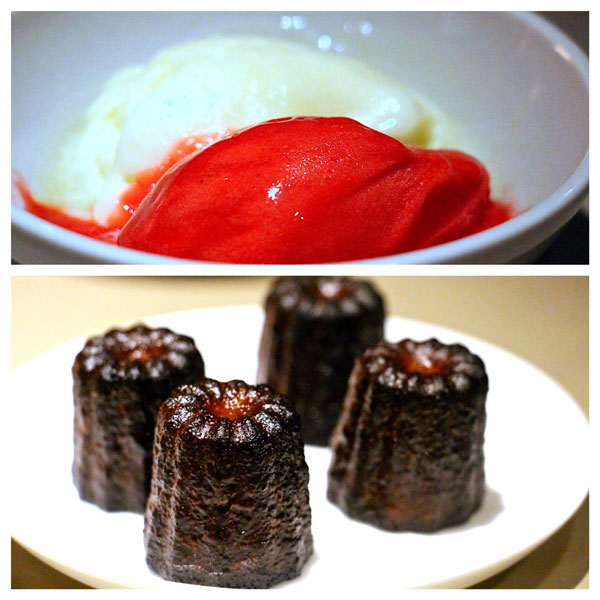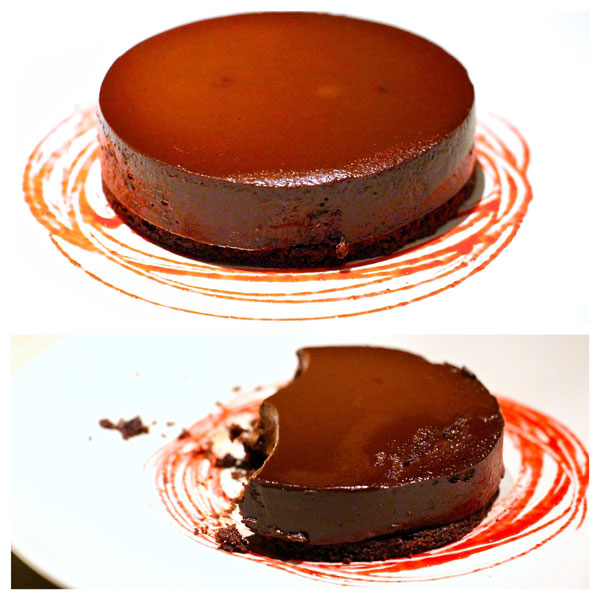 Verdict: Neighborhood certainly makes a good neighbor. The menu spells rustic French, but each dish was executed with the sort of precision and finesse that one usually equates to fine dining establishments. Beautifully cooked food with interesting flavour pairings. And with each dish wavering around the $120 mark, an affordable escape in pricey Central. On an off note, we also adored the creatively designed, water-conserving toilets!
Neighborhood
Basement, 61-63 Hollywood Road
Central, Hong Kong
 Tel:  2617 0891
Sites We Adore