Afterthoughts – "Multi-sensory" Dining at Popsy Room Gallery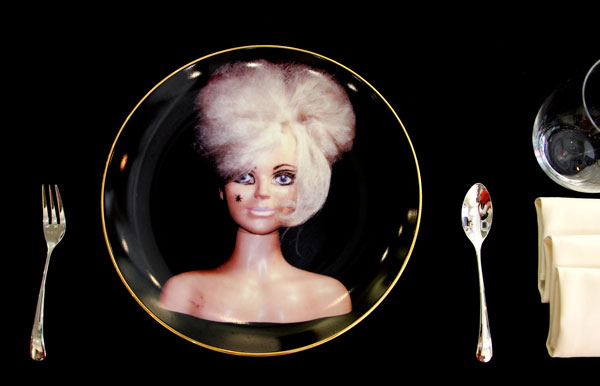 "Life imitates Art", as Oscar Wilde so famously quoted in his 1889 essay The Decay of Lying, "the self-conscious aim of Life is to find expression, and that Art offers it certain beautiful forms through which it may realise that energy".
Well, artistic expression has certainly taken on new dimensions over the years, and most recently, in the form of art-inspired, multi-sensory cuisine.  We recently sat down in the gallery space of the new Popsy Room, to experience this new medium of artistic expression.  The Popsy Room, a little gallery tucked into the quiet, antique-filled lane of Upper Lascar Row (or otherwise referred by locals fondly as Cat Alley), is the newest addition to a roster of recent hipster joints.  Tucked between Banksy-isque Bibo, and chic, nouveau dim sum shop Man Mo Cafe, Popsy Room is a perspective art gallery by day, that transforms into a unique dining venue at night.  Founded by art aficionado, Jennifer Chung, Popsy Room came about as a concept that merges the five senses (sight, taste, feel, smell, sound) into an artistic statement expressed through cuisine.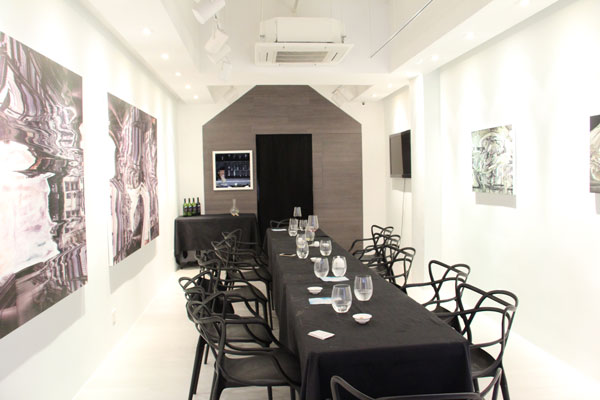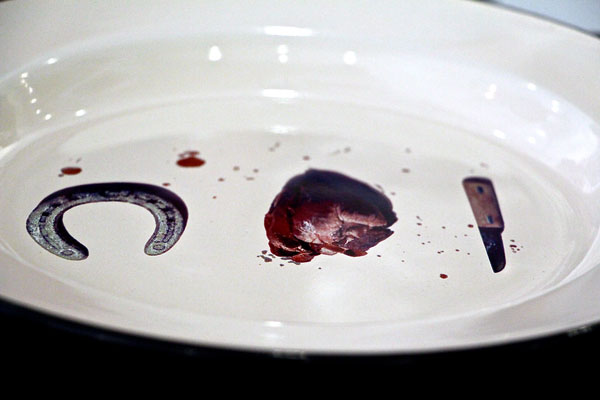 Food for Thought:  In collaboration with Chef Kaze Lo, who hails from a background in French fine dining, and has worked in notable kitchens such as Caprice and Cepage, the menu at Popsy Room evolves around the interpretations of art pieces on exhibit in the gallery space.  Elements that are inspired by these artworks are translated onto the plate in the form of a 9-course degustation menu (HK$1388 per person), specifically designed to draw guests into a deeper cognisance with each featured exhibit.  Our tasting unveiled July's latest menu, optimistically named "A Better Tomorrow" as inspired by the creative canvases of American artist Jin Meyerson.  Known for his semi-abstract distortions of media imagery, Jin rearranges and fill in his source materials with swirling bands of psychedelic colours to create movement and momentum.  This "energy" is transitioned onto the plate through our creative culinary journey.  The "New Era" amuse bouche of curried cauliflower, popcorn and purple potato was an unexpected but delicious combination, and the thick slices of "Fresh Inspirations" scallop carpaccio with lemongrass oil was a refreshing cool down from the merciless Hong Kong heat.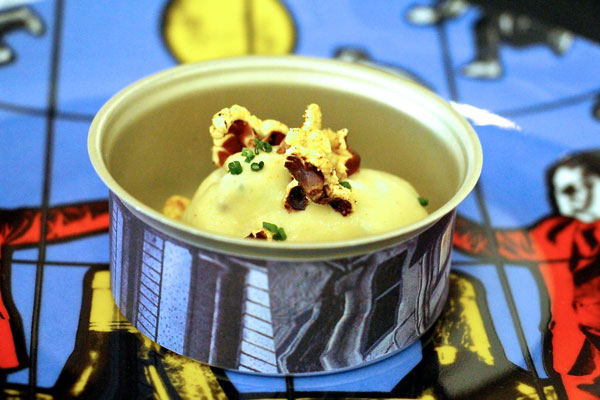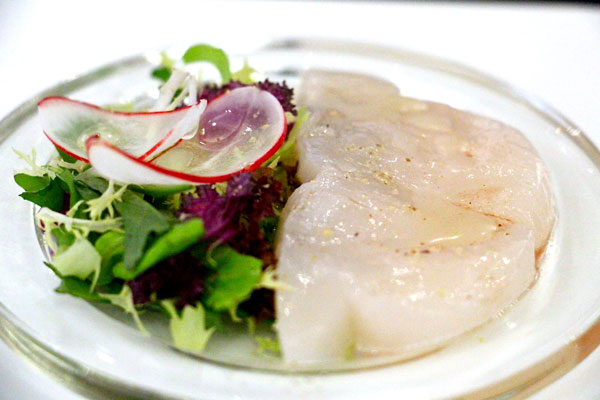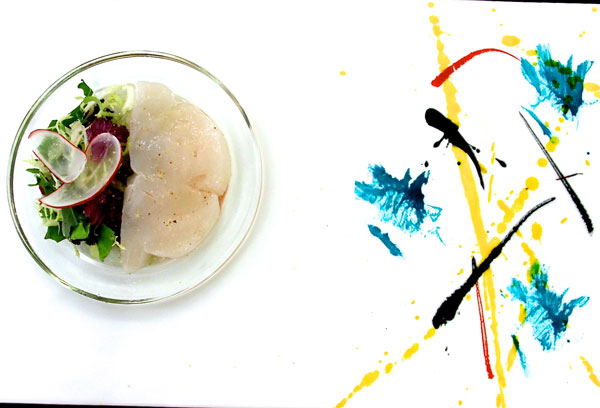 The "Distortion" dish, modelled after the swirling patterns of Jin's abstract media imageries, came in the form of a round duck confit ravioli nestled on a bed of nostoc flagelliforme (or faat choy) and foie gras, set in a pool of clear, surprising effervescent, duck consommé.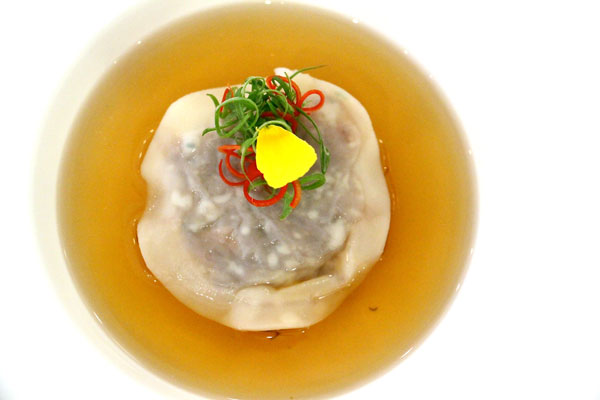 The tower of crispy 36-hours slow cooked pork belly rising from brushstrokes of quince puree and apple cider sauce in the "Arcology" course was beautifully seared with just the right amount of bounce, and the "Road Map" of crispy scampi with shrimp roe risotto and shellfish foam was sweet and full of umami-goodness.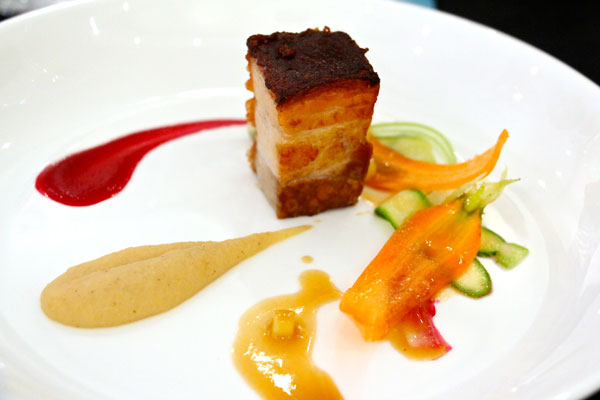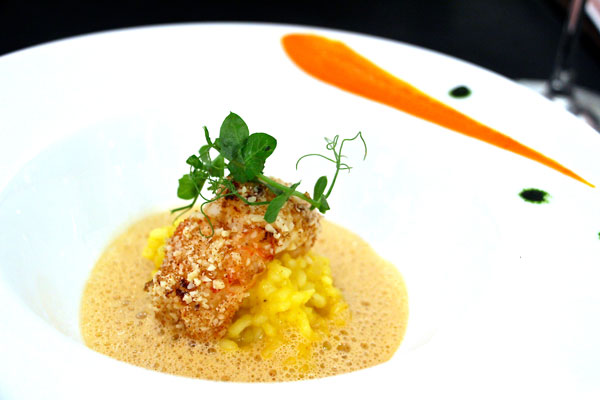 There are usually another 2 courses with this menu, but as we sat down for a press lunch instead of dinner, we decided to curb our daytime indulgences and head straight to dessert.  The "A Better Tomorrow" pistachio zen garden, dotted with panna cotta, crushed biscuit and pistachio powder, and charcoal meringue looked like a peaceful little garden, and we almost felt like running a mini rake over the pistachio "sand".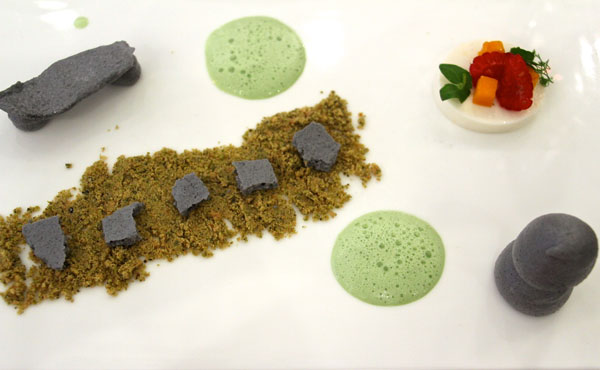 Sweet petit fours.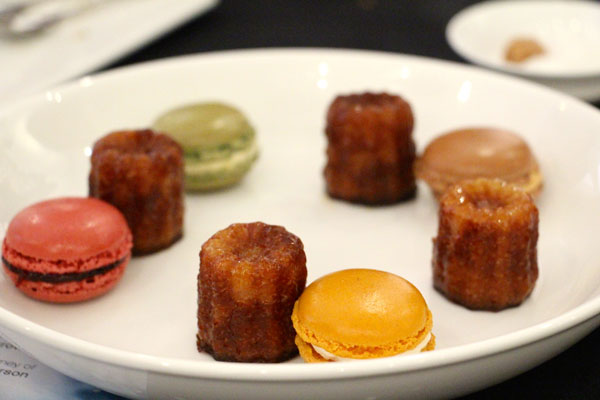 Verdict:  Our "exploratory dining experience" forayed into the last frontier in the multi-sensory world of art – the dimension of taste.  It was definitely an unique, and memorable experience, and allowed even the most novice of art lovers to grasp a deeper understanding of the artist's interpretations.  Although quite an extensive multi-course menu, each dish was plated as a small bite, so we left feeling happily satiated instead of bursting at the seams.  A tad gimmicky, but a fun way to spend a special evening, if you don't mind the sizeable price tag.  An "out-of-the-box" venue for a private gathering, the gallery can fit up to 20 guests in one swiping long table.  For tete-a-tete occasions, the tables can be divided into smaller seating areas.  A new menu is unveiled on a monthly basis to coordinate with new exhibitions, so there is always something new to look forward to, just around the corner.
Popsy Room
G/F, 30 Upper Lascar Row
Sheung Wan, Hong Kong
Tel:  +852 2234 6711
Sites We Adore