Restaurant Review – Tasting Menu at the NEW Quest by Chef Que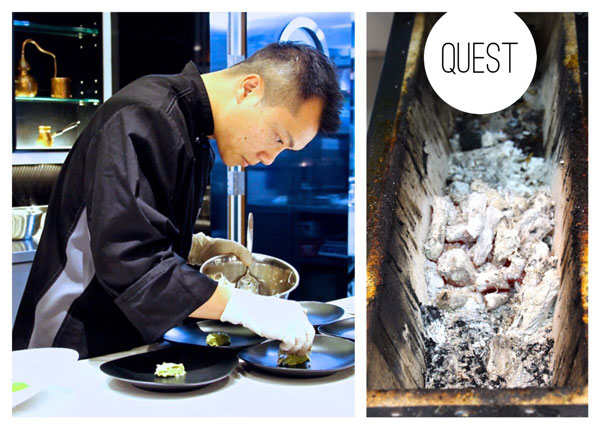 Prior to last night's dinner, my most recent encounter with Chef Que Vinh Dang was in Kyoto's Nishiki Market, where we met by chance while sifting for culinary treasure.  He was looking for a hibachi grill, while I was eyeing a set of razor-sharp chef knives at the famed Aritsugu.  It was there, that he told me about his plans for his new restaurant, Quest.  I've missed his cooking ever since the departure of his private kitchen, TBLS, which managed to strike the perfect balance between refined gastronomy and comfort eating.  After TBLS, Chef Que took a slight detour into the world of micro-brewery and tangoed with the gastropub concept at the Tipping Point, before returning to a full-sized restaurant.
 The new Quest, is structured more as a restaurant rather than a private kitchen.  There's a semi-open kitchen on one side, and a semi-enclosed private dining room on the other side.  In the middle, is the main seating area, where guests sample Chef Que's meticulous and imaginative menu.  The menu is composed in similar fashion to that of TBLS, with a set tasting rundown comprising of around 8 courses.  Quest's soft opening menu draws elements from Chef Que's Vietnamese heritage, though the restaurant is in no way influenced by any specific culinary genre.  Like TBLS, the menu will transform with the seasons, with new dishes and regional focuses to keep diners on their toes.  One region that Chef Que is particularly passionate about is Spanish cooking, so we will perhaps see a shift in the menu in upcoming months.  It is this transformative menu that gives Quest a chameleon-like facade, shielding it from being pigeon-holed into a culinary genre.  It is also this flexibility that entices diners, and keep them coming back after each menu regeneration.  
This week, we sat down to Quest's soft opening menu with the restaurant only having been in operation for a mere 6 days.  Yes, it's still a baby, but we simply could not wait.
And before anyone gets their panties in a knot over "preferential treatment", let me clarify that I paid for my meal out of my own wallet, and we were served the exact same dishes as every other table in the house.  So please, no huffing and puffing here.
Our Tasting Menu (HKD$600) started with refreshing hamachi sashimi nestled in tomato jelly and yuzukosho nuoc mam.  The swirl of yellow tail was incredibly buttery, and I loved the textural contrast between the briny pops of salmon roe and crunchy sea grapes against the slippery frog egg-like basil seeds.  The tangy, fragrant yuzukosho (fermented yuzu) uplifted the salty nuoc mam (fish sauce) with whiffs of delicate refinement.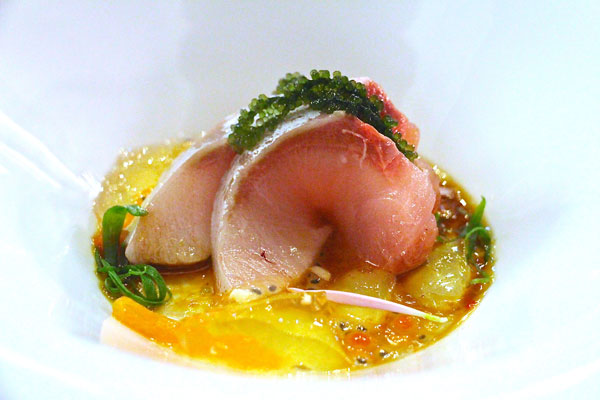 Next, come a deconstructed "summer roll", a confetti of Alaskan king crab tossed with pickled daikon, creamy avocado and cucumber, blanketed under a sheet of rice paper and covered with smoked paprika foam.  The Alaskan king crab "nem coun" was light and sweet, although I wasn't crazy with the rice paper blanket – it was more texture than flavour.  The dish would have been perfect for the summer months, instead of Hong Kong's cold, humid winter.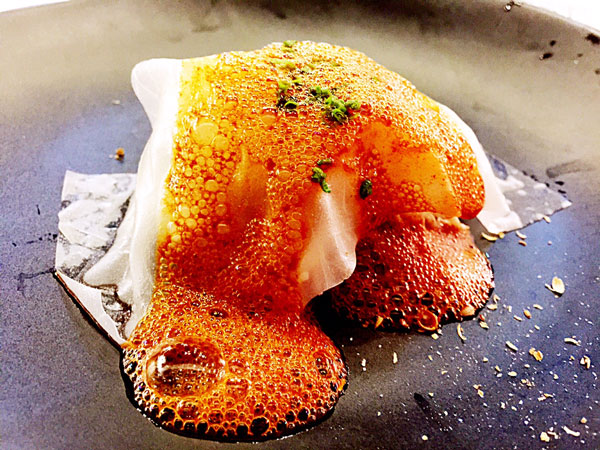 What's Vietnamese food without its pho?  Quest's Beef Pho was a gastronomic spin on the traditional soupy noodles.  Instead of thin slices of beef over rice noodles in broth, Quest's rendition has beef tartar bejewelled with pho broth jelly balanced on top of vermicelli noodles, crowned with Vietnamese herb salad, and a generous shaving of foie gras.  The fragrance of the fresh herbs lightened the robustness of the beef, and the foie gras shavings gave an otherwise extremely rich ingredient, an effervescent texture.  However, given that it is winter, I was hoping for more of a warming, brothy comfort dish instead of this somewhat austere rendition.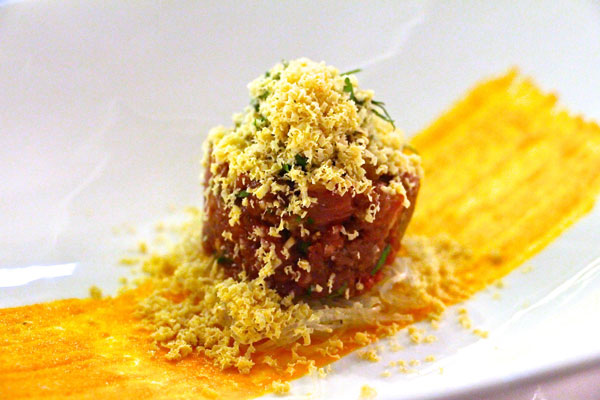 The pan-seared scallop with mashed corn, tapioca and seafood broth looked posh, but tasted every bit like comfort food.  The caramelised scallop was perfectly seared to a succulent bounce.  The sweet corn and tapioca blended beautifully with the tamarind yogurt foam.  The dish sounds fancy, but it's the type of food you want to curl up with on the sofa.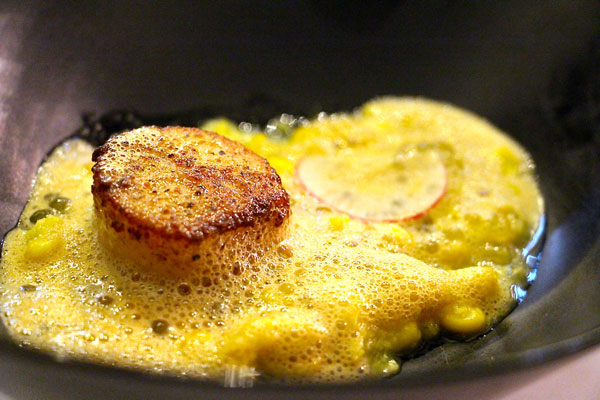 The black cod with sautéed sugar snaps, squid ink mochi and fish sauce caramel was an interesting combination.  Cod is one of my favourite fish, largely due to its buttery texture, and Quest definitely did the fish justice. The mochi was a bit overly dense, in my opinion, for such as delicate dish, although I adored the golden wheels of fish sauce caramel.  At first taste, the caramel has all the predictable elements – sugary with a slight bitter undertone.  However, the fish sauce in the caramel adds a lingering, umami afterthought.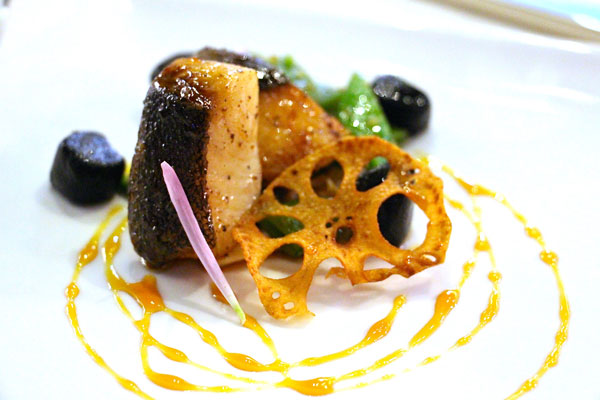 Finally, we come to our meat dish of the evening – grilled Berkshire pork belly with taro puree, crispy pork skin and Brussel sprouts.  The pork was marinated in sugar and lemongrass before getting that beautiful caramel char on the hibachi grill.  The flavours reminded me of SouthEast Asian holidays, although I wished the pork was more tender.  The taro puree was much denser than its potato cousin, and incredibly creamy.  A sprinkle of pork crackling and toasted peanuts completed the experience.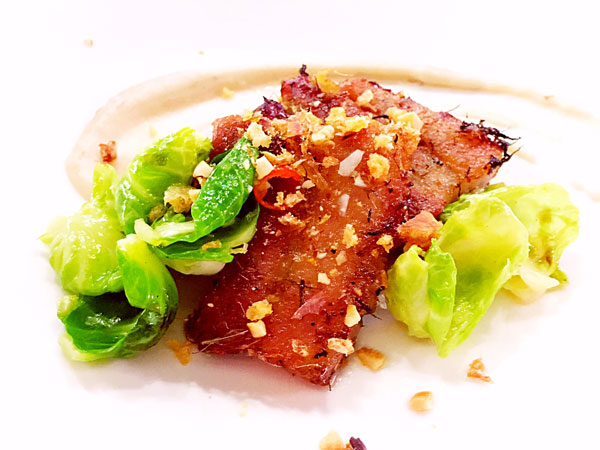 Similar to TBLS, we were given a palate cleanser of clementine sorbet drizzled with fresh passion fruit.  The festive flavours were perfect for the holiday season.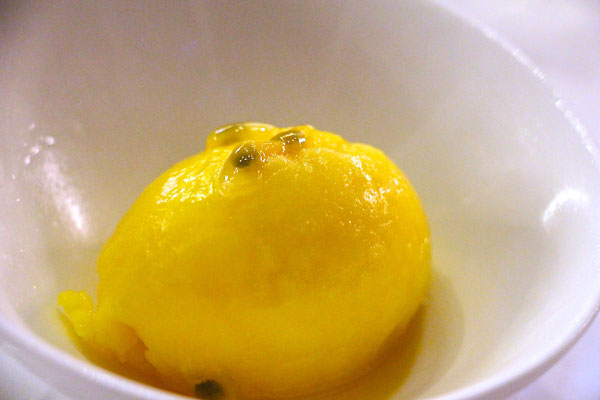 What was the palate cleanser for?  Well…to prepare us for even more dessert!  The salted caramel coconut ice cream arrived topped with a generous sprinkling of toasted sesame and coconut, balanced on charred pineapple and almond cake.  This was definitely a winning way to conclude our first dinner at Quest.  Not usually a fan of pineapple, the creamy savouriness of the ice cream really balanced out the sugar and acidity of the fruit, and the buttery almond cake reminded me of shortbread.  Happy Holidays!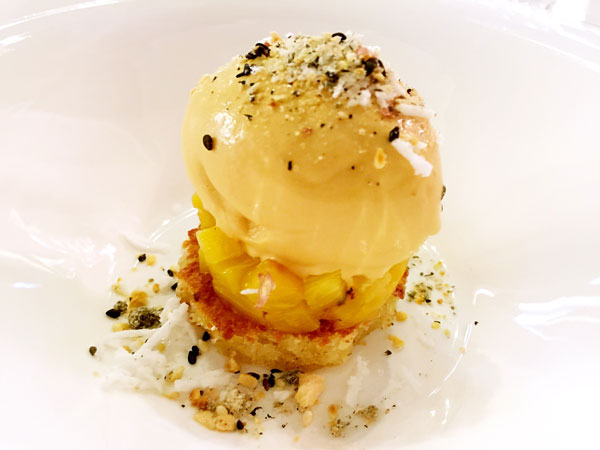 Verdict:  Off to a great start. Quest's thoughtfully prepared menu challenges the taste buds without going overboard with eccentricity.  I'm certainly pleased that Chef Que has returned again to a full-fledged restaurant concept.  Since the menu is ever evolving, with no strict adherence to any particular culinary genre, it means the surprises will keep on coming.  Just one mere quibble though – because of the cold winter months, I wished the dishes featured were more hearty and warming, rather than having the better part of the menu dedicated to delicate cold dishes.  And did Chef Que find his hibachi grill?  Yes, but not in Kyoto as hoped, and instead, flown in all the way from New York.  We'll definitely be back for more.
Quest
239 Hennessy Road, 28/F
Wan Chai, Hong KOng
Tel:  2554 0888
Sites We Adore