Restaurant Review – Sizzling Beachside Robatayaki at Shoku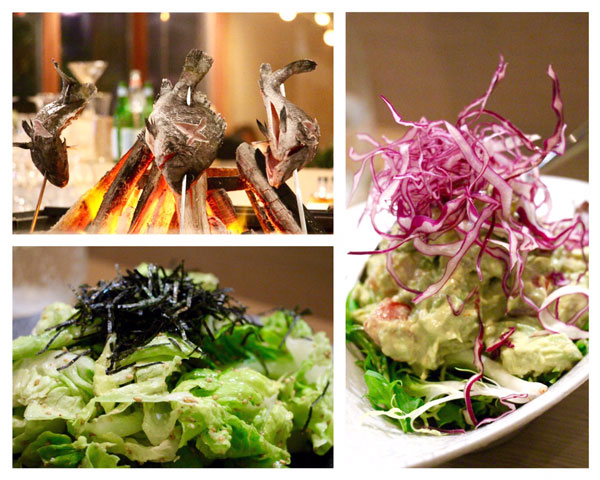 Sizzling grill on a hot beach: Summer is all about beach and sun, and the newly opened Shoku brings beachgoers plenty of sizzle with its elegant Japanese robatayaki selection. The new beachside bar and restaurant focuses primarily on grilled meats and seafood, and is the sister restaurant of refined Kishoku in Causeway Bay. The relaxed yet sophisticated venue flows out to the beach on the ground floor of The Pulse, although the view is obstructed by the beachside changing rooms. Instead, the focal point centers around the massive open grill and kitchen, complete with wrap-around counter seating. More intimate booths, as well as private rooms, line the 4,000 square feet open plan venue, so there's plenty of varying ambiances to accommodate any occasion. Ice-filled display cases packed with fresh seafood line the open grill, while heat wafts from the mighty Japanese binchotan charcoal hearth. 
Breezy cocktails: Our tasting during the soft launch party began with rounds of refreshing summer cocktails, ranging from the Bukudan "popping bomb", a twist on the classic Caipirinha, to the Chuhai "two in one" to Chado, a matcha old-fashioned. Our favorite, although not a pretty one (it vaguely resembled swamp water) was the matcha old-fashioned, which tasted unusually cleansing despite the hard liquor. 
(Below from left to right clockwise) Bukuda, Chado, pear puree mocktail and Chuhai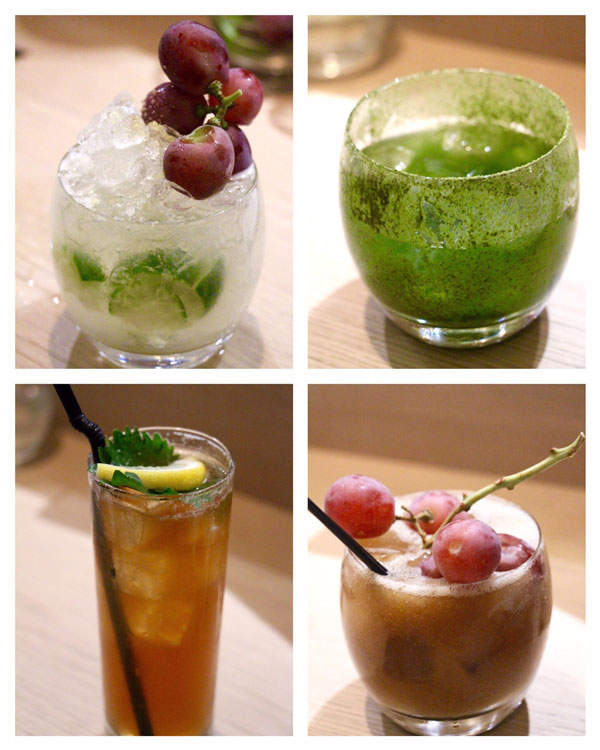 Tantalizing small bites circulated on tray service, and we couldn't resist snatching up the deep fried fresh oysters ($118) even though the plump juicy bundles were piping hot. We were rewarded by the succulence in each bite of the umami-rich shellfish. 
The prawn and sweet potato tempuras ($158) were equally moorish, and were wrapped in crunchy nori before enveloped in a thin coat of tempura batter and deep-fried.
On the skewer side, the thick-cut ox tongue ($88) was juicy with a delicious charred salt and pepper crust, while the kurobota pork wrapped around maitake mushroom ($58) had powerful earthy aroma but could have benefited with more seasoning.
To cleanse our palates after all that fried gluttony, we dug into the "Shoku-style" guacamole and prawn salad ($108) and the butter lettuce green salad ($108). The guacamole delivered in creaminess, punctuated by sweet morsels of prawn, although we wished that there was another contrasting flavor to balance out the rich profile.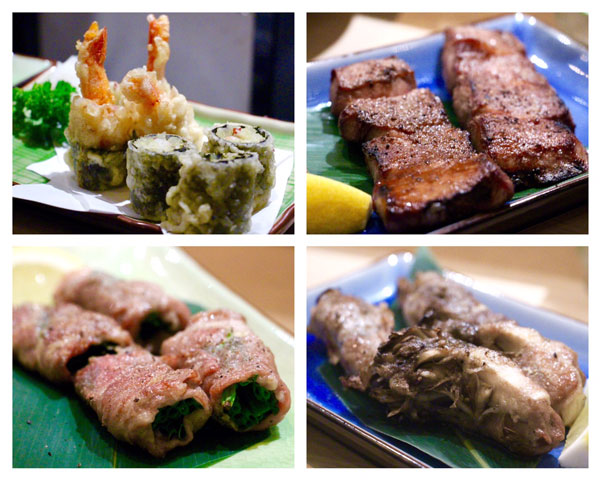 The bouncy scallop (market price), grilled to perfection with minced garlic in its own shell, came still attached with the coral or roe sac, making for scrumptious eating.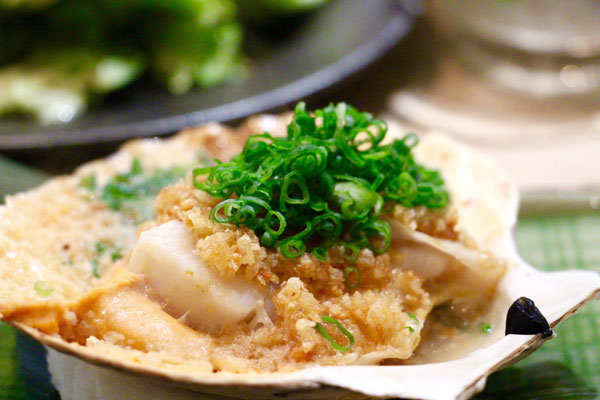 Not usually a fan of abalone (market price), the grilled fresh shellfish at Shoku was sweet and incredibly tender.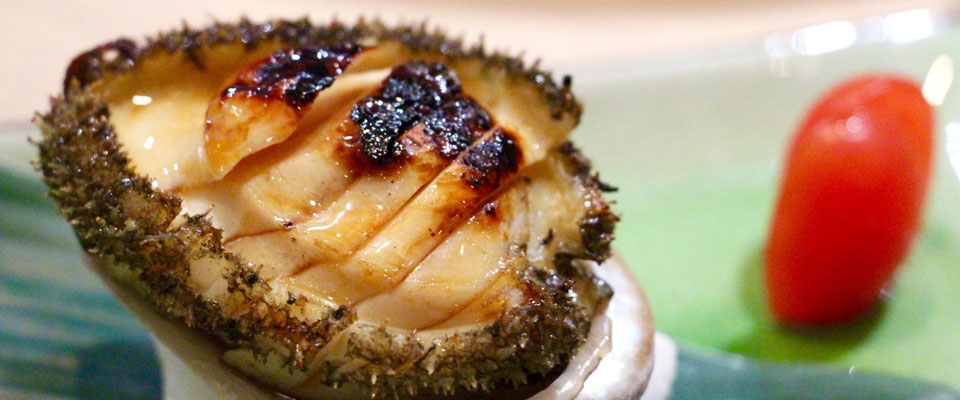 The chilled homemade Korean kimchi udon ($168) had a garlicky, sweet tang which was incredibly addictive, especially on a hot summer's day. 
Grilled on an impressive display in the central binchotan hearth, the grilled whole sea bream was visually stimulating although a bit tough to handle – we wished the meat was more tender.
Our meal capped off with deep-fried Hokkaido green tea milk pudding ($118) which was a bit bitter due to the concentration of matcha powder, and fluffy red bean cakes ($118) which felt like an indulgent breakfast treat.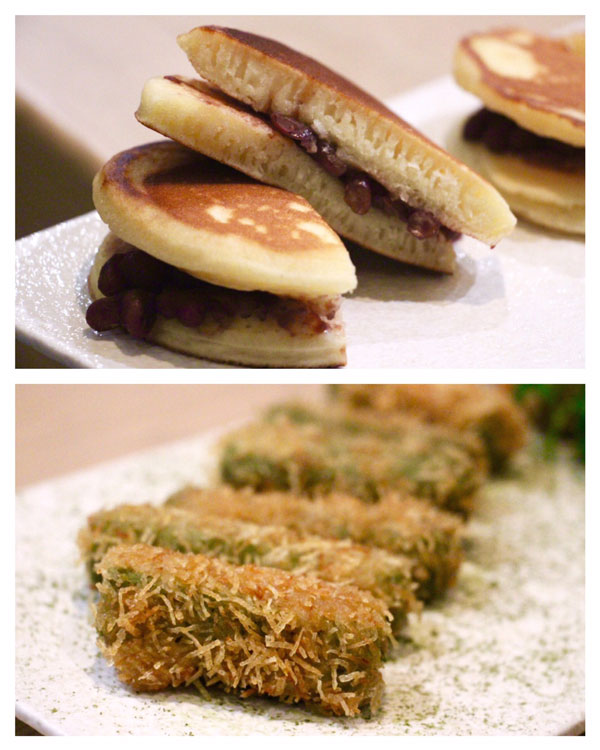 Verdict: Sophisticated, yet relaxed Japanese robatayaki with high quality ingredients. The venue is effortless chic and would make for a great intermission or finale to a day on the beach. 
Shoku
G/F, Shop 109, Beachfront of The Pulse
28 Beach Road, Repulse Bay
Hong Kong
Tel: 2808 2333
Sites We Adore