Review – Park Bench Feast with Sunday's Grocery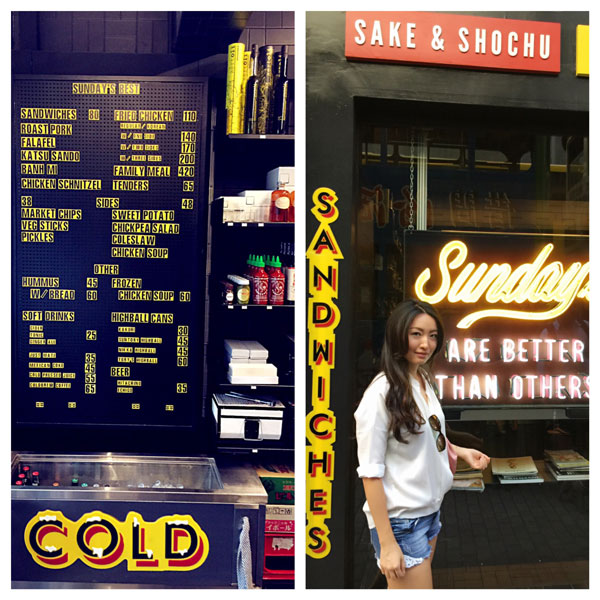 I don't usually eat on park benches, but Sunday's Grocery enticed me enough to give it a whirl.  Brought to us by Lindsay Jang and Matt Abergel of Yardbird and Ronin, this tiny takeaway shop in Kennedy Town has been converting its share of loyal followers.  I've been meaning to try it out for quite some time, but always refrained as, being a Mid-Leveler, it is a bit of a trek for take-out!  Isn't the whole point of takeaway food about the "convenience"?  Where am I suppose to eat the food after I buy it?  On the exhaust-choked street outside, or that little ledge awkwardly squeezed inside the tiny shop?  And, by the time I get back to Mid-Levels, it will all be a pile of lukewarm (or cold, depending on traffic) mush.
Hence, on a recent sunny, low-humidity autumn day, I convinced the Mister to accompany me on an adventure to Kennedy Town, on the promise of the perfect "rustic park bench dining experience".  Our adventure started promising enough, as we perused the simple, straight forward menu on the wall tacked alongside shelves of Japanese whiskey and a little liquor fridge that reminded us of the ones at Ronin.  Expecting the same level of personable, knowledgable service as Yardbird and Ronin, we were let down by the aloof and absent-minded staff at Sunday's.  They forgot part of our order, and when asked about it, didn't sound apologetic.  Not wanting to spend much time in the store, we hunted for our own seaside park bench along New Praya.
Between us, we shared 2 mains and 2 sides, and passed around a big bottle of Mexican Coke (HK$35) like two hobos guzzling moonshine.  We were told by a friend to get the Mexican Coke, as Coca-Cola recipes vary all around the world, and the Mexican variety uses cane sugar, which supposedly gave it an unique edge.  The Coke was sweeter than we anticipated, and every bit as addictive.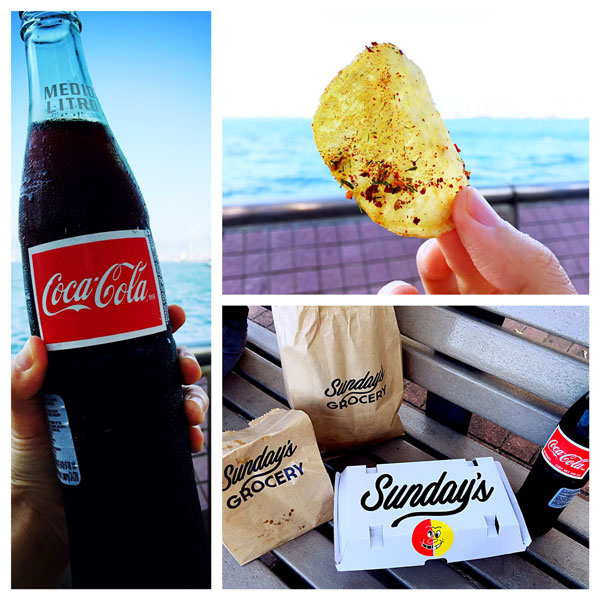 One of our sides was the Market Chips, covered with Okinawa black sugar.  The chips were, well, sticky, as the sugar glued them together.  I liked the fact that they were a mix of various starchy roots, which somehow, subliminally, convinced me that these chips were "healthier".  All brand imaging – dang you, Terra Chips!  I would have preferred a contrast between sweet and savoury, so took matters into my own hands by sprinkling over with a hefty dose of Yardbird's yakitori spice mix, of which I snagged at the counter.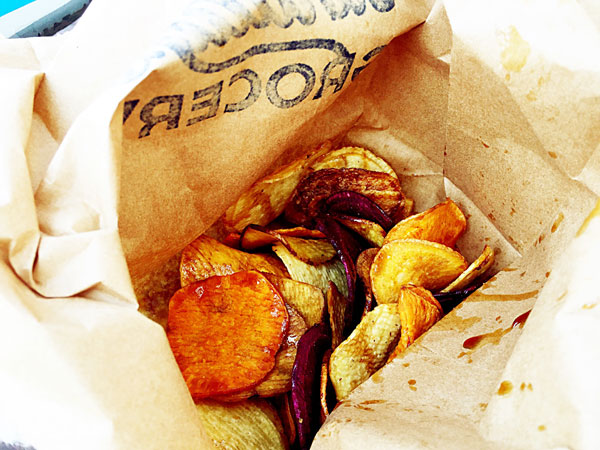 One of my favourite foods is fried chicken (what a sophisticated palate I have!) and so I had to try Sunday's Fried Chicken (HK$170 including 2 sides).  I wanted to try both the original and the Korean-style fried chicken, so opted for the half-and-half order.  The chicken came with a sizeable tube of kewpie mayo, of which I exercised caution in using in order to maintain my dress size.  The KFC was much juicier than the original, with finger-lickin' spicy sweet sauce and a delicious caramelised crust.  I wished though, there was more of a savoury edge to balance out the almost sickeningly sweet sauce.  The original was "meh", and really needed the kewpie mayo to amp it up a few notches.  There needs to be more spice infusion in the original chicken to give the flavour more complexity.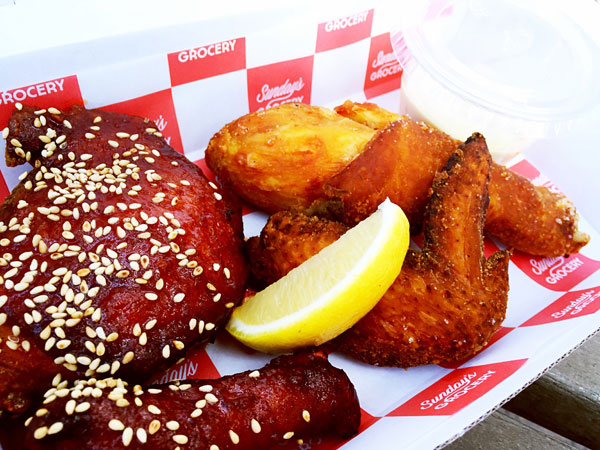 Our other side of coleslaw had beautiful shreds of colourful vegetable confetti, and good crunch from the slivers of almonds.  I liked how it wasn't overdressed, and still retained a lot of its natural vegetable crunch.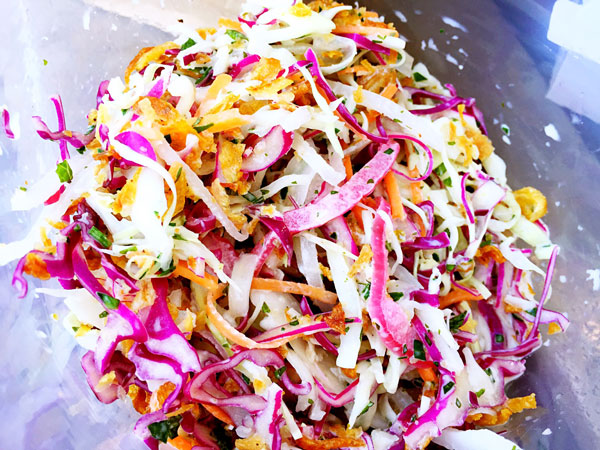 The Mister's Katsu Sando (HK$80) had me lusting with food envy.  Crispy, yet incredibly juicy pork tonkatsu sandwiched between sweet sauce, gooey cheese and grilled buttery bread.  He was kind enough to allow mea few bites, but love only goes so far, and he wolfed the rest down.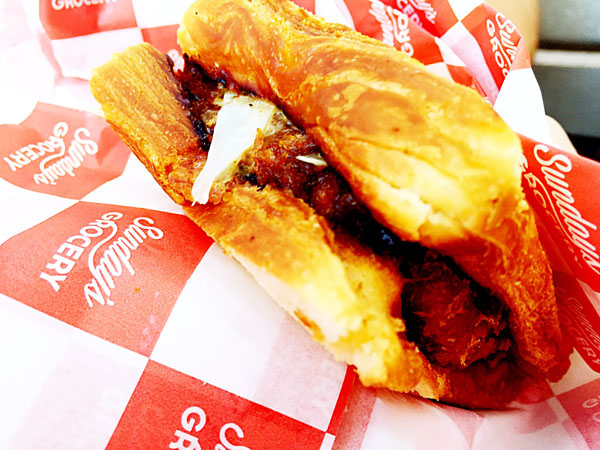 Verdict:  Sticky fingers, that's my takeaway from the experience.  If you're going to eat messy, sticky foods outdoors far away from a bathroom, then bring wet wipes!  The whole meal was sugar heavy, and we were left feeling slightly ill with guilt (and sugar / transfat).  The katsu sando was our favourite, but not enough for us to return soon for another feast on the park bench.  If I lived near K-Town, I'd swing by for some take-out, I just wouldn't be making a special trip from Central just for this.
Sunday's Grocery
G/F Kam Fu Mansion
66-68 Catchick St, Kennedy Town
Tel:  +852 2628 6001
Open: Tues-Sun (12noon – 9pm)
Sites We Adore