Afterthoughts – Understated Finesse at The Dairy, London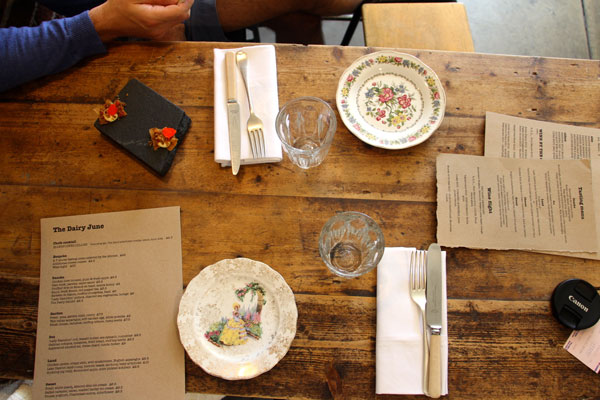 After a long-haul, 12 hour flight from Hong Kong to London, we were, surprisingly, pumped full of adrenaline.  London greeted us with brilliant summer weather and plenty of dazzling sunshine.  Not knowing much about London cityscape, we made our way from our hotel in Soho all the way south to Clapham, for what might be, thus far, our best meal in London.  The little diner is both rustic and hipster – a very 90′s neon sign illuminates the bar while "grandmama's" rustic country plates adorn rustic salvaged wood tables.
Chef Robin Gill, with a resume that reads like the who's who of top European culinary institutions such as Noma and Le Manior aux Quat'Saisons, crafts innovative cuisine with a decidedly humble undertone.  Most of the produce featured in his seasonal menus are harvested from his rooftop garden, including, several beehives, which he so kindly give us a tour of.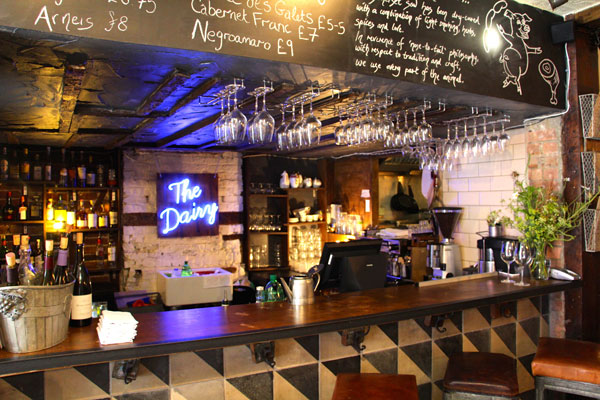 After settling into our reclaimed wood table oozing with rustic charm, we appeased our travelers' thirst with cool glasses of Rose and Elderflower Collins (£8.50) – the latter, a swirl of Tanqueray gin, home-made elderflower cordial, lemon, mint and soda.

(Below) Enticing our jetlagged appetites with warm homemade rustic bread, wrapped up in a cozy jute bag.  A huge dollop of smoked bone marrow whipped butter, smeared over a rock, played delicious accompaniment.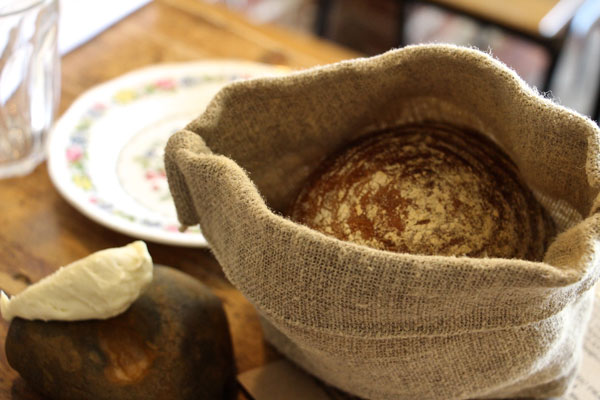 We chose the 4-Course Lunch Menu at  £
(Below) Sarriette de Bannon, courgettes, honey and basil (£6).  The tender baby courgettes, honey and basil were all harvested from The Dairy's rooftop garden!  Each bite reminded us of summer sunshine, and we particularly loved the contrast in texture between the toasted pistachio and creamy Sarriette de Bannon cheese.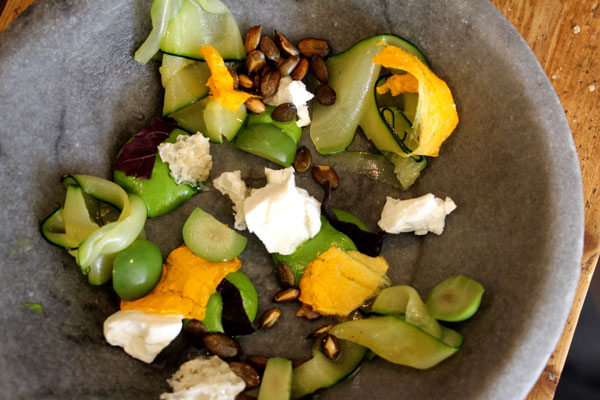 The most curious ingredient in the dish was the toffee-like beeswax, drizzled in golden honey from The Dairy's rooftop beehives!  It tasted like candy, the way nature intended.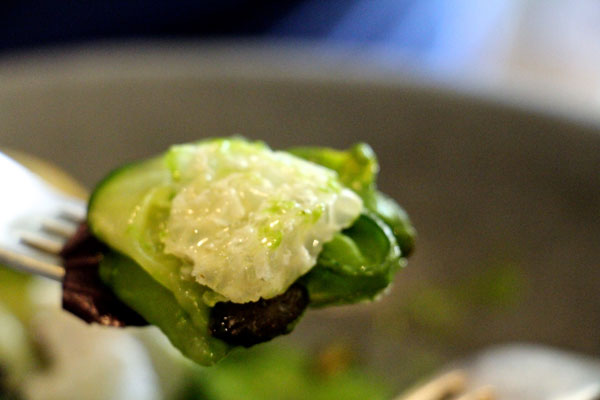 In contrast to the light, summery courgettes, the truffled brie de Meaux on toast, drizzled with acacia honey (£8.50) was sinfully decadent.  The earthy sweetness of the honey really worked with the intoxicating shaved truffles and lusciously creamy brie.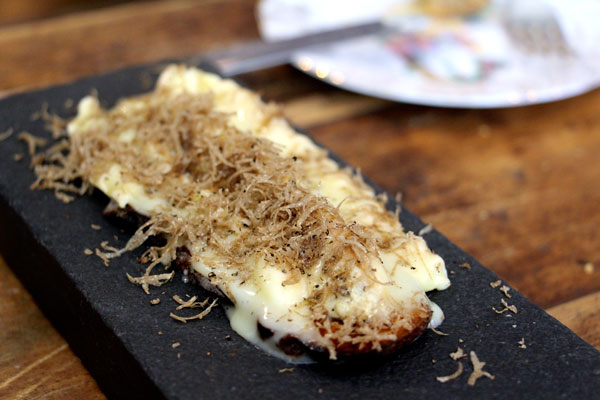 The fresh peas, garden mint and celery dish (£7.50) was a landscape of various shades of green and came layered with a vibrant green foam of blanched peas and juiced pea shells.  The delicate English peas were bursts of sweetness, and the gently acidic lemon and mint jelly gave interesting texture and contrast.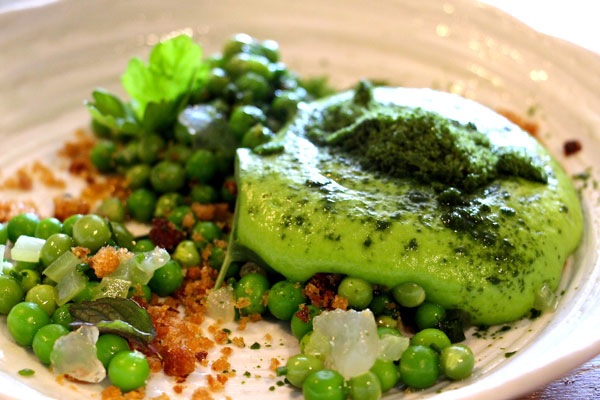 The broad beans, Swiss chard, white polenta, and soft bantam egg (£8.50) was velvety smooth, and the little bits of crispy bacon on top added extra indulgence.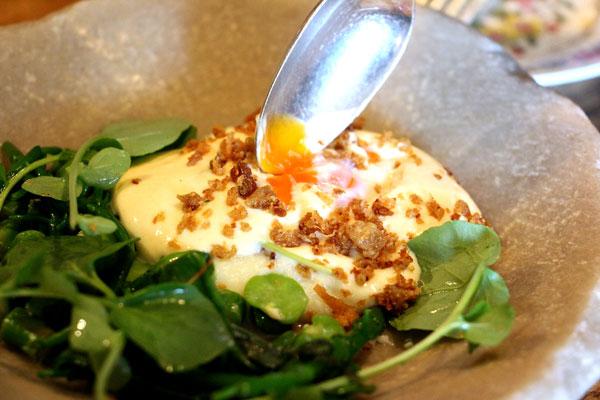 Our main of "Lady Hamilton" cod with wasabi butter, sea spinach, and cucumber (£9)  was delicately tender, and the wasabi butter gave a slight kick to the composition.  Sea spinach (or sea asparagus) seems to be the ingredient du jour in London, and we've seen it on several menus in the city.  We've become huge fans of these segmented vegetables, and find them especially fun to eat with our hands!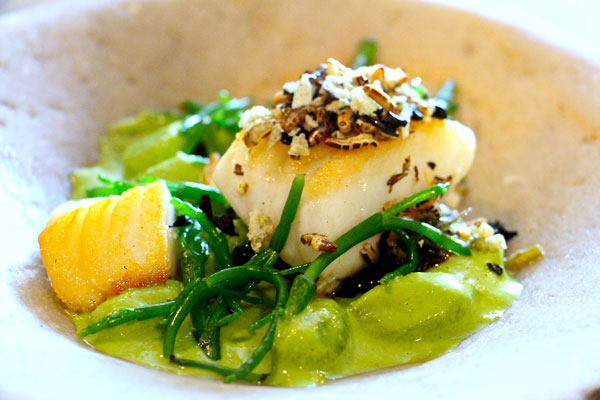 Our other main of chicken oyster, crispy skin, wild mushrooms, and asparagus (£8.50) was on the heavier side, but nevertheless, delicious. A golden crisp of chicken skin adorned the dish, with the highly-prized (and arguably) best part of a chicken – the oysters, beautifully pan-seared and juicy.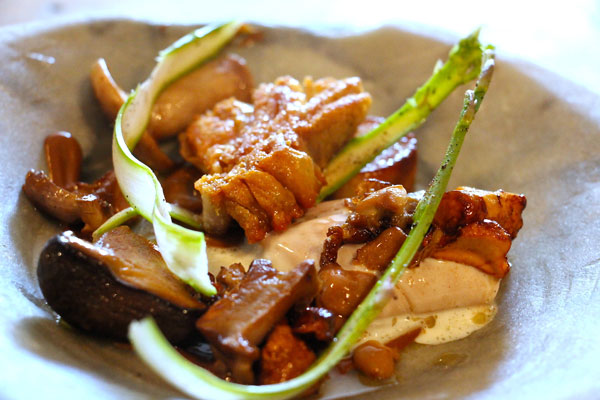 Our first dessert came in the form of fresh white peach, Saint Maure de Touraine goat cheese mousse and elderflower (£6.50).  The flavours of the blushing peach slices reminded me of summer holidays spent playing in the gardens, biting into ripe peaches with juices dripping down my chin.  The goat cheese mouse tasted almost like ice cream, as it was combined with an Italian meringue.  This was a solid dessert to cap off our, most indulgent, lunch.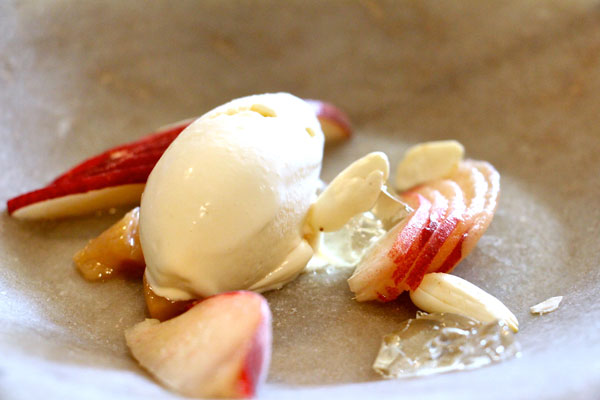 But wait, we weren't done yet!  We couldn't resist a second dessert of salted caramel, cacao, and malted barley ice cream (£6.50).  What can we say?  SALTED CARAMEL – enough said!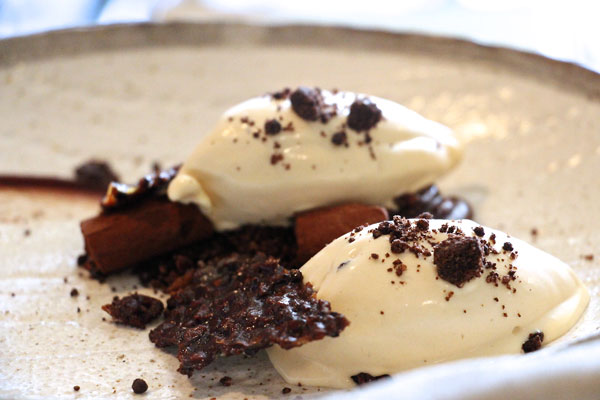 Sweet finish – petite fours of fluffy madeleine cookies, Turkish delights and the thinnest of buttery shortbread.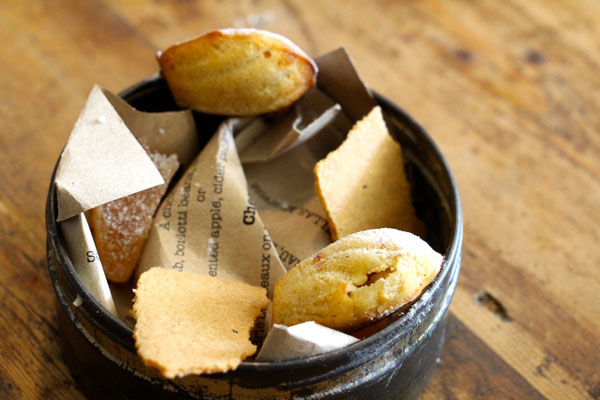 Our lovely host (and Chef Robin's wife), Sarah, kindly offered a tour of their rooftop garden.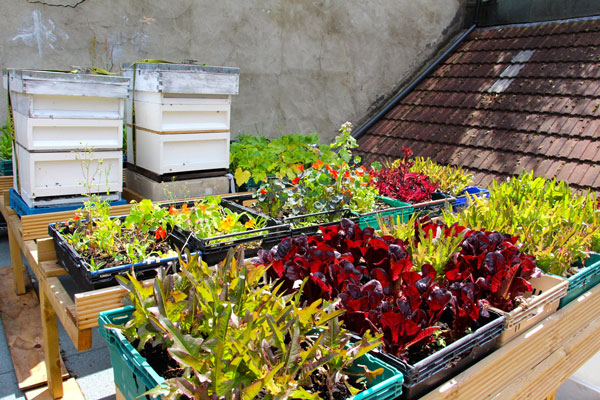 We love the beehives nestled in this little garden.  Almost all the seasonal vegetables and herbs on the menu come from this sustainable little garden.  Soon, there will even been rooftop dining available for guests to enjoy rustic greenery, in the heart of a bustling city!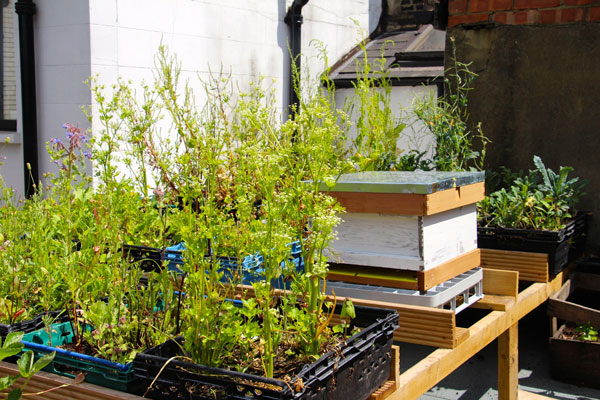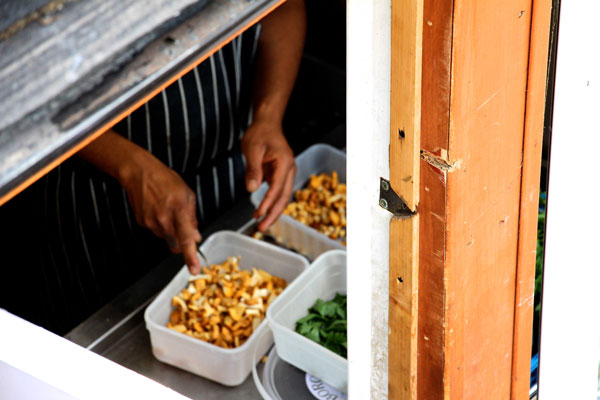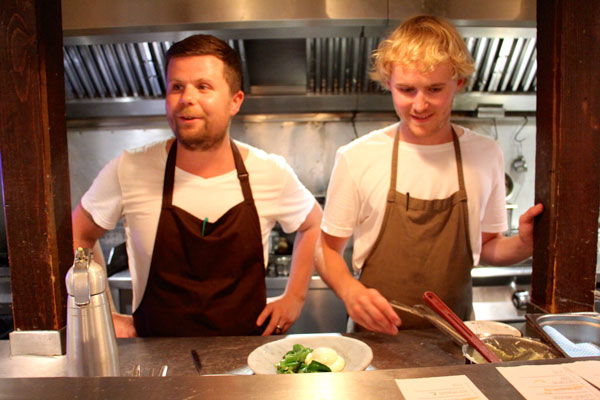 Verdict:  We enjoyed every morsel of our meal, from the creamy butter whipped with smoked bone marrow, to the sweet garden peas with toffee-like beeswax, to the truffled baked brie, to the crispy chicken oysters and luscious summer peach, elderflower and goat cheese mousse – each bite was sublime.  What a gem!!!  Oh yes, and Chef Robin asked us to say "hi" for him to Chef Nurdin of NUR in Hong Kong, as they perfected their skills together under Raymond Blanc's guidance at Le Manoir.
The Dairy
15 The Pavement, Clapham Old Town
Sites We Adore