Afterthoughts – Savouring the "4-Course Cocktail Menu" at The Woods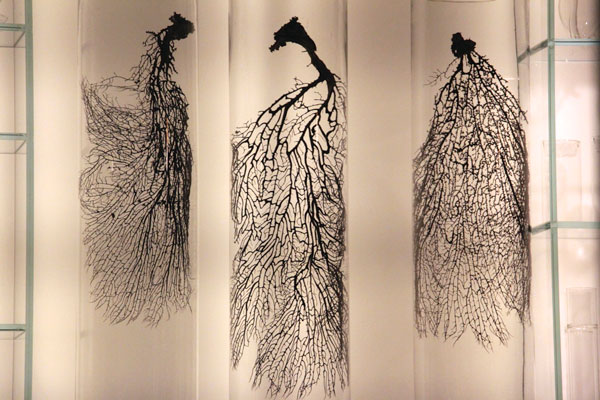 All Class: The Woods, a new cocktail concept bar from the creative collaboration between three sisters, Victoria, Juliette and Regina Chow, has transformed the space formerly known as Homebase into a sleek, elegant venue with plenty of class. From the light canopy of hand-blown glass, to the undercurrent of warm natural wood tones, The Woods is a juxtaposition between raw natural beauty and urban eccentricity. Intricately-carved, movable screens divide the space into two distinct areas: a Prix-Fixe "White Bar" of marble, and a main lounge area. The main lounge serves up classic cocktails with house-infused spirits, homemade syrups and freshly squeezed juices, and features seasonal menus with "market-fresh special" ingredients. The Prix-Fixe Bar seats 8 lucky guests, and features a four-course menu (HK$688) comprising of an appetizer, a main, a dessert and a digestif. In an interesting twist, the cocktails here are the true stars, with food pairings acting rather as compliments.
Refined Libations: Feeling rather naughty, we started our indulgent afternoon of cocktails in the lounge with glasses of festive Caprese ($120) mixed with Tito's vodka, fresh tomato water, basil, balsamic, black pepper and Himalayan pink salt over a confetti of ripe cherry tomatoes.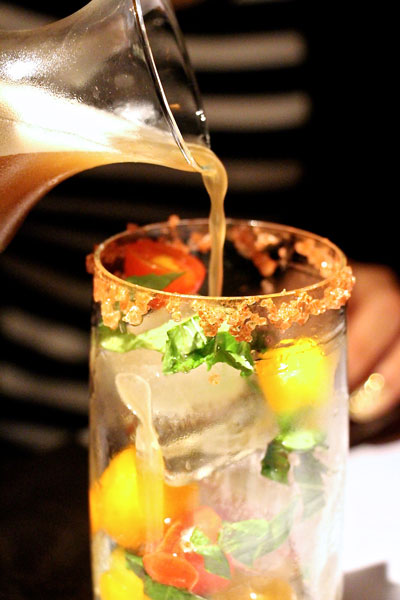 The frothy Oak Whiskey Sour ($155) with French oak-infused Rittenhouse Rye Whiskey, Canadian maple syrup, lemon juice and egg white really hit the spot.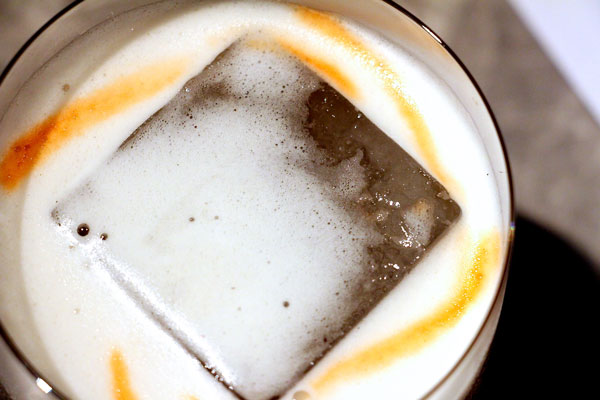 Moving onwards and forwards to the Prix-Fixe Bar, we first cleansed our palates with refreshing sparkling glasses of hibiscus-scented champagne before settling in to our "appetizer" cocktail.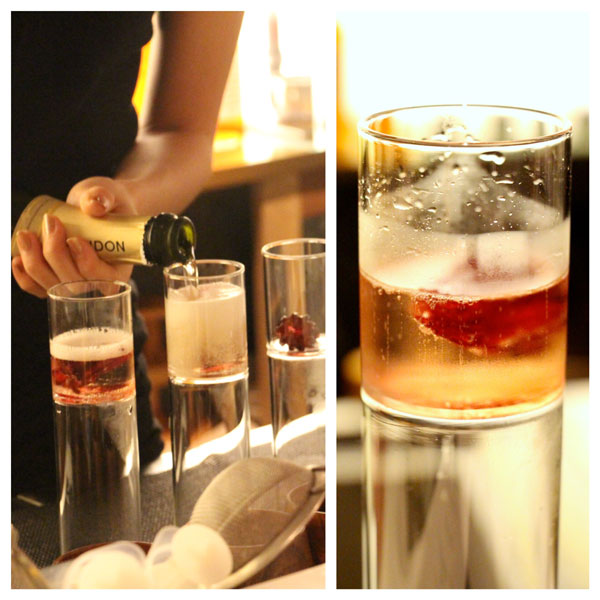 The Gin Basil "Smash" appetiser came with a bit of work, as the muddled sweet basil gin was injected into a hollow globe of ice, and we had to smash through with little wooden hammers to get to the goodies. Light, effervescent, and incredibly refreshing, this is the drink for Hong Kong summers! Served alongside, were succulent cubes of watermelon on briny squares of feta.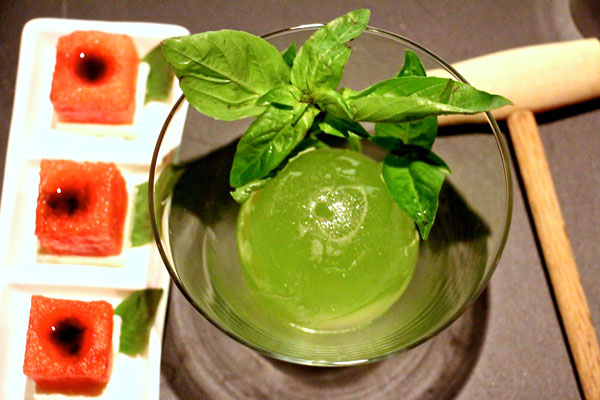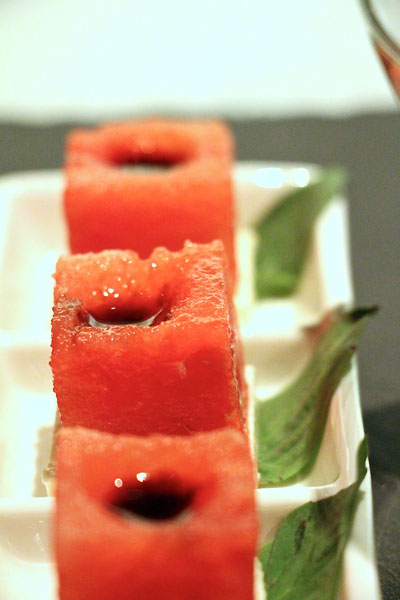 Below – we had to smash our way through the ice globe to get to the basil gin!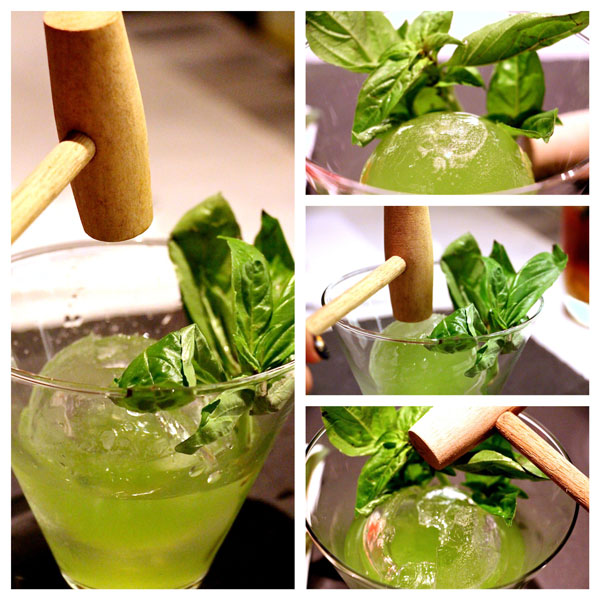 Disclaimer: vegetarians, close your eyes! The "main" of Bacon Bourbon Luge with bacon-infused bourbon, maple syrup, five-spice powder, lemon juice and egg white came paired with a mouth-watering luge of roasted bone marrow. A delicious contrast between sweet and savoury, the caramel roundness of the maple syrup mixed beautifully with the decadent fat of the marrow.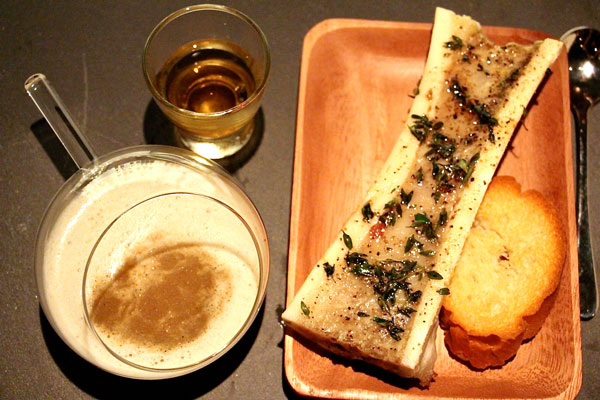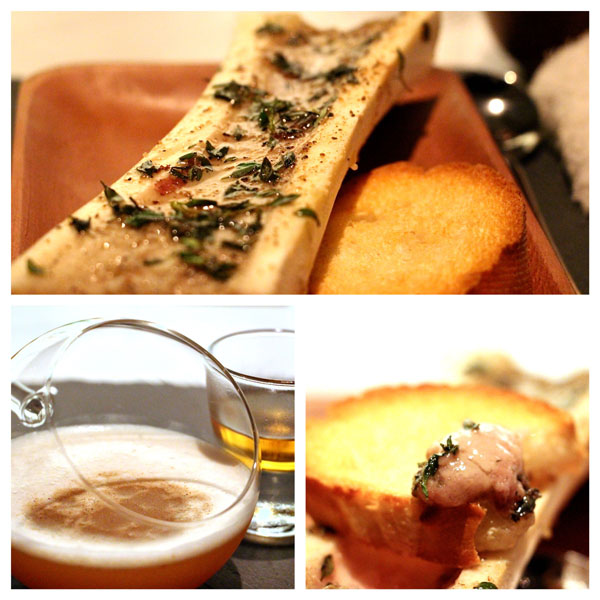 "Dessert" came in the form of Absinthe Floss, paired with an airy fluff of meringue dotted with cool cucumber jam. A concoction of fresh yogurt, cucumber, honey, rosemary and absinth are poured over a dreamy cloud of candy floss, as a contemporary play on the classic sugar cube and absinthe combo. And no, we did not see the Green Fairy!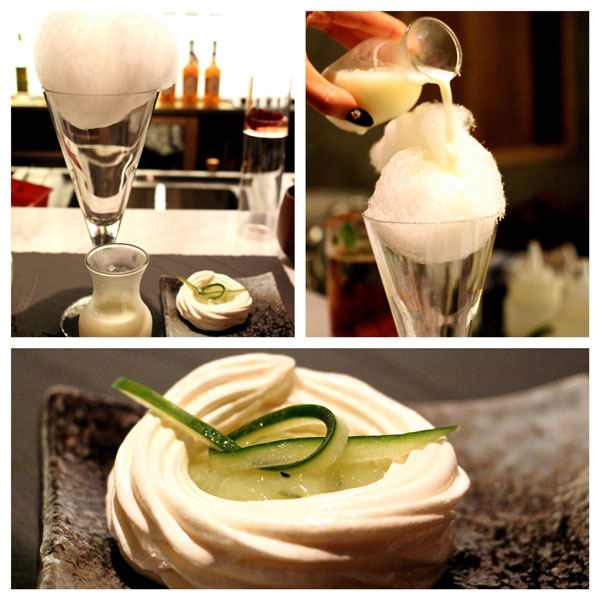 We concluded our tasting (or sipping) menu with a "digestif" of hot tea. But, this wasn't any regular tea, but a jasmine and gin tea infusion simmered over a small flame with lemongrass, lemon peel and galangal. We just wished all the tea we've sipped during long family dimsum sessions could have also been spiked the same way!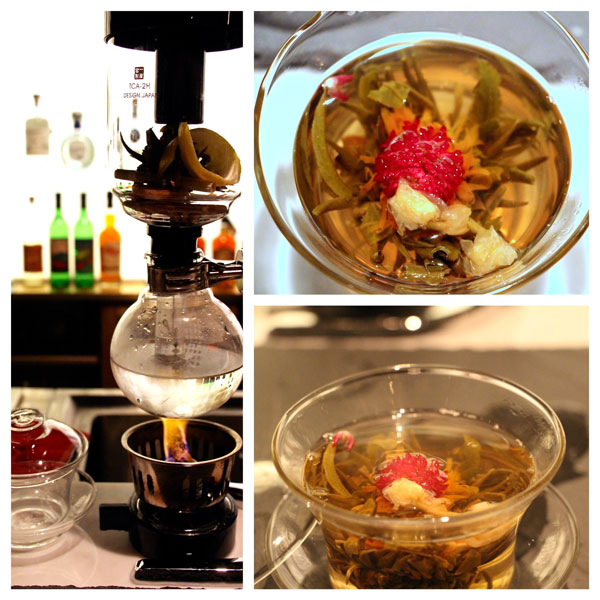 Verdict: The Woods elevates cocktails to a culinary art form. This is the kind of place you go to really enjoy a drink, rather than pounding back one-too-many and leading to one-too-many mistakes aftewards. The Woods, "keeps it classy"!
The Woods
L/G, 17 Hollywood Road
Central, Hong Kong
Tel:  +852 2522 0281
Sites We Adore