Restaurant Review – A Bejewelled Evening with Tosca x Damiani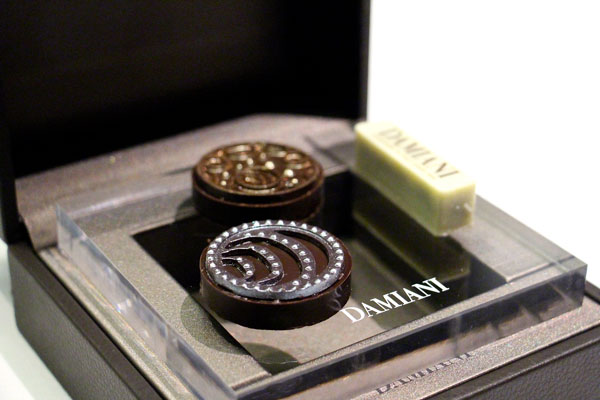 As good as it looks:  This month, Italian jeweller Damiani splashed out in style to celebrate its 90th Anniversary with a limited-edition menu at two-star Michelin Tosca.  The glittery venue, nestled amidst the clouds in towering Ritz Carlton, is commanded by Executive Chef Pino Lavarra, whom, upon his recent arrival in Hong Kong, has maintained the restaurant's two-star rating in the 2015 Michelin guide.  For our blogger invitation dinner, we sat down in a relatively private corner of the restaurant for our culinary evening while overlooking the bejewelled lights of Hong Kong's iconic sky scrappers.   The Damiani Tosca tasting menu offers a choice of 4 or 5 courses, with each dish inspired by a piece of fine jewellery from the brand's exclusive Ninety Collection.
The first course arrived in the form of cured salmon with beluga and snail caviar, accompanied by raw slices of porcini mushroom and creamed risotto.  The dish was inspired by the black and white diamonds of Damiani's Cascade bracelet, a 1930s Art Deco piece that is echoed in the use of black and white caviar.  This was my first time trying snail caviar, and the texture of the pearly opaque orbs was rather surprising.  Around the same size as salmon roe, the slippery, almost pliable snail caviar didn't pop easily like salmon roe, but demanded more of a chew to release its "earthy" aromas.  I must admit, that this was not my favourite part of the dish, and would have much rather stuck to beluga caviar.  On to more familiar territory, the cured coral rectangles of salmon was beautiful rich and briny, and the tiny dollop of creamed risotto was perfectly al dente.  The thin layer of guanciale ham punctuated the fish with some gamey robustness, while the edible flower made the dish almost too pretty to eat.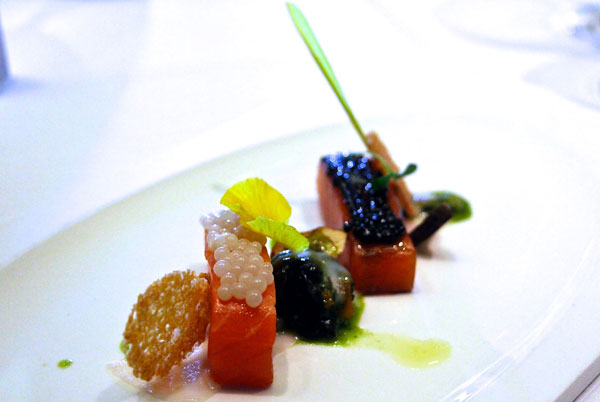 The second course of squid ink fettuccelle pasta with scallops, lobster, zucchini and tomato was modelled after the minimalist design of the Bloom necklace, a simple black ribboned piece embellished with flourishes of coloured stones.  The sauce was vibrant with classic Italian flavours, and the scallops and lobster was perfectly cooked with plenty of succulent bounce.  The fettuccelle, though, could have benefited from a few seconds less in the boiling water.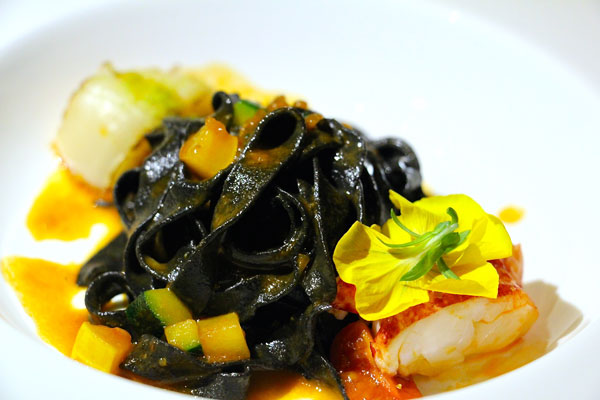 We opted for the 4 course menu, which meant we had a choice between the fish and beef.  Thinking about my waistline, I went for the lighter option of crispy monkfish served with chickpeas cream and fried sage.  The round slice of monkfish encrusted with grains was inspired by Damiani's Legend Bracelet, a 1940s military-style bangle with broad engraved levels of diamond pave.  The hearty monkfish was wrapped around a centre of briny monkfish liver, brimming with umami flavours.  However, I wished that a more buttery fish was used instead of the monkfish, which was a touch overly tough to be enjoyable.
Others at our table opted for the stewed oxtail on potato puree with foie gras and balsamic mushroom sauce, inspired by the Optical earrings of the 1960s, which looked enviously tempting.  Needless to say, I had some major food envy at this point!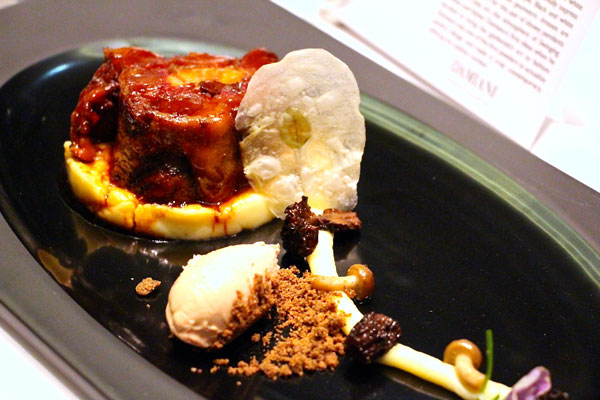 Dessert came in the form of a pain d'épice parfait sandwiched between chocolate rings dusted with gold powder, accented with hazelnuts and five spice sauce.  Tiny colourful dots of sauce completed the whimsical look, as inspired by the multi-coloured stones embedded in the Tribute bracelet.  Not much of a sweet tooth, I thought that the dessert was more stimulating visually rather than tastewise .  With the five spice sauce, I was looking for more of a Chinese five spice element, but the flavours reminded me more of Christmas.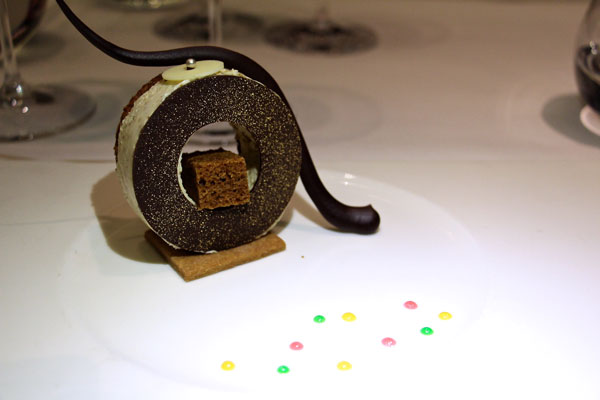 The eccentrically presented petit fours arrived on a cloud of cotton candy.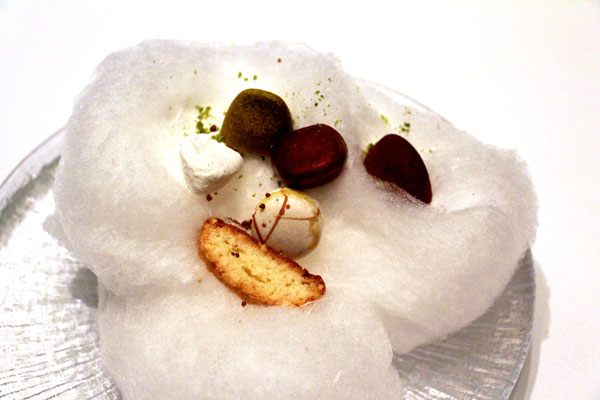 Lastly, our luxuriously bejewelled meal was capped off with Damiani jewellery boxes filled with 3 varieties of chocolate.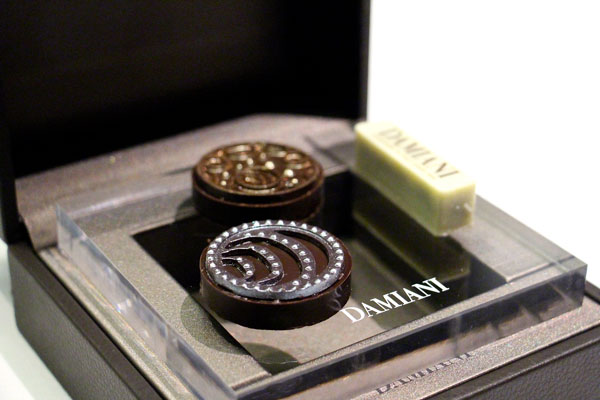 Verdict:  A creative merger between art and food.  However, at HK$1,680 for four courses, or $1,880 for five courses, the menu is definitely on the pricey side.  At this price range, I would have expected a little more oomph, but was not overly enthralled with the flavours.  However, the menu is a beautifully presented collaboration with an iconic brand, and for the art lover, perhaps well worth the price tag.  The Damiani x Tosca menu is available until Nov 30th.
Tosca (at the Ritz Carlton)
Level 102, ICC
1 Austin Road West, Kowloon
Tel:  +852 2263 2270
Sites We Adore