Chef of the Century – My Exclusive Interview with the Greatest Michelin Chef Joel Robuchon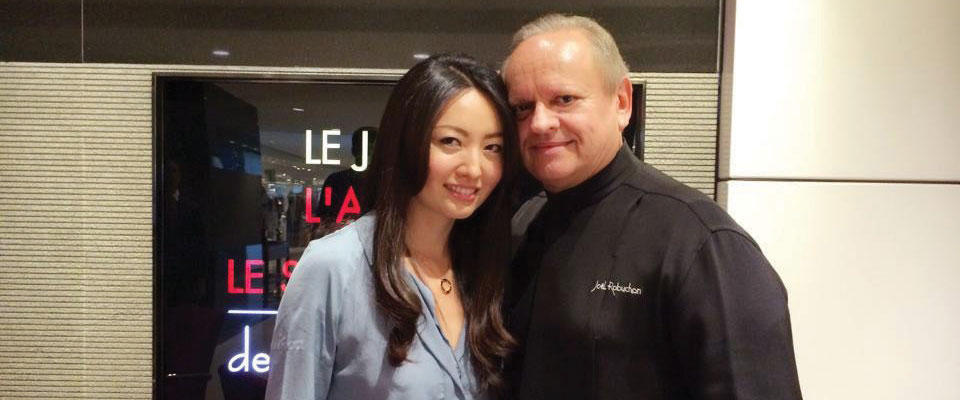 My Exclusive Interview with Monsieur Robuchon, Chef of the Century
There are great chefs, and then, there are those chefs who's mere name sets the golden standard. Robuchon, is one such name. The name alone, conjures up images of meticulous culinary perfection and exquisite fine taste. It is a name, famous the world over, for defining the refined pinnacle of French cuisine. The man behind the name, came from humble roots. The son of a bricklayer, in a rumbling household of four children, Joel Robuchon didn't grow up in an grandiose estate filled with extravagant ingredients. He dabbled with the thought of joining the clergy, but found his true calling, instead, in the kitchen of the Mauléon-sur-Sèvre seminary in Deux-Sèvres.  From there onwards, at the tender age of 15, Monsieur Robuchon's destiny was fated to the culinary world.
Through dedication and honest hard work, Robuchon rose quickly through the ranks, and at 29, was appointed the Head Chef of Concorde-Lafayette hotel in Paris overseeing 90 chefs. Accolades soon rolled in, and in 1976, he won the prestigious Meilleur Ouvrier de France (France's Best Craftsman) award, followed by the legendary title of "Chef of the Century" by the influential Gault Millau in 1989.
Today, the bricklayer's son is the most celebrated chef in the world, with a record of 25 Michelin stars, the most of any chef in the world, and owns acclaimed restaurants spanning three continents. Although retired at the age of 50, the beckon of the culinary world proved too irresistible, and Monsieur Robuchon returned once again to the kitchens to create a new brand of restaurants, L'Atelier de Joel Robuchon, that revolutionized the way the world viewed French fine dining. Instead of formal, constrained dining, Robuchon was inspired by his travels to Japan and Spain, and recreated warm, open and lively atmospheres that instantly put the diner at ease. The cuisine, remains at the same gold standard, but for Robuchon, there is never a thing as "a perfect dish", because there is always room for improvement.
With all the above mentioned, it was no surprise that, on the morning of my interview with Monsieur Robuchon, I was buzzing with nervous anticipation. What is the greatest chef in the world going to be like? Filled with anxiety, and a good measure of starstruck, I sat down with the culinary legend during his recent visit to Hong Kong, coincidentally, following the unveil of this year's Michelin guide. Despite all the titles and accolades, the man sitting across from me was humble, genuine, affable, and surprisingly, humorous. Over the course of the hour, we bantered between a mix of French and English, with translation done, thankfully, by the very patient Chef David Alves.
Here's, a glimpse of the man behind the cooking.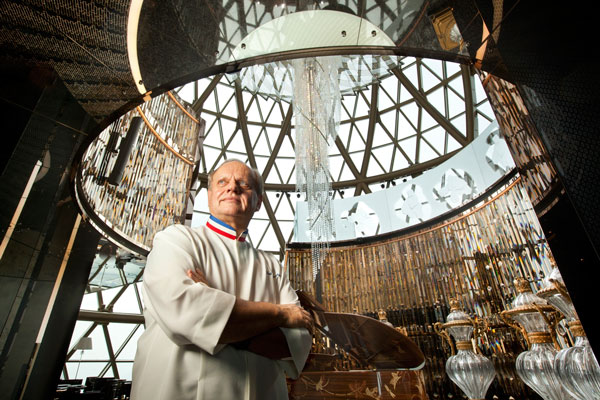 First of all, congratulations on maintaining three Michelin stars following the recent guide announcements.
Merci. Every year, we still hold our breaths when the Michelin guide comes out, because you never know what to expect. Alain Ducasse lost a star in Hong Kong, so really, anything can happen.
Any surprises in the line up for this year's Micheline guide?
Not particularly, but then again, I don't comment on my peers, because we all have our own way of doing things. I don't eat at most of their restaurants when I'm in Hong Kong, although I'm good friends with Bombana and enjoy eating at his restaurant.
How competent do you think the Michelin rating system is?
The Michelin's competency varies depending on location. I think the Michelin guide is flawed in the UK, and a lot of other chefs also mirror this opinion. The grading system is just not serious enough there, and there are 2-starred restaurants, that we simply wouldn't eat at. In fact, Gordon (Ramsay) wrote an article critiquing the Michelin ratings in London. Most professionals in the UK are surprised by Michelin's decisions there. Now, the Michelin ratings in the US, Japan and France are the most competent, and I have great respect for them.
You have Michelin restaurants all over the world, and in particular, 4 Michelin-3 starred restaurants in Las Vegas, Hong Kong, Macau and Tokyo. How do you maintain standards across the globe?
First of all, it is not just me alone that wins the stars – it's the joint hard work of my team. For each of my restaurants, I hand-pick chefs whom I've worked with for many years, they are people I trust, and who understand the way I do things. They know my style, they know what I demand for each dish, and how to present the same brand with earnest hard work. We are like a family, and we know each other inside out. For example, with Chef David, who is now based in Hong Kong, he has worked with me for 15 years, and know exactly how I would do things in the kitchen. Our other chef in Hong Kong, has worked with me for 14 years.
I have a big team, around 5 chefs, that travel with me. It's important that we stay for a relatively long time upon each visit (at least a week) to observe the flow of the restaurants, and see how we can improve from start to finish. I also work with the chefs on developing new recipes. I do not make short "guest appearances" for only a day or so, it has to be longer. "Robuchon touch"
Out of the 17 restaurants you have currently worldwide, which do you hold closest to your heart?
All my restaurants are like my children, and like a mother, I cannot choose a favourite. What is important to me is that I build restaurants in the cities I love, and each of these cities hold fond memories.
What are some of the upcoming challenges / new developments for the Robuchon brand?
Right now, my biggest challenge is getting my new restaurant, set in a castle in Bordeaux, up and running. We are set to open in one month's time. And then, I am off to Bangkok for the opening of my restaurant there in late December. There is also another restaurant opening in New York, and I am very excited about our Shanghai opening in six months time. For the Shanghai location, we refurbished a historical building on Number 18 Bund, and the restaurant will also have a Salon de Thé within. It is a lot of work, but rewarding work.
When you're in Hong Kong, where do you like to eat?
For Chinese dishes, I like Yan Toh Heen in the Intercontinental, and I like to visit Bombana at Otto e Mezzo.
How has the restaurant scene changed over the years in Hong Kong and Macau?
The dining scene here has really transformed in the last decade. When I opened the restaurant in Macau 13 years ago, there were barely any competition, and now, the climate is highly competitive. More and more, world-class chefs are coming here. Every chef has their own way of doing things, and I like to blaze my own path. If my dishes are mimicked elsewhere, I feel flattered, because mimicry is the best form of compliment. To stay competitive, I have my trusted chefs, such as David, here to maintain our standards. It's a wonderful time of culinary exploration in Hong Kong and Macau, and we get challenged to do better each and every day.
What is your favourite cooking station in the kitchen?
My favourite place in the kitchen is where the ingredients come in, because then I can create and imagine dishes based on what is fresh that day. For example, we received some beautiful porcini and veal yesterday, so we come up with dishes on the day to highlight these choice ingredients. We also got 8 kilos of fragrant white truffles yesterday [opens his iPhone to show a picture of him embracing the white truffles]
What is your guilty pleasure?
It has to be black truffles over potato mash.
What was your toughest day in the kitchen?
When I was at the Concorde-Lafayette in Paris, we had a Night of the Cinema banquet with 600 prestigious guests from the film industry. The main course that night was halibut, but when we cooked the fish, it was mushy with a lot of water. It was all wrong. I called the supplier, but he was out of halibut, so I said "just give me all the fish in your fridge!". With the last minute delivery, our team of 90 chefs ended up cooking the fish perfectly, and I walked around the dining room afterwards and heard a lot of praise from the guests. This was the most stressful, scariest moment in my professional career.
What is the one dish you are most proud of, so far, in your career?
To me, there is no such thing as a perfect dish, because anything can be improved. I often make a dish I think is great, and then I do it again, and find that it gets better. So it's the constant strive for improvement that is the evolution of my dishes.
Having said this, one of my best culinary successes came about purely by accident. I was baking bread in the oven, and decided to bake a chicken at the same time. Somehow, the moisture and yeasty scent of the bread permeated the chicken, and infused it with the most incredible flavour. I will always remember the smell, and it's one of the best dishes I've ever made. The art of cuisine, is about turning something simple, into something exceptional.
Speaking of achievements, what were the Top 3 defining moments of your career?
Well, it'll have to be 1) when I was awarded the Meilleur Ouvrier de France 2) when Times Magazine named my restaurant the best in America 3) when I received my first 3-Michelin in Paris.
If you were not a chef, what would you be?
[Robuchon's eyes light up] I would be working in technology! I love everything to do with computers and technology, it's one of my passions in life. I am a big fan of Apple – it's amazing what these machines can do! I have 5 of the new iPhones, and 3 of the new iPhone 6 plus, as well as numerous computers at home. [Shows me his iPhone and calendar] I love all these gadgets, it helps me organize my life. I can't really walk out of an Apple store without buying something.
You've mentored many renowned chefs over the years. For example, you trained Gordon Ramsay, and he recently opened a restaurant in Hong Kong. Any memorable moments there?
Yes, I remember once, during dinner service, Gordon was very nervous about this langoustine ravioli dish. I tasted it, and it was not good enough. I threw the dish back at him, and Gordon took off his apron and left the kitchen, and didn't come back! I shouldn't have been so hard on him, but I was quite upset at that moment. Now, the langoustine ravioli is a running joke between us, and we still laugh about it when we meet.
How do you take your coffee?
I don't drink coffee, I prefer tea. I like Earl Grey with a drop of milk, or Darjeeling. People say, it makes you smart to drink tea.
Sites We Adore